2021 has changed the way we travel. Since the pandemic started, many stakeholders of the tourism industry have urged operators and travelers to adopt a more responsible and sustainable approach to travel.
That's where ecotourism comes in as it offers an alternative to mainstream tourism by bringing together conservation, communities, and sustainable travel.
According to The International Ecotourism Society (TIES), ecotourism can be defined as "responsible travel to natural areas that conserves the environment, sustains the well-being of the local people, and involves interpretation and education." If you want to learn more about ecotourism check out our article here.
Sustainable tourism encourages travelers and tourism operators to implement sustainability practices such as waste management, energy efficiency, and water treatment. Ecotourism is a form of sustainable tourism and focuses on the conservation of the environment and the education of both visitors and residents about the benefits of its preservation.
As a sustainable and eco-tourist, not only will you immerse yourself in pristine locations but also contribute to the maintenance and protection of the region and its culture.
Ecotourism also boosts employment and empowerment of locals as it promotes financial activation through small enterprises and encourages community-based management of the natural resources, the community's best asset.
We selected the best ecotourism destinations and sustainable accommodations around the world due to their beauty and sustainability commitment. Which one is your favorite?
1. Sian Ka'an Biosphere Reserve, Mexico
Great biodiversity
Sian Ka'an Biosphere Reserve is the largest protected area in the Mexican Caribbean. It is located on the east coast of the Yucatan Peninsula and is known for its rich biodiversity.
The Biosphere Reserve is home to mammals like jaguars (Panthera onca), pumas (Puma concolor), ocelots (Leopardus pardalis), and tapirs (Tapirus bairdii).
It is also a hotspot for migratory birds as it hosts over 300 species of birds, of which 120 are migrant species. The Reserve is also home to 84 species of coral reef and 276 species of crustaceans. Not to mention it is an important nesting area for sea turtles.
Sian Ka'an is also known for its 'cenotes', natural groundwater lagoons that emerged from limestone rock formations.
Idyllic beaches and ancient ruins
Ecotourism cooperatives, such as Sian Ka'an Tours, provide tours to explore the Black Lagoon, take kayak trips through the Sian Ka'an channels, and many other activities such as marine safaris, birdwatching, and turtle release.
Sian Ka'an has become a major tourist destination since UNESCO nominated the region as a World Heritage Site in 1987. Its main attractions include the beautiful beaches of Tulum and the Mayan ruins in the Southern part of the Mayan Riviera.
Tulum is a beach resort located within the Biosphere Reserve limits that attract a large number of tourists each year by its mystic vibe and sustainable lifestyle.
Sustainable accommodation in Sian' Kan
Experience the magic and mystique of Tulum from the beachfront resort of Ahau Tulum. Unplug, unwind, and enjoy barefoot sophistication amid the lush Mayan jungle and the crystalline Caribbean Sea on the pristine white sand of Mexico's most coveted destination.
Designed for the environmentally conscious traveler seeking a luxurious getaway, this resort offers eco-conscious cabanas and huts on the oceanfront. Enjoy daily yoga lessons and sunrise meditation or venture out to explore the ancient Mayan ruins located a few minutes away. Begin your journey at Ahau Tulum, your home for an authentic escape on the Mexican Caribbean.
2.
Blue and John Crow Mountain

s National Park, Jamaica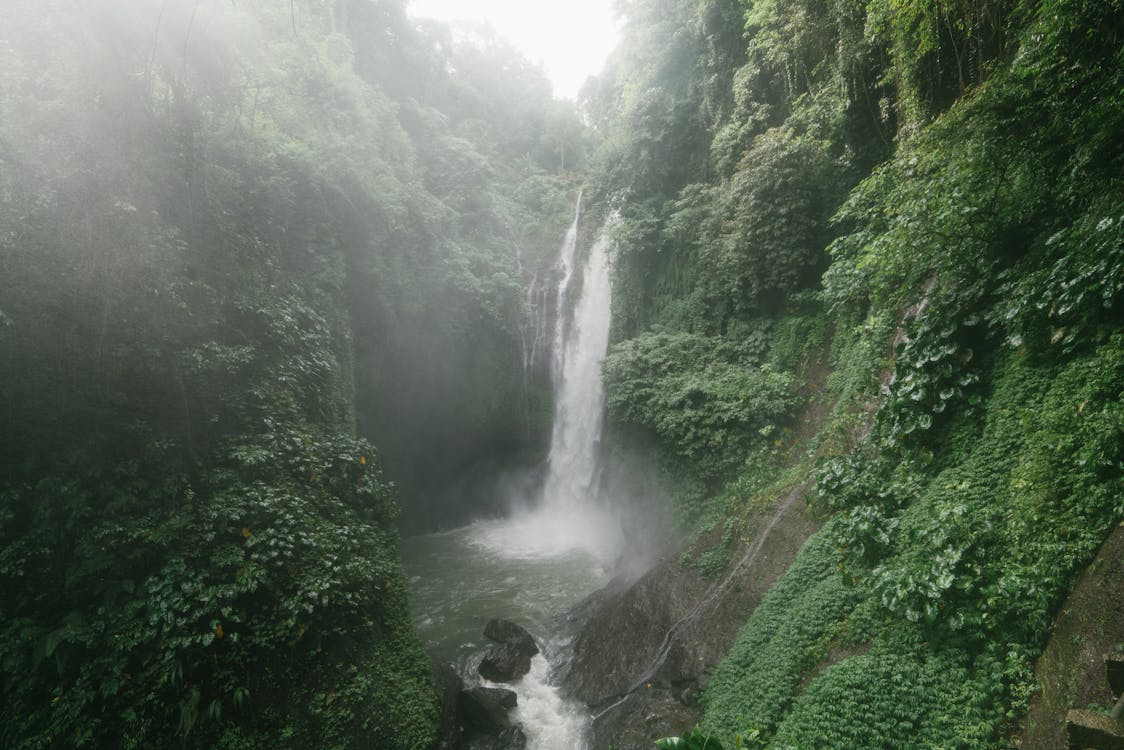 Natural heritage and coffee
The cultural and natural heritage of the Blue and John Crow Mountains comprises 26,252 ha of tropical rainforest. It is located in the eastern part of Jamaica in the Caribbean.
The Blue Mountains Jamaica dominate the parishes of St. Thomas, Portland, St.Mary, and Kingston. These two ranges cover approximately 20% of the island's total landmass and are widely known for their biodiversity significance within the Caribbean Region.
Ecotourism operators offer different services, including trail tours, bird-watching tours, Blue Mountain Coffee Tour, as well as activities to learn about Maroon's cultural practices.
A tropical paradise for hikers
The park comprises a trail system of different lengths and for different hiking levels. Here we list them:
Blue Mahoe Trail (350 meters): This short trail will take you through a forest of Blue Mahoe, Pine, and other trees and ferns.
Oatley Mountain Trail (1.2 kilometers): This trail has a steep ascent to the Oatley Mountain Peak. You can get great views of the parishes of St. Mary, St. Andrew, and Portland.
Waterfall Trail (1.3 kilometers): This trail runs along the mountain edge and culminates at a small waterfall.
Shelter Trail (650 meters): This trail is great if you are traveling with children. There is a great view of Portland at the end.
Wag Water/ Dicks Pond Trail (630 meters): This trail takes you through forest areas. You pass the beginning of the Wag Water stream.
Sustainable accommodation in the Blue Mountains
Jamaica's picturesque landscape of rolling mountains, lush rainforests, abundant white-sand beaches, and multi-hued coral reefs in the Caribbean sea provide a backdrop for a rich history and culture.
Offering a year-round outdoor pool, private eco beach area, and luxurious rooms, some featuring balcony and patio with sea view, Green Castle is a private 1600-acre Estate located in Robins Bay, 25 km from Ocho Rios and 40 km from Kingston. The eco-luxury Green Castle Estate offers an unforgettable stay in Jamaica, and the friendly staff provides you with local and organic foods from the lush Jamaican island.
3. Jozani Chwaka Bay National Park, Tanzania
Natural beauty and monkeys
Jozani National Park is the largest area of indigenous forest on Zanzibar Island. Situated south of Chwaka Bay on low-lying land, the area is composed of a swamplike environment of moisture-loving trees and ferns.
Jozani-Chwaka National Park is famously known for its sustainable tourism activities and its populations of Zanzibar red colobus monkey, an endangered species found only on Zanzibar, as well as other monkey species, bushbabies, duikers, and more than 40 species of birds.
The park is 35 km southeast of Zanzibar town. At the park gates, you will find an information center with the main activity is following the forest nature trail, which takes about 45 minutes to walk. Nearby is a boardwalk through the creek-side mangroves where it is possible to appreciate the native flora and fauna.
Sustainable accommodation in Zanzibar Island
Located on the pristine sands of Paje beach, on the East coast of Zanzibar, Zanzibar White Sand Luxury Villas & Spa is composed of 11 private exclusive-use luxury villas, each exquisitely appointed, boasting a dining lounge, recreational area, expansive sun deck, and swimming pool, sumptuous Guest rooms, on a secluded and appointed space of 1500 sqm per villa.
The resort amenities deliver the highest standard of service: spa treatments and facilities, two restaurants, a rooftop champagne bar, a beach bar, and a lounge area, as well as a high-end kitesurfing and watersports center.
Designed with a sustainable tourism approach, Zanzibar White Sand Luxury Villas & Spa reflects the natural beauty of the coast of Zanzibar. With over 4 hectares of lush garden, the 11 villas are nestled among trees and bushes for complete intimacy, their architecture emphasizes the local environment through the use of organic materials, shapes, and textures.
4. Morne Seychelles National Park, Seychelles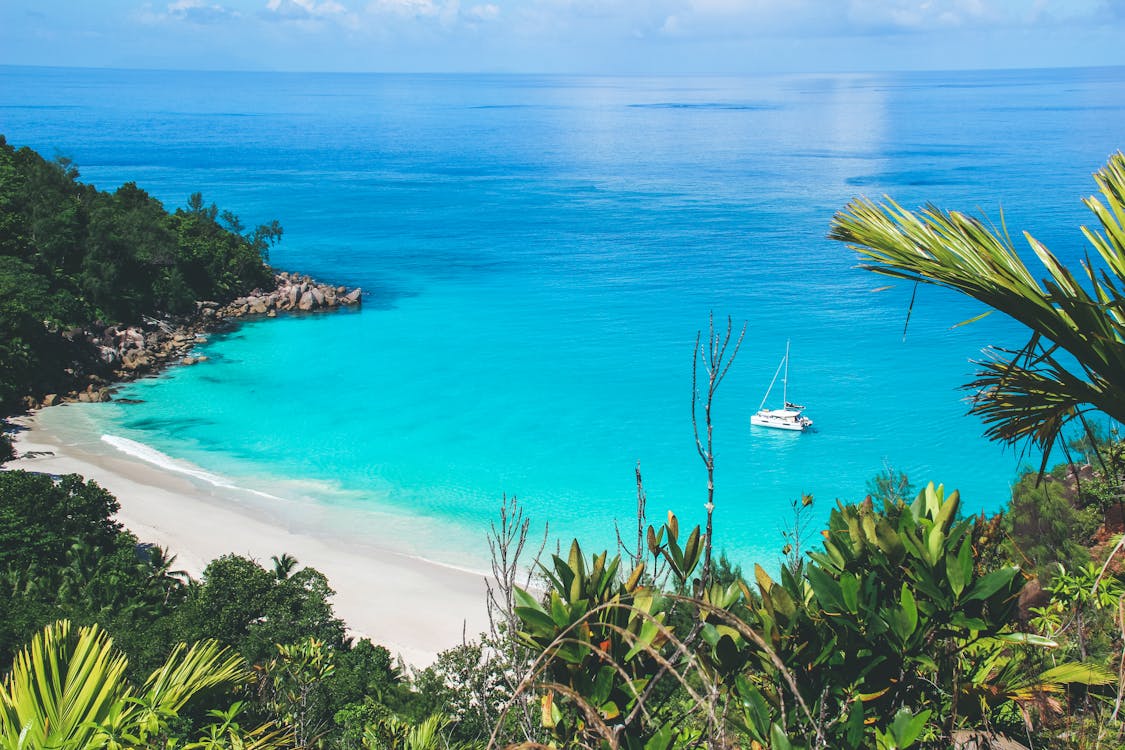 Lush jungles and panoramic hikking trails
The Morne Seychellois National Park is located on the Mahe island, the largest island of the Seychelles archipelago.
Morne Seychellois covers an area of approximately 3,045 hectares, more than 20% of Mahe island, and is covered by mangroves, lush tropical jungles, and mountains.
It is 10 kilometers long and around 4 kilometers wide. The park is equipped with an extensive trail network, covering more than 15 kilometers, which makes it ideal for sustainable tourism activities such as hiking. Trails vary in length and difficulty, so make sure to pick the right one for you!
For experienced hikers, a tour to the top of the highest mountain, the 905-meter or 3,000 ft Morne Seychellois, is a mandatory trip. The trail starts below the plantation on Sans Souci road. The main trails to explore the mountain include Copolia, Morn Blanc, and Casse Dent.
Endangered species and old plantations
Morne Seychelles is home to a vast amount of indigenous flora and fauna, including twelve endemic birds, such as the Seychelles Scops-owl, one of the most symbolic species of the island.
The Seychelles Kestrel, Blue Pigeon, and Sunbird are frequent sights in the park and make it perfect for bird watching. Other endemic species you be able to spot are the Bulbul, the Pitcher plant, and keep an eye open for the Seychelles wolf snake, as it is threatened by habitat loss.
The park is also home to cultural sites originally used for the exploitation of Cinnamon and coffee. These ruins of old distilleries and houses are reminiscent of the agricultural past of Seychelles before becoming a tourist destination.
Sustainable accommodation in Mahe, Seychelles
Situated in Bel Ombre on the island of Mahe, the origin of Seychelles hospitality, Fisherman's Cove is nestled in a lush tropical paradise.
The resort overlooks Beau Vallon, the largest and most popular beach on Mahe, and the aqua blue Indian Ocean. Whether walking on one of the most beautiful beaches in Seychelles or savoring the extraordinary nuances of Creole cuisine, a stay here creates memories for a lifetime.
Contemporary luxury meets authentic Seychelles charm in this palm-fringed paradise.
Powder soft sand and azure seas curve around STORY Seychelles, an elegant boutique resort at the picturesque northern tip of Mahe Island. Here the emphasis is on utter tranquility.
Stretch out on a lounger with a chilled drink from Ripples the poolside bar. Unwind in the low-lit, luxurious surrounds of Sesel Spa, followed by a touch of pampering in the beauty room. Doº snorkel and drift through the underwater paradise at Beau Vallon Beach. There is also a state-of-the-art gym for fitness buffs and a club for kids dedicated to helping little ones explore and have fun.
COVID-19 travel recommendations
Before traveling to any of these destinations, make sure to check out the World Health Organization Covid-19 Dashboard for continuously updated information.
For requirements to enter the countries and recommendations on travel destinations, consult the national and local warnings available at the destination.