Bali is more than a place…it's a mood, it's magical. It's a tropical state of mind.

– unknown
Bali, a bucket list destination of many travelers – And with good reason! Bali boasts endless beautiful beaches, one more charming than the other. Deeper inside the island, you will find a rich jungle with unique wildlife and historical mesmerizing Hindu temples scattered around the island. The smells, the sights, and the sounds of Bali will gently guide you to a place of inner peace and enlightenment.
While Bali bears the title of Paradise, there is, unfortunately, a dark side. And in the case of Bali, it is the plastic pollution problem that the island is facing. Bali has been battling a plastic crisis for years, with the government going as far as declaring a "trash emergency" back in 2017. The sun-kissed, white sandy beaches are becoming covered with trash washed up from the ocean – A sad reality that can not be ignored anymore.
When staying in more touristy areas, the problem will probably pass you by unnoticed, as the more touristy beaches are taken care of every day. However, if venturing off to less touristy areas and hidden beaches, you will face the pollution problem immediately.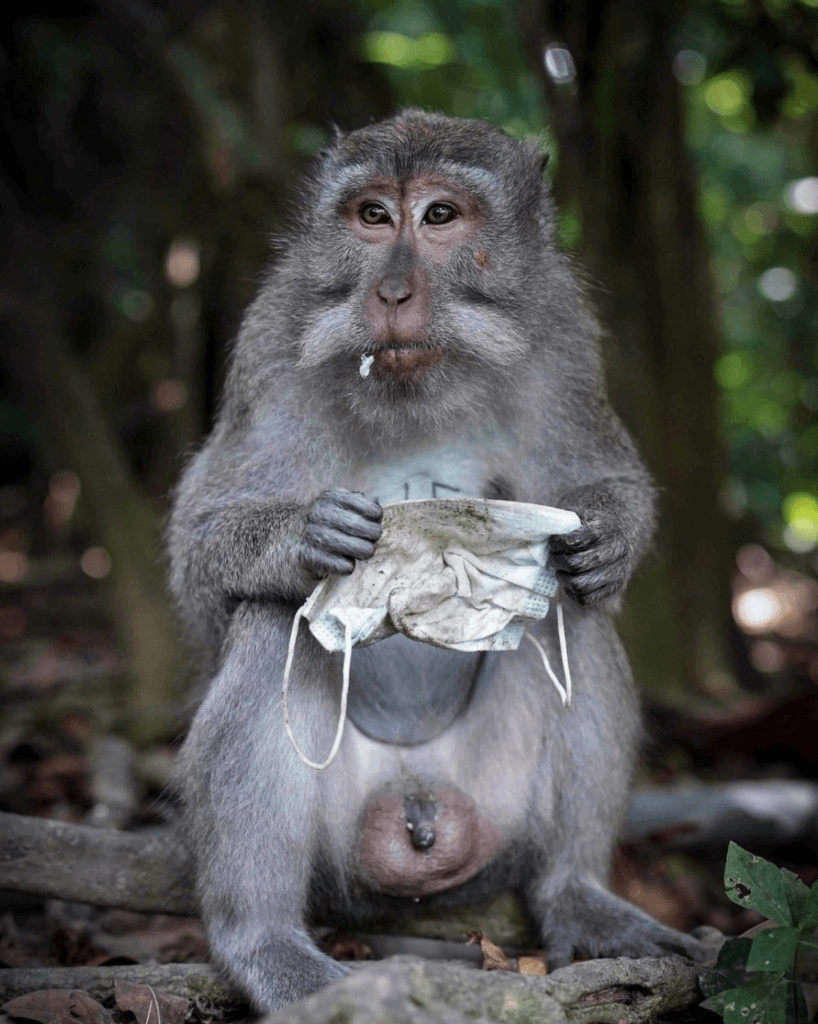 From where does the plastic waste come?
Most of the waste on the beaches has Indonesian labels – Not surprising, since Indonesia currently produces 6.8 million tons of plastic waste per year, with only about 10% of it ending up in recycling centers, and about 625,000 tons of annual plastic waste ending up in the oceans. These numbers are huge when taking into account the relatively small size of the country and are caused by Indonesia's lack of waste management and recycling systems.
Is there any solution to plastic pollution?
The solution is to handle the plastic waste before it sticks around in the environment for ages, threatening wildlife and spreading toxins. This can be realized with improved waste management systems and better recycling rates, better product design that takes into account the short life of disposable packaging, and a reduction in the manufacturing of unnecessary single-use plastics.
Plastic x Change and Ecohotels.com fighting plastic pollution in Bali
EcoHotels.com has teamed up with Plastic x Change to fight plastic pollution in Bali. We aim to stamp out plastic pollution in 3 ways;
1) Ubud jungle and beach cleanups
2) improvement of the waste management system
3) environmental education.
Ubud Jungle and Beach Clean Up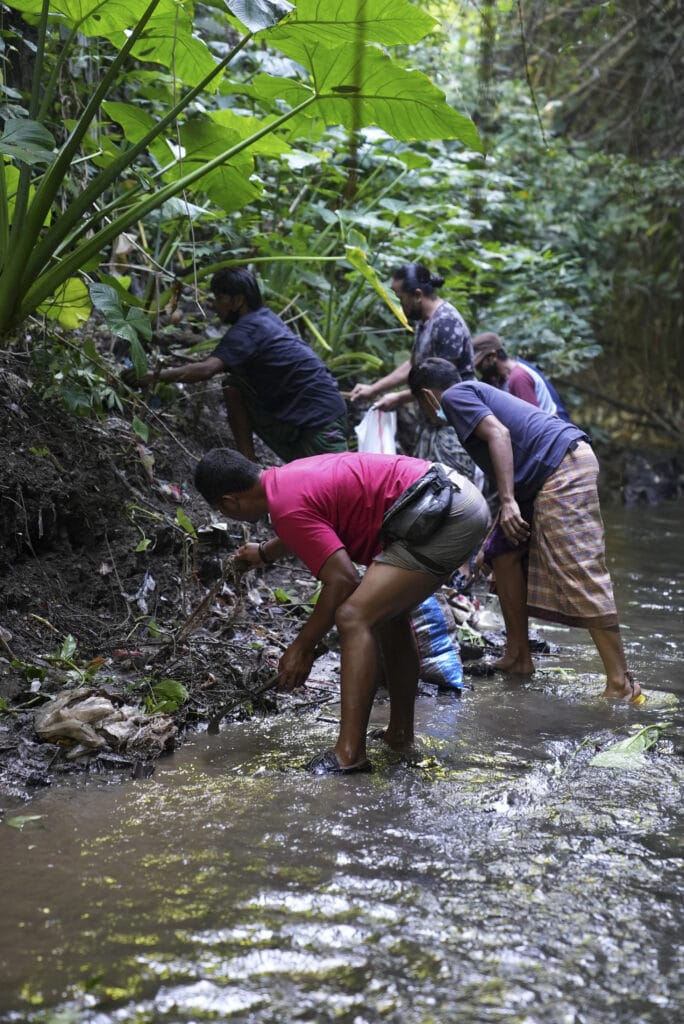 The idea is to collect the waste from rivers and land before it finds its way to the oceans. The principle is clear; "Plastic for Rice." For every 4 kg of collected plastic waste, the Balinese people get 1 kg of rice in exchange, which is enough to feed a family of 4 daily. This new barter program turns the problem of environmental pollution into an opportunity to use plastic trash as a currency for food. The program has resulted in 27 tons of plastic waste collected in just one month!
Improving the jungle waste managing and recycling system in Bali
One might think that Balinese people don't care about the beautiful environment that they benefit from in ways of agriculture and tourism. However, this is not the case! It is not a question about care and environmental responsibility. Instead, it is a question of accessibility to handle waste responsibly. Bali's waste management systems are inefficient and almost nonexistent. Even though the government has taken steps to improve waste management systems in Bali, there is a long way to go if Bali should become able to deal with the increasing production of plastic.
EcoHotels.com works towards improving the waste management system and the low recycling rate in Bali. More specifically, EcoHotels.com has implemented a 3-bin system to help the local people manage their waste in a more sustainable and environmentally friendly way. The 3-bin-system is the first step to prevent plastic waste from ending up in nature and oceans.
Environmental Education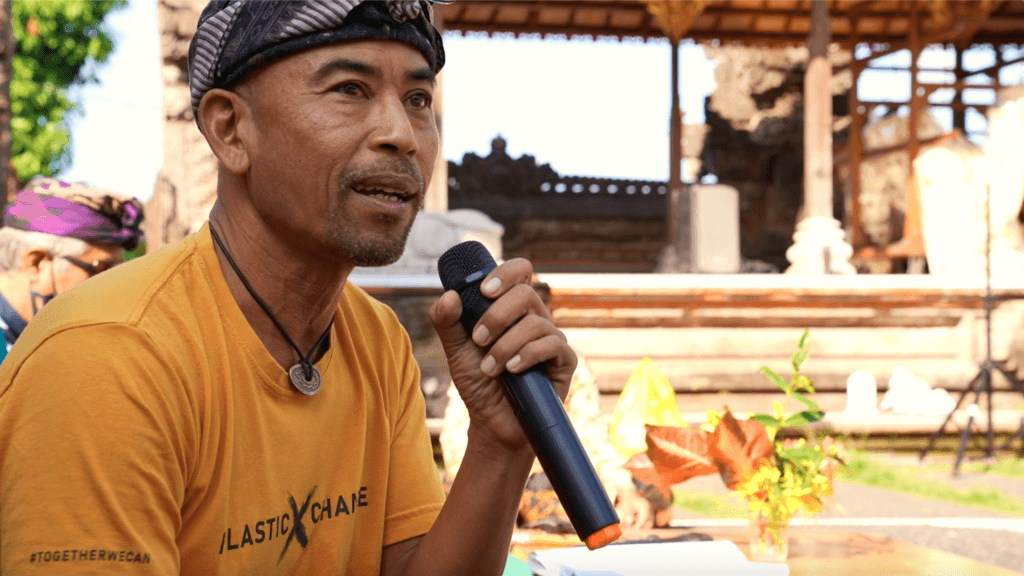 EcoHotels.com believes that environmental education is a fundamental part of the key to solving Bali's waste problem. Our planet is rapidly changing, and environmental awareness – or lack thereof – will play a significant role in our planet's future. Just as much as kids need nature, nature needs kids. This reciprocal relationship is at the core of EcoHotels.com and Plastic x Change's environmental education. With this educational program, locals learn how to manage waste and make a difference in their communities.
How can you get involved in the cleanup projects?
Every time you book a stay with EcoHotels.com, we donate rice to the EcoHotels.com x Plastic x Change project in Bali. Also, you can donate directly to Plastic x Change on their website.
4. What are some other ways that you can help fight plastic pollution
Find inspiration on how you can help fight plastic pollution in the following articles:
In conclusion, EcoHotels.com has teamed up with Plastic x Change to fight plastic pollution in Bali. We aim to stamp out plastic pollution in 3 ways; jungle and beach cleanups, improvement of the waste management system, environmental education. This is a huge step towards solving this global issue that will benefit both our environment and the tourism industry here on the island for years to come. If you're looking for an eco-friendly hotel or villa while visiting Indonesia's most popular tourist destination then look no further than Eco Hotels!