Want to reduce the carbon footprint of your wedding? We have collected 6 romantic wedding venues for eco-conscious couples who want to give back to the planet. According to research in The Green Bride Guide, the average wedding produces 400lbs (200kg) of garbage and 63 tons of CO2. With an estimated 2.5 million weddings per year, that means 1 billion lbs of trash and the emissions equivalent of what 4 people would produce in a year in just one day! However, these breathtaking wedding venues love the planet as much as you do, so when celebrating your wedding at one of these venues, you can rest assured that the dollars you spend on your wedding contribute to social and environmental causes. These 6 venues prioritize local people and the planet. Get to know the venues we love for their oh-so-eco-chic environmental consciousness below.

Romantic and historical green wedding at Haraldskær Sinatur Hotel & Konference
Vejle, Denmark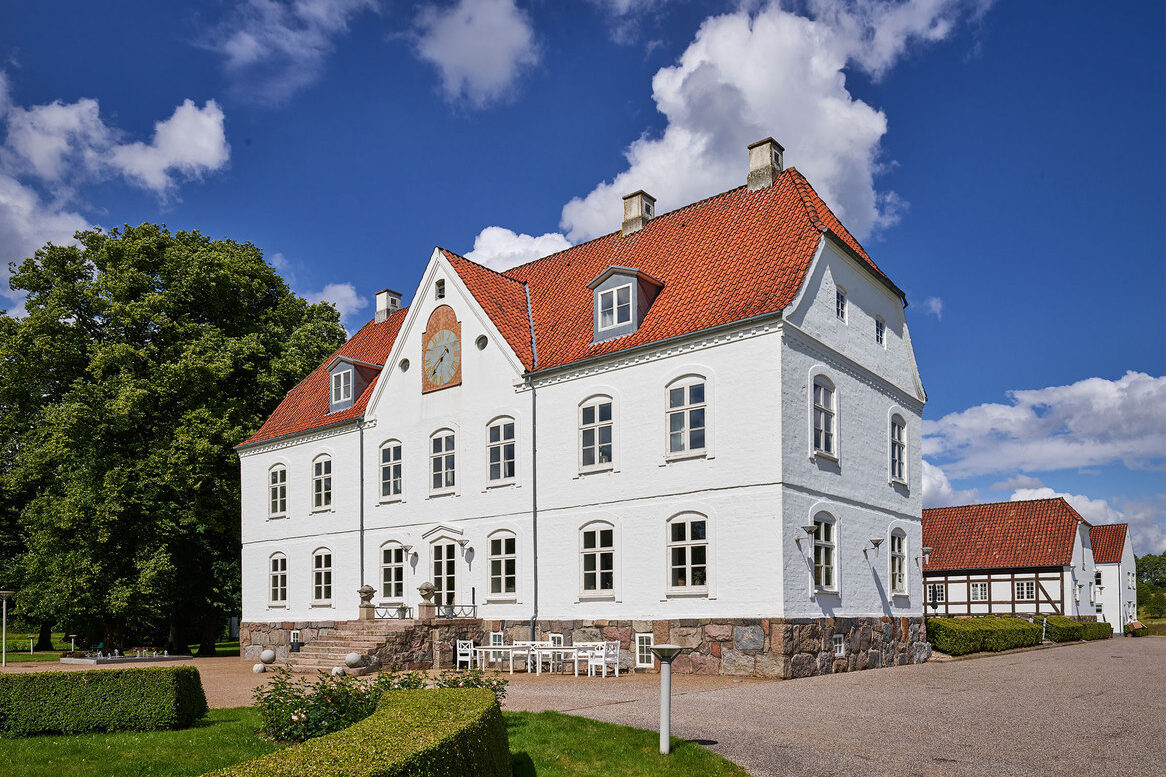 Once-in-a-lifetime occasions call for unforgettable celebrations.
Escape to this romantic and historical hideaway, and tie the knot in the heart of nature. The green surroundings of Haraldskær provide a magical backdrop for your eco-friendly wedding. Weddings at Haraldsskær are hosted in the name of intimacy, love, and sustainability. Exquisite, organic gastronomy, champagne at the water's edge, and kisses in the shade of the beautiful tree crowns await you. Haraldskær is a fully restored manor house with authentic charm and the picturesque Vejle River gently running through its grounds.The hotel is proud to announce its membership of the UN Global Compact and its Ten Principles on human rights, labor, environment, anti-corruption, and Sustainable Development Goals. The Sinatur Hotels are the second Danish hotel chain to participate in this initiative for responsible and sustainable companies. In addition, every time an event is held at Haraldskær, the hotel buys 1 m2 of Danish land through The Danish Nature Fund that protects the environment, nature, water, and wildlife in Denmark.
Urban Jungle Wedding Party at Manon Les Suites
Copenhagen, Denmark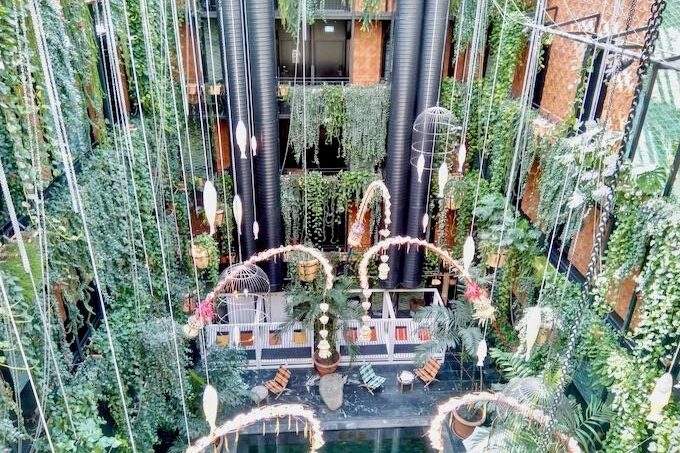 Bohemian eco-luxury and a festive atmosphere come together and create a slice of Bali in the heart of Copenhagen – The perfect eco-friendly venue for your wedding day.
Are you getting married? And do you wish to celebrate it with a beautiful eco-friendly reception that your guests will never forget? Look no further! The sustainable 5-star Manon Les Suites is the obvious choice.
The hotel is known as one of Copenhagen's hippest and most sustainable hotels. Bohemian eco-luxury and a festive atmosphere come together and create a slice of Bali in the heart of Copenhagen.
All food and drinks are ecological and sustainable and served in the fantastic Junglefish room, which contains a lovely turquoise pool encircled by five stories of balconies with thousands of green hanging plants and tropical decorations.
The Green Globe certified Manon Les Suites is a pioneer of sustainable hotel operation and sets the highest standard for sustainability worldwide.
Beach-Side Wedding at Casa Chamaleon at Las Catalinas
Las Catalinas, Costa Rica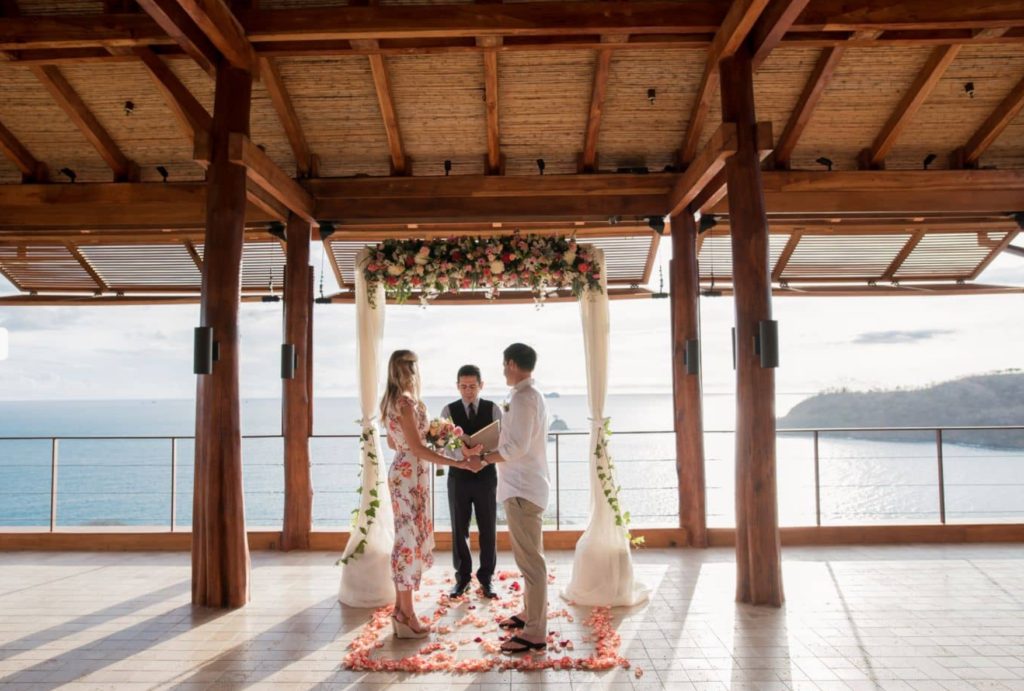 Celebrate the beginning of a lifetime surrounded by your loved ones amidst paradise at this tropical and eco-friendly hotel.
Are you looking for fantastic scenery to carry out the happiest day of your lives? Look no more! Check out this tremendous eco-aware property, and picture yourself married amidst paradise. With Costa Rica's magical setting as the backdrop, the elopement package is designed to create intimate, authentic moments that you and your partner can cherish forever. Las Catalinas will orchestrate an occasion worth celebrating over and over again.
The spectacular local flora and fauna, for which the region is recognized, are treated with the utmost respect by this sustainable hotel. To preserve the beauty of the secluded paradise, the hotel has implemented a long list of sustainable practices focused on bettering its environmental and social impact.
Alongside adopting water conservation practices, an ambitious recycling program, and providing monthly beach clean-up projects for the staff and guests, Las Catalinas Hotel invites its guests to give back to the local school and environment with its Plant-a-Tree program.
Marry at Ahau Tulum, Mexico's premier venue for picturesque Beach Weddings
Tulum, Mexico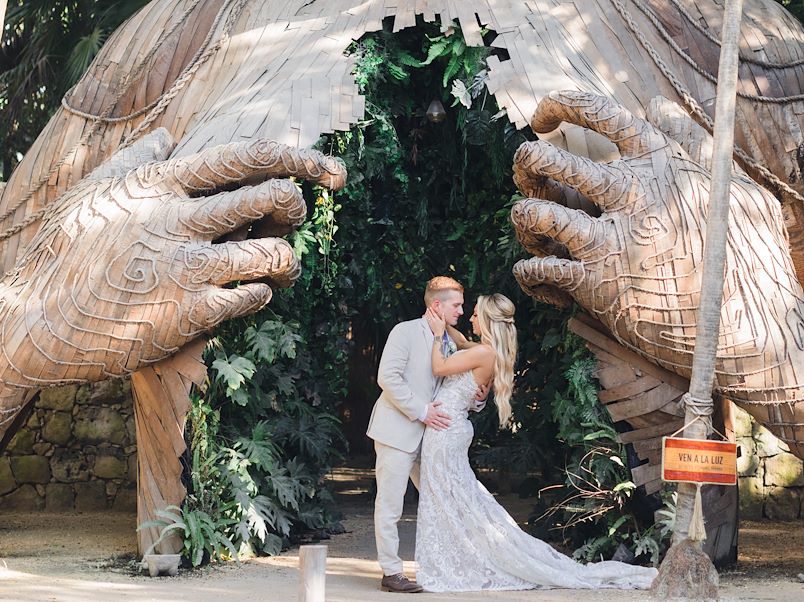 One of Mexico's most romantic beach destinations, Ahau Tulum is the perfect stage for celebrating your love.
Ahau Tulum is an ideal setting for your wedding or honeymoon, with tailor-made experiences no matter your guest list, budget, or vision. First, exchange vows against the Caribbean Sea oceanfront and then celebrate with an intimate outdoor reception, dinner, and wedding party. Get your friends and family together and make everlasting memories when you reserve Ahau Tulum for your entire party and turn your special day into an extended, unforgettable celebration.
The Ahau Tulum is committed to promoting natural harmony and organic experiences rooted in a deep respect for Mother Nature. The hotel is not just a place to stay but a community dedicated to environmental sustainability, harmony, and health. From the sourcing of ingredients used in the restaurants' components to the building of the casitas and cabanas on the beach and the eco-conscious amenities and water preservation practices, everything the Ahau Collection of resorts and hotels does is with a mindful eye on the earth.
Ahau Tulum has achieved Green Key certification through its commitment to the environment and sustainability's three pillars: environmental, sociocultural, and economical. In addition to the resorts' focus on sustainable hospitality and eco-friendly initiatives, Ahau Tulum has committed to improvements and projects in the local community and nature. From stimulating economic growth, creating jobs for residents in Tulum, protecting marine life and nature preserves to reducing waste and leftover food, the Ahau Tulum strives to bring goodness to the world.
With its next-level environmental consciousness, you will be assured the carbon footprint of your wedding are reduced to an absolute minimum.
Marry on Bali's most exclusive stretch of beach at Anantara Seminyak Bali Resort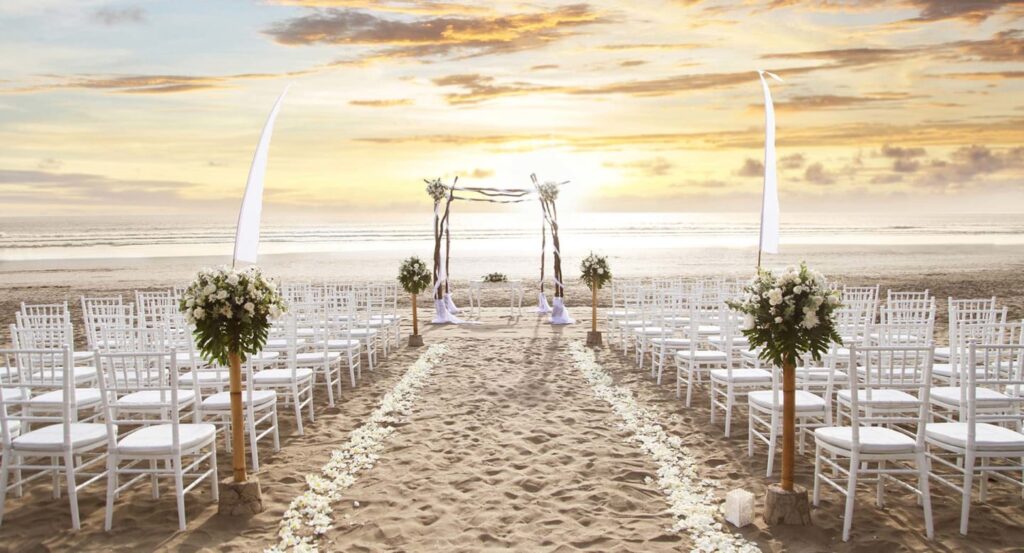 Say 'I do' on flower-strewn golden sands with the ocean as your witness.
Ascend to the rooftop for Champagne toasts against a spectacular sunset backdrop. Then, celebrate all night on a candlelit beachfront lawn.
Celebrate your perfect Bali wedding at Anantara Seminyak, where vows are made amid sophisticated seaside luxury. Opt for an extravagant celebration or a renewal of vows just for two. A dedicated sustainable-focused wedding planner is on hand to see to all arrangements, from décor and banqueting to transportation and photoshoots.
At Anantara, sustainable tourism drives the choices, and they are committed to preserving the planet. In addition, they aim to protect and nurture the local community and environments and operate to allow for generations of residents and travelers still to come.
More specifically, the hotel minimizes water consumption through the combined efforts of guests and partners. In addition, they also strive to reduce energy consumption each year by at least 10%.
They reduce, reuse, and recycle solid waste, whenever possible. Among other initiatives, the hotel has implemented composting programs to take advantage of biodegradable waste, including food waste.
Finally, they promote local cultural awareness amongst its guests, employ and empower members from local communities, and source environmentally and culturally sustainable products and services.
Tropical wedding at Villa Armonia
Boca De Tomatlan, Mexico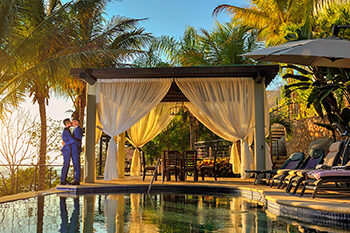 Say "I do" surrounded by your family and friends at the planet-friendly Villa Armonia Luxury Boutique Hotel.
The hotel is a gleaming oasis located along the lush, beachside region of Boca de Tomatlan, and serves as the perfect eco-friendly wedding venue. Harmonious blends of exotic and high-end finishes captivate anyone stepping inside this immaculate six-suite villa along the foothills of the southern Puerto Vallarta shores. Villa Armonia exudes a smooth transition between traditional, sustainable, and modern design. This luxurious hotel seeks to blend in and live in harmony with its beautiful surroundings, including the jungle and coast. With Planet-friendly initiatives, the hotel seeks a minimal environmental impact and supports environmental and social activities in the local community.

Sustainable wedding ideas
Alternative natural decorations
Wedding flowers is a must have for most weddings. Instead of making floral arrangements of cut flowers use potted plants. Not only does it look cute, you can replant it when your big day is over.
Another way to make your wedding sustainable is to use natural or recycled materials for table decorations.
Local and green food
Serve a locally sourced menu. By supporting local farmers, you're reducing the carbon footprint of your wedding.
Serving plant-based meals is another great way to make your wedding more sustainable. Not only are they better for the planet, but they're also often more delicious than traditional meat-based dishes. Plus, you'll be helping to promote a healthier, more sustainable way of eating.
Earth-friendly wedding dress
The best thing you can do for the environment when choosing a wedding dress is to find something pre-existing. When buying your wedding dress second-hand, you safe a lot of money and protect the planet. wedding dresses s Besides, it take a lot of ressources to create a dress. Instead by your dress second hand or buy at least by a dress made from organic and sustainable materials.
Buying second hand might not be the right option for you. Do not fear! You can still stay true to your ethical values. If you do a little bit of research, you will easily find a brand that will bringing you the ethical and sustainable wedding dress of your dreams.

If you're looking for a unique and sustainable wedding venue, one of these six locations may be perfect for you! Each spot offers a different setting and style, so take your time browsing through them all to find the best fit. We can't wait to see pictures from your big day at one of these amazing venues!