Copenhagen is a vegetarian's dream. Whether you're looking for vegetarian food or just vegetarian restaurants, there is an abundance of options to choose from. In this blog post, we will list the top ten vegetarian and vegan restaurants in Copenhagen. There are so many great places that it was hard for us to narrow down our choices!
Why vegan and vegetarian diets are better for the environment
Vegan and vegetarian diets are better for the environment because plant based foods require less energy to produce. It is partly because most livestock raised for meat and dairy production have an incredibly high carbon footprint that results in deforestation, greenhouse gas emissions, and habitat destruction.
Another reason why vegan and vegetarian diets are better for the environment is that plant-based foods require less water to produce than meat and dairy products do. Animal agriculture accounts for around 80% of all fresh water in the United States because it takes about 100 times more water to raise livestock than producing plants. Additionally, vegan and vegetarian foods release far less methane into the atmosphere than meat does.
So… Vegetarian and vegan diets are better for the environment because they require fewer natural resources, produce less greenhouse gas emissions, use much less water, and do not result in habitat destruction like livestock farming does. By eating vegan or vegetarian food, we can all make a difference to help protect the environment.
The best vegetarian restaurants in Copenhagen
1. Gemyse Tivoli
Gemyse Tivoli is a vegetarian restaurant located in the beautiful Tivoli Gardens in the heart of Copenhagen. It is not only a popular place among vegetarians but also among people who are looking for some healthy and tasty food after an enjoyable day. The menu offers all kinds of dishes, including both small snacks and full-sized big plates which will leave you satisfied.
Gemyse Tivoli is a local favorite with organic produce and an emphasis on local farmers. They also have their kitchen garden where they grow many of the vegetables used in the restaurant's dishes. If you are looking for vegetarian kitchens, Gemyse Tivoli should be at the top of your list!
2. GRØD
GRØD is a popular vegetarian restaurant in Copenhagen, Denmark. With dishes that are fresh, healthy, and tasty, they have a great menu for everyone. The dishes change with the seasons and are based on what is in season. It means that their menu is always a surprise, but you can rest assured that it will be delicious! On the menu, you will find dishes such as salad, soups, and porridge. They always have a dessert on the menu, whether it's mouth-watering ice cream or sweet cakes.
3. Väkst
Vaekst is a restaurant that has been taking Copenhagen by storm. It is the latest addition to the moderately priced quality restaurants by Cofoco, and it focuses on tasty veggies with Nordic flavors. The garden-like restaurant gives guests a certain summer-like vibe with its menu full of light wines and fresh produce. All dishes are made fresh and from scratch. The restaurant offers both vegetarian and non-vegetarian menus, making it the perfect spot to satisfy all tastes and bring together vegetarians and meat lovers.
4. ARK
ARK restaurant is a 100% full-time, full-hearted plant-based concept with a menu that focuses on local, contemporary food, drink, and cocktails. This new restaurant has been well received by both locals and tourists from all around the world. The restaurant is not only focused on the food but also has a strong focus on sustainability and green initiatives. Their goal is to reduce their carbon footprint by setting up recycling programs and reducing waste. They are constantly searching for ways that will help them improve in this area.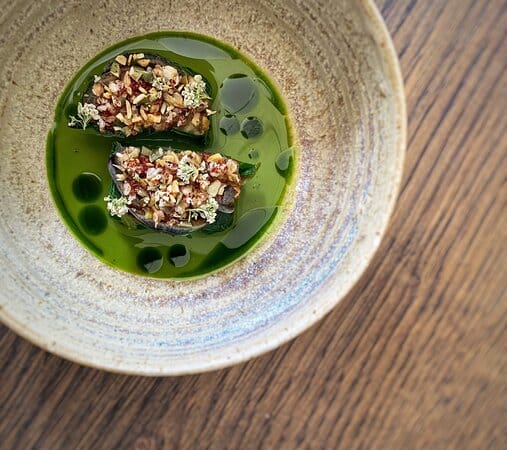 The Copenhagen food Mekkas that specialize in both vegetarian and vegan cuisines
5. Morgenstedet
Morgenstedet is a vegetarian/vegan cafe located in a little white house in Christiania Freetown. The menu at Morgenstedet changes daily depending on what chef is on shift, but you can always expect a mixed, organic cuisine including everything from smoothies and healthy juices to homemade lentil and bean salads and tasty cakes! There are both indoor and outdoor seating areas, and the laid-back warm atmosphere makes it the perfect spot to enjoy a late Sunday morning.
6. Kates Joint
Kates Joint is located in the hip and vibrant Nørrebro district of Copenhagen. The restaurant serves excellent Indian and Indonesian vegetarian-friendly rice dishes, making it a great choice for vegetarians looking to try out some new flavors. The food here is fairly priced as well given its location on the outskirts of downtown Copenhagen. Vegetarian and vegan dining options are plentiful. The restaurant has a cozy, relaxed vibe to it with its wooden tables and chairs tucked away in the corner of this small space. There is also seating outside in the warmer months. The service here is very friendly and helpful, especially if you have any dietary restrictions or questions about specific dishes on the menu.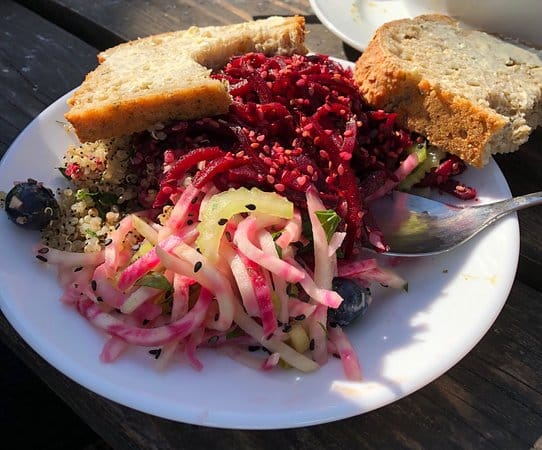 The best vegan kitchens in Copenhagen
7. LUPA Bistro
Lupa is a vegan restaurant, bistro, and bar. They serve vegan cuisine with an emphasis on local, Nordic ingredients fused with exotic flavors from across the globe. The menu changes according to the seasons and reflects what's fresh at the market. They also serve a delicious vegan brunch in the morning. They have a beautiful vegan bar with beers, vegan wines, vegan cocktails, and vegan juices. Lupa Bistro has a warm environment with a new nordic, chic decór and is definitely worth a visit!
8. POW
POW is the best vegan pizzeria in Copenhagen, serving up some of the most delicious vegan pizza you can find. Their pizzas are made from scratch and served daily, with a wide selection to choose from. POW's mission statement is "to cure people's hearts with plant-based food", and they are serving up their delicious pizza to do just that.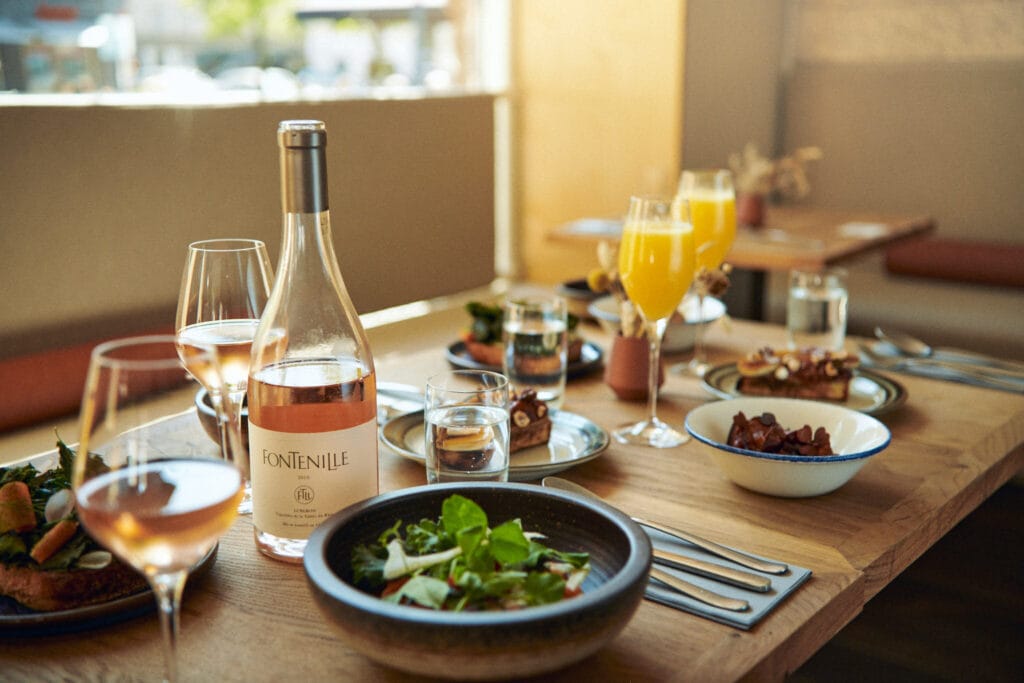 Vegan and gluten free dining options in Copenhagen
Gluten free dining options in Copenhagen are growing rapidly, with menus popping up at restaurants all over the city. Whether you are looking for breakfast or dinner in Copenhagen, there are several great choices to choose from.
42 Raw
42 Raw is a gluten free restaurant in Nørrebro that specializes in raw food dishes. The menu is totally vegan and gluten free, and they even have gluten free bread for the sandwich! 42Raw serves breakfast all day long, with great choices, such as avocado toast or their delicious smoothie bowls. They also serve soups, green salads, and main dishes for lunch or dinner.
SimpleRaw
SimpleRaw serves some of the best vegan, gluten-free, and healthy food you can get in Copenhagen. It has many different kinds of vegan breakfast, lunch, and dinner dishes. You can choose to have it as a takeaway or sit down at their place with your friends and family for a nice lunch out. Above all, they support local and organic producers in the area. They have vegan cakes for sale, raw vegan chocolate bars made of cashews, or coconut oil caramel with sea salt that is amazing. This vegan restaurant has a very positive vibe where you feel welcome from start until finish.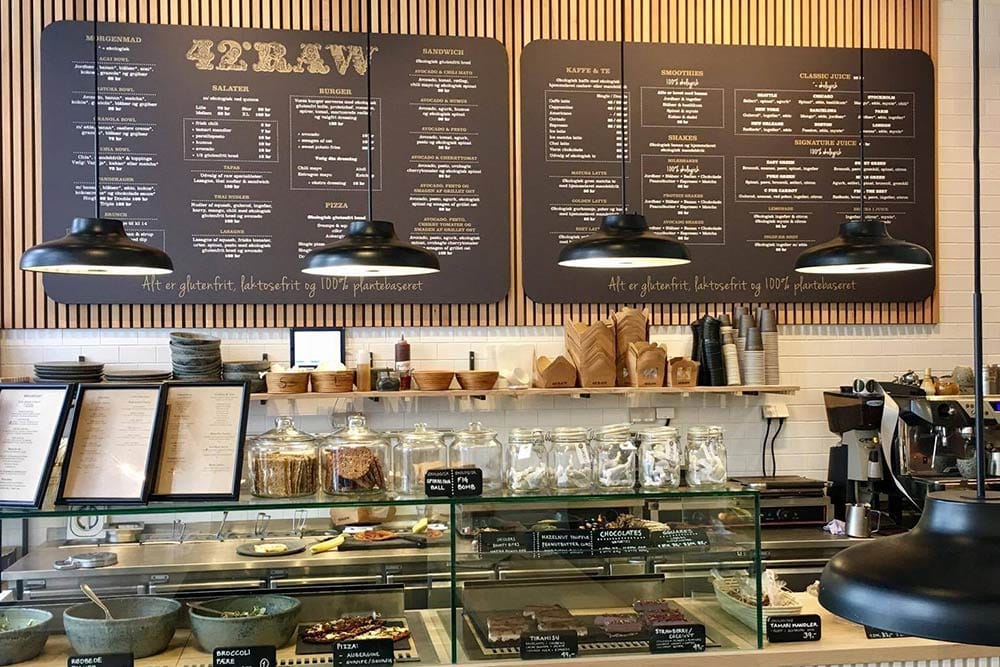 If you are looking for a way to take care of your health, the environment, and future generations, consider going vegan or vegetarian. With so many restaurants that offer delicious, healthy dishes, it has never been easier to find plant-based meals for any occasion. We have compiled this list to help you find some places that will make it easy for you to eat well without sacrificing flavor! – hopefully, this list will help make your decision of where to eat next much more simple!
Tell us your favorite vegan or vegetarian restaurant in Copenhagen!
Want more guides on vegan-friendly destinations? Check out Loveholidays's Vegan Travel Guide