Skiing is a popular winter sport that many people enjoy. If you're looking for eco-conscious ski resorts to visit, look no further! We've compiled a list of the top 10 eco-conscious ski resorts in the world. These resorts are committed to responsible practices, and they offer a great experience for skiers and snowboarders alike.
Switzerland
The Alpina Gstaad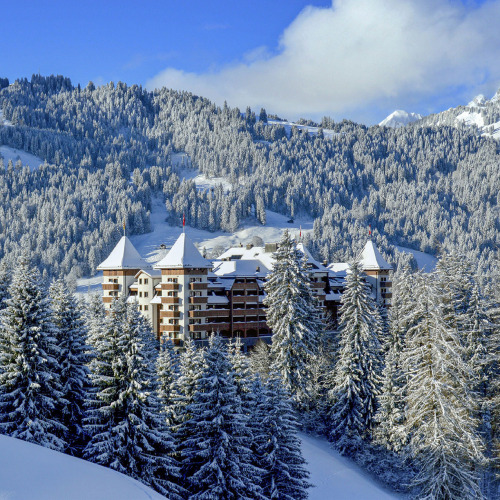 Skiing is one of the most popular winter activities, and there are few places more beautiful to hit the slopes than Switzerland. The Alpina Gstaad is a 5-star luxury ski resort in Saanen, Switzerland. It overlooks a Swiss ski village filled with classic chalets. This means that guests can enjoy stunning mountain views, luxurious accommodations, and world-class skiing facilities.
The resort has been certified by Earth Check and is the first ski resort in Switzerland to be awarded the Gold certification, following a rigorous 5-year auditing and assessment process. Some of its responsible initiatives to reduce its carbon emissions include recycling all kinds of materials through certified companies, energy-efficient light bulbs, and supporting the local economy.
In addition to its commitment to protecting the environment, the Alpina Gstaad also provides guests with a unique experience that will make their stay unforgettable. From aprés-ski at one of the resort's many bars and restaurants to a relaxing massage at the spa, there is something for everyone at the Alpina Gstaad.
Canada
Delta Hotels Whistler Village Suites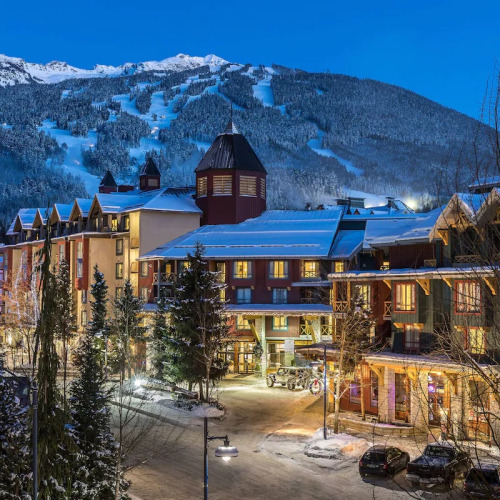 Whistler is probably the most popular ski area in North America. The short distance from Vancouver means that the skiers are a good mix of local Canadians and people from the rest of the world.
If you're looking for a accomodation here, the 4-star ski resort Delta Hotels Whistler Village Suite might be what you are looking for.
The property is located in the heart of Whistler Village, only a short walk to Blackcomb and Whistler Mountain gondolas. It is also close to 3 championship golf courses, the Valley Trail and Whistler's 5 Lakes. And even better? The hotel offers a complimentary shuttle service to and from the ski hills, so you can enjoy a hassle-free ski vacation.
The Green Key-certified hotel also offers a variety of other services and amenities for guests, including a fitness center, ski storage, and indoor as well as outdoor pool.
Fairmont Chateau Whistler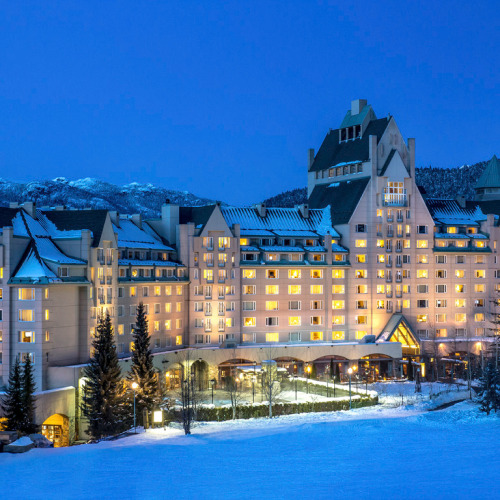 Another great environmental-friendly option for skiing in Canada is Fairmont Chateau Whistler. This 4-star resort is nestled at the base of Blackcomb Mountain, making it a ski-in ski-out hotel. The hotel features an on-site restaurant, meeting and wedding facilities, and full resort amenities. Guests at the hotel can enjoy ski and snowboarding lessons, ice skating, and other winter activities.
The hotel has been awarded the coveted Green Key certification, highlighting its commitment to responsible tourism practices. As a result, guests can enjoy peace of mind knowing that their stay will help protect the environment, by helping reduce greenhouse gas emissions with an eco-conscious accommodation. Whether you're looking for an unforgettable ski vacation, or simply want to enjoy some time in a stunning natural setting, Delta Hotels Whistler Village Suites is a perfect choice.
Romania
KAYUS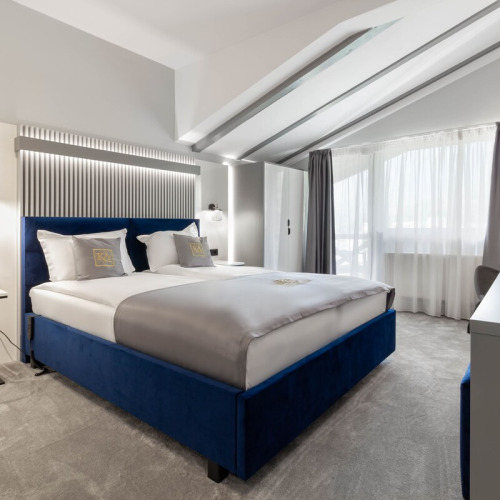 Romania may not have the highest mountains in the world, but it is one of Europe's most underrated ski destinations. Romania is also a great choice for skiers who are looking for an alternative to the classic Swiss or French Alps. The country offers a variety of ski trails for all levels of experience, and the scenery is breathtaking. So if you're looking for ski holidays in Europe, Romania should definitely be on your radar.
The 4-star boutique hotel Kayus is one of our favorite eco-conscious ski resorts in Brasov-Ski resorts, Romania. The hotel has been awarded the Green Tourism Active certification, so you can ski with a clear conscience knowing that the resort is doing its part to protect the environment.
Perched at 850m altitudes, with easy access to over 1000m of ski slopes and hiking trails, Kayus blends the contemporary urban design with alpine touches in a refined and elegant package without losing the warmth and intimacy of an idyllic mountain Boutique Hotel.
France
Residence & Spa Vallorcine Mont Blanc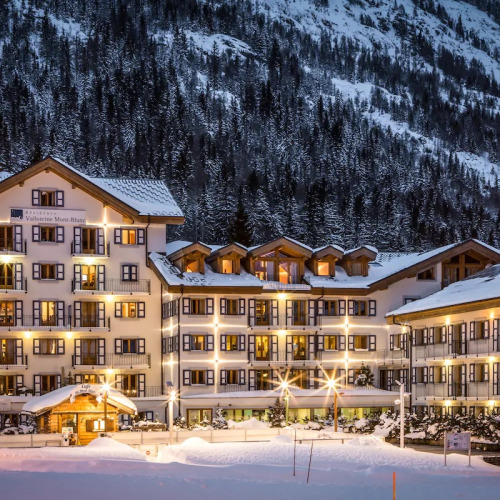 Nestles in the French Alps, the 5-star Residence & Spa Vallorcine Mont Blanc is a ski resort that offers guests the best of both worlds. Just a 3 minutes walk from the ski slopes and 15 km from Chamonix centre, the residence provides easy access to all the best that the area has to offer. The hotel also offers 40 high-standards and spacious one-bedroom to three-bedroom cozy apartments, all with balconies or terraces – perfect for relaxing after a day skiing.
Other amenities include an indoor heated swimming pool, a spa, and a cardio-training area. The resort has also been certified by Green Key, meaning that it is setting a leading example for how to support responsible tourism practices.
Hotel Mercure Courchevel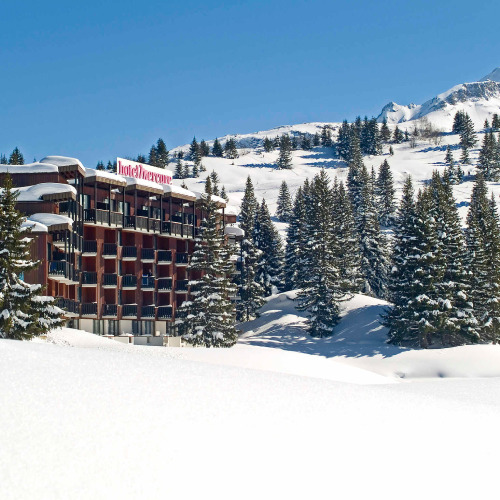 The 4-star Hotel Mercure Courchevel is located in the French Alps, on the shores of the Biollay Lake at the heart of the Trois Valées ski resort.
The hotel has 127 spacious rooms with a balcony, wooden interior, and a lake view. The hotel also offers 2 traditional restaurants, a bar, a heated outdoor swimming pool, and a bowling alley! Guests can explore the Alps through many activities depending on the season: skiing, snowshoeing, snowmobiling, hiking, climbing, cycling/mountain biking.
Hotel Mercure Courchevel is of course also eco-conscious with a Planet 21 certification for its responsible development practices. Guaranteeing that not only will you have an unforgettable experience, but you also support an eco-conscious ski resort.
Hotel Mercure Les Arcs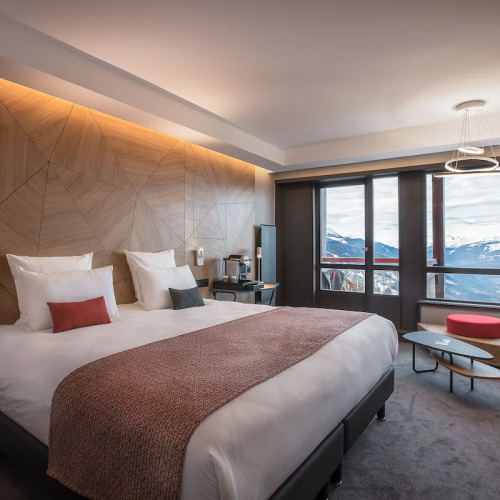 Hotel Mercure Les Arcs is also one of France's eco-conscious ski resorts. The Planet 21-certified hotel is situated in the heart of the French Alps, a short walk from the ski slopes of Courchevel 1850. The ski storage facilities make it easy to hit the slopes, and when you're ready to take a break, you can enjoy a meal or drink on the terrace overlooking Biollay Lake and the Massif de Saulire mountain.
In addition to its 2 restaurants, the Mercure Courchevel also has a poolside bar, game room, children's playground, and free public parking. The hotel also offers a range of facilities to help guests relax and unwind. These include an indoor swimming pool, fitness, solarium, and spa with a sauna and steam room.
The spacious guest rooms are designed with a private bathroom and free wi-fi. Some rooms even have a lake view. The question really is, what does the hotel not offer?
Mercure Brides-les-Bains – Grand Hotel des Thermes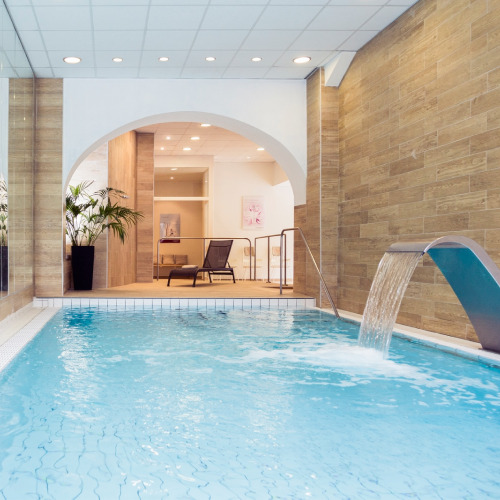 Grand Hotel des Thermes in France is a 4-star hotel that was fully renovated in 2014. The Planet 21-certified hotel offers 102 rooms and 5 meeting rooms with natural light, as well as a restaurant with a piano, fireplace, and extended terrace in a garden with a swimming pool.
At Grand Hotel des Thermes, guests can enjoy a variety of activities and amenities. The bar lounge has a giant screen and billiards, the perfect place to unwind after a long day. If you're looking for something more private, the reading lounge can be booked for cocktail evenings or banquets. And if you're looking to relax even further, look no further than the spa treatments with hammam, sauna, heated swimming pool, and hot tub – all courtesy of the Cinq Mondes brand.
Would you like to try activities other than skiing and hiking? You can relax in the botanical garden (thermal spa center), catch a movie at Le Doron cinema, try your luck at Brides casino, or learn or improve your gold skills at the Méribel golf course.
Residence P&V Premium Les Fermes de Meribel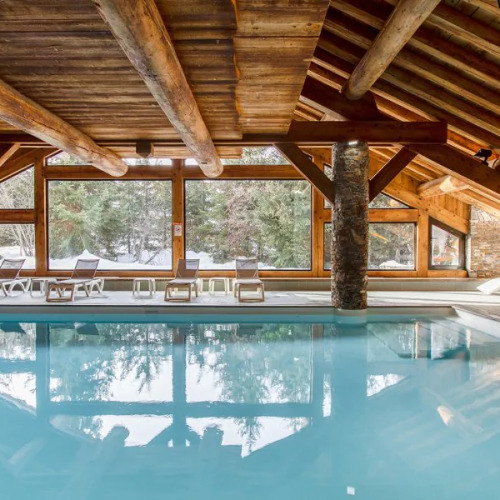 If you're on a budget and looking for a great ski resort in the French Alps, France, then look no further than the Residence P&V Premium Les Fermes de Meribel. This 2-star Green Key-certified hotel is located in the ski resort of Meribel and consists of six charming wooden and stone chalets. Each chalet has its own spacious comfortable apartment and a balcony overlooking the wonderful Savoie landscape.
The Fermes de Meribel residence also offers a relaxation and well-being area called the Deep Nature Spa. Here you'll find an indoor heated pool, saunas, and hammams. There is also a full range of amenities close by in Meribel center (4 km), including restaurants, bars, supermarkets, bakeries, and sports shops. You'll also find a medical center and pharmacy in the city center. From the hotel, you'll have access to the free shuttle to go to the city center.
Residence P&V Premium Les Alpages de Reberty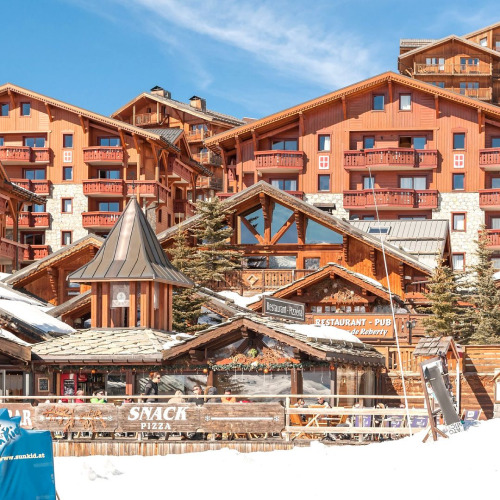 Les Alpages de Reberty residence is nestled high above Les Menuires. The four traditional Savoyard chalets that make up the resort are built in a way that enhances, instead of competes with, the natural mountain setting. The chalet-style apartment is roomy and filled with wood décor, which creates a calm ambiance for your stay. The ski resort's prime location is a dream for skiers because it provides easy access to the Les 3 Vallées ski area. For your convenience, you can even hire equipment from the Skiset shop located within the residence.
Enjoy the crisp Alpine air by participating in winter sports and après-ski activities offered at the resort. After working up a sweat, relax in the indoor heated pool, hammam, sauna, fitness studio, or relaxation room. And if you want to prolong your relaxation, book a treatment at the Deep Nature spa. Their talented team will take care of you and ensure that you leave feeling refreshed and rejuvenated.
This Green Key-certified hotel wants its guests to have the best possible experience on their vacation. That why they offer child care that includes ski lessons and supervised play. This way, parents can relax knowing their children are being taken care of and having fun.
How to make ski holidays more responsible
When it comes to making ski holidays more environmentally friendly there are several things you can do. Our top 3 tips for being environmentally friendly whiling skiing are the following:
Make sure to book eco-certified hotels and resorts. In this blog, we've provided you with our top 10, but if you want to learn more about why you should book eco-conscious accommodation, you can do so here.
Respect and protect the environment you're skiing in. That means that you should pick up your trash, and if you see some litter on the ground remove it.
Avoid single-use plastics such as water bottles. Instead, we recommend that you invest in a reusable bottle.
You can find more tips for a responsible ski holiday here.
Lets get skiing!
So there you have it, the top 10 eco-conscious ski resorts around the globe! With so many great options to choose from, there's no excuse not to plan your winter getaway. Just remember to be respectful of the environment and take any necessary precautions to ensure that you leave the mountains better than you found them.