Picturesque, pristine turquoise waters, white powdered sandy beaches, and a tropical palm-tree paradise for pure relaxation, with great cultural heritage and an amazing food scene. Well, that's Zanzibar! We ranked the best 3 eco-friendly hotels in southeast Zanzibar district and Chumba island for their paradisiac locations and commitment to the environment. Keep reading to find out more!
Zanzibar is the name given to the group of islands, Zanzibar and Pemba of the Zanzibar Archipelago in Tanzania, located on the East African coast.
Zanzibar's coastline offers some of the best beaches in the world. Sand and sea vary depending on what side of the island you're on. On the lovely east coast, waves break over coral reefs and sand bars offshore, and low tide reveals small pools with starfish and anemones.
Whether you're a group, a couple, or a solo traveler, Zanzibar has something for everybody. From romantic and luxurious spa villas, beach huts with a sea view, to eco-lodges embedded in marine reserves. Certainly, a paradise for nature lovers!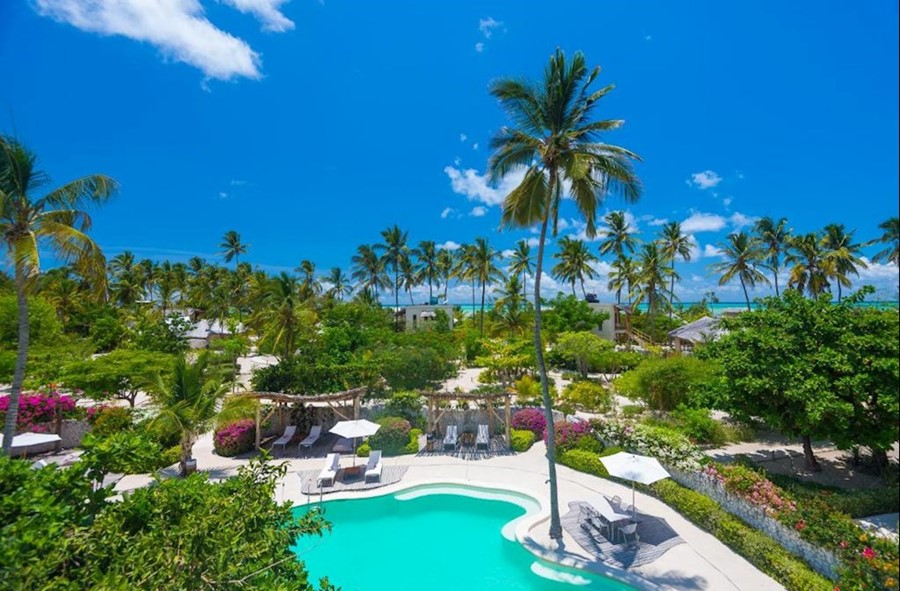 BEST ECO-LUXURY DESIGN AND PRISTINE BEACHES
Location: Paje Beach, on the East coast of Zanzibar.
Rating: 5 stars.
Why staying here? 11 private exclusive-use luxury villas, each exquisitely appointed, boasting a dining lounge, recreational area, expansive sun deck and swimming pool, sumptuous guest rooms, on a secluded and appointed space of 1500 sqm per villa.
The resort amenities deliver the highest standard of service, including spa treatments and wellness facilities, two restaurants, a rooftop champagne bar, a beach bar, and a lounge area, as well as a high-end kitesurfing and watersports center.
Sustainability: Zanzibar White Sand Luxury Villas & Spa reflects the natural beauty of the coast of Zanzibar. With over 4 hectares of lush garden, the 11 villas are nestled among trees and bushes for complete intimacy. The architecture emphasizes the local environment through the use of organic materials, shapes, and textures.
The resort implements different sustainability practices such as solar water heating, zero food waste, and beach clean-ups.
Nearby eco-attractions: Roads to the southeast coast take visitors through the Jozani Forest, home to Zanzibar's rare Red Colobus monkeys. These monkeys are very playful, and you can easily get close to them. Monkeys can be seen frolicking amongst the exotic indigenous flora.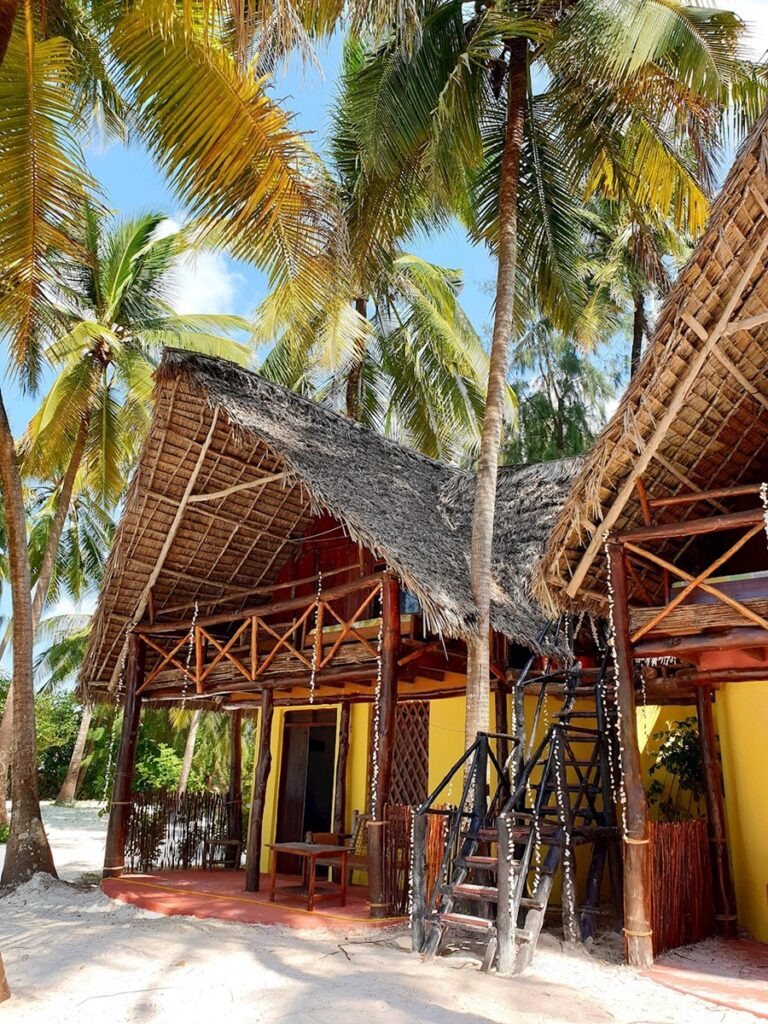 BEST OFF-THE-GRID AND ECO-FRIENDY STAY
Location: 50 km away from Zanzibar city, in Bwejuu, Zanzibar on the eastern side of the island.
Rating: 3 stars.
Why staying here? If you're looking for a kind of Blue Lagoon hut-style experience, Evergreen Bungalows is the place for you.
The hotel boasts a private beach to carefreely relax on all day long with bike rental available to get around town, free WiFi, and an on-site restaurant and bar with a local and organic ingredients menu.
Activities such as snorkeling and diving are also available for booking at the hotel.
Sustainability: The Evergreen Bungalows is a family-run business that engages in different environmental initiatives. They have implemented energy-efficient light bulbs, reduced water intake, and towel changes on request.
Nearby attractions: After visiting Jozani Forest, just 30 minutes south, there is Muyuni, a village in the southern district of Zanzibar. The people of Muyuni follow their culture, norms, and tradition very closely.
The village is fascinating as you will discover several traditional activities, including rope making and weaving of Zanzibar baskets.
Ngonga Cave is the sanctuary of vampire bats, more scary for their name than in reality. Local folklore has it that this cave is a favorite for spirits and ghosts. Would you dare to visit?
Visiting Spice farms is a great way to learn more about the island's history and rich cultural heritage. Around Muyuni, multiple operators offer tours to these plantations. You will learn how vanilla, nutmeg, and cardamom are grown while tasting as you go. Also, guides break down the way spices are used in local dishes, medicine, and ceremonies. An activity worth including in your itinerary!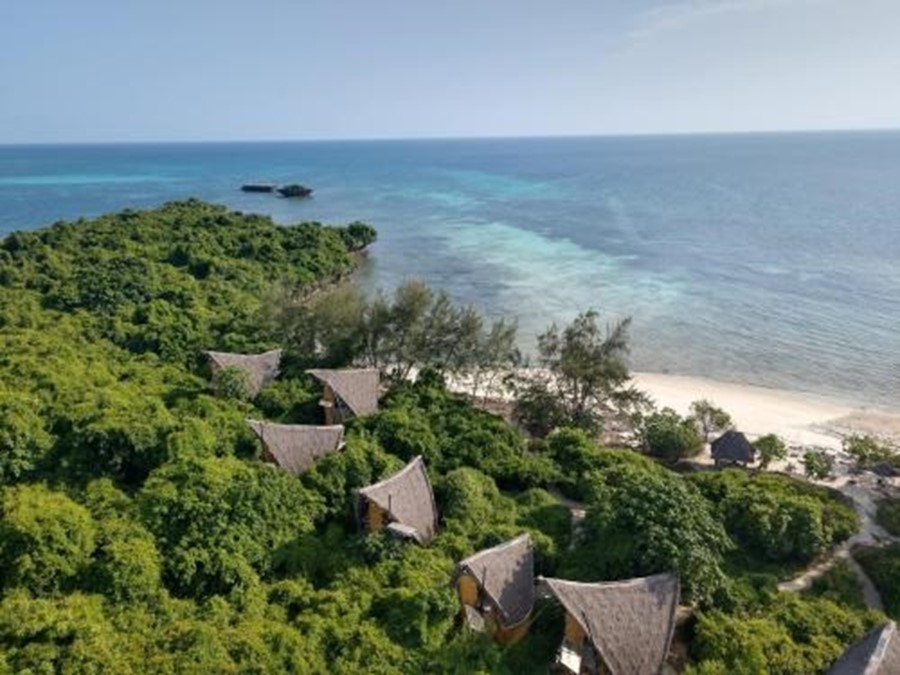 BEST ALL-INCLUSIVE ECO-RESORT EMBEDDED IN A CORAL REEF SANCTUARY
Location: Chumbe island, southeast of Zanzibar island. To get to the island it is necessary to take a 45 boat ride in Mbweni, about 6 km from Stone Town.
Rating: 3 stars.
Why staying here? Chumbe Island Coral Park is a private nature reserve located on Chumbe Island, near Zanzibar. The park is home to a protected area with a coral reef, a forest reserve, and an eco-lodge. The eco-style semi-open bungalows feature African-style décor, sea views, a sleeping area under a thatched roof, and a bathroom with a shower.
In addition, there is a spacious seating area with hammocks. All visitors are offered a mix of Zanzibarian, Arabic, Indian and African cuisine featuring fresh, local seafood, meat, vegetables, and fruits. Guest visits support free environmental education programs for local schools.
Sustainability: All operations on the island are carried out in a way that protects the pristine and fragile ecosystem of the island. Chumbe Island follows strict guidelines for visitors. The maximum reception capacity is 18 visitors on the island.
Ranger patrols 24/7 protect the marine park. All ecological bungalows include photovoltaic energy, rainwater collection systems, solar water heating for showers, vegetative greywater filtration, and composting toilets to avoid wastewater polluting reefs.
Nearby eco-attractions: Chumbe is the ideal place for nature lovers. A must-do activity for anyone visiting the island is diving in the coral gardens. The marine reserve is home to more than 50 genera of corals, more than 500 species of reef fish, sponges, starfish, clams and, if you're lucky, you can find the resident Chumbe hawksbill turtles and reef sharks.
Other activities on the island include guided walks through the forest, which is home to 80 species of birds, a visit to the historic island lighthouse, and night walks to discover coconut crabs, the largest land crab in the world!
Which beach eco-hotel would you stay in? Let us know in the comment section below!
We hope you got inspired to visit Zanzibar island and book your stay with EcoHotels.com.
COVID-19 travel recommendations
Before traveling to any of these destinations, make sure to check out the World Health Organization Covid-19 Dashboard for continuously updated information.
For requirements to enter the countries and recommendations on travel destinations, consult the national and local warnings available at the destination.