Are you looking for a hotel with a pool in Copenhagen? Look no further! We have compiled a list of the best hotel pools in Copenhagen, so you can relax and enjoy your stay. Copenhagen has something for everyone, from beautiful rooftop pools to cozy indoor pools. So don't miss out and book one of these hotels today!
Villa Copenhagen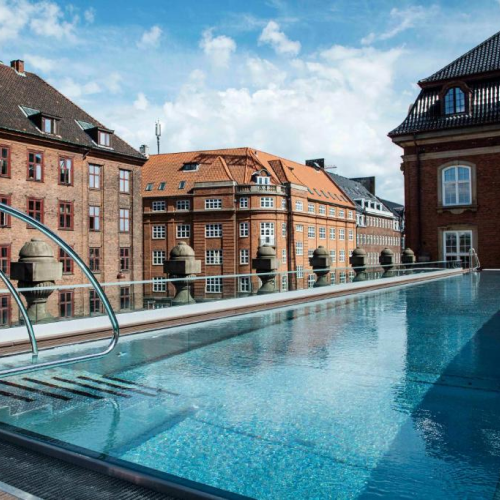 Close to the Copenhagen central train station and the Tivoli Gardens, Villa Copenhagen has one of Copenhagen's most beautiful hotel pools. The elegant hotel has a heated outdoor pool located on the roof of the building and features a bar where you can be served drinks and snacks. The Scandinavian style rooms also offer room service. In addition, the hotel is equipped with a gym and offers free wi-fi to all guests.
The hotel is located in a Copenhagen landmark. The building was formerly used as the former Danish Post and Telegraph office. With only a short train trip from the Copenhagen International Airport and walking distance from all of the landmarks in central Copenhagen, this hotel has it all!
Manon Les Suites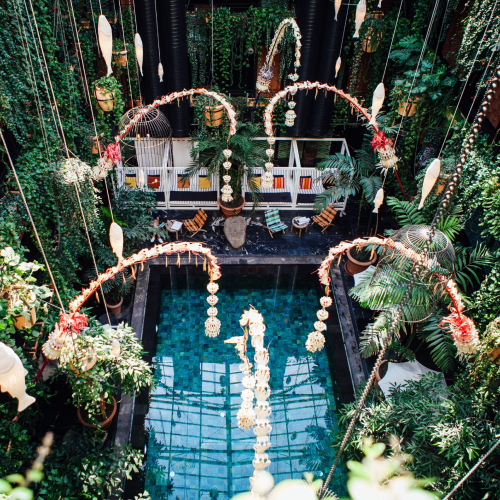 One of the most beautiful luxury hotels in all of Copenhagen. "A little slice of Bali," in the middle of the city. This is one of the many Copenhagen hotels that offers indoor pool access to its guests. The 5-star hotel is home to the famous Jungle fish Pool, which is popular with travelers worldwide. Plants and lounge vibes surround the heated indoor swimming pool. The hotel lies in the middle of central Copenhagen, right by "The Lakes." With a walking distance to the town hall square and "Strøget," Manon Les Suites could not be placed better.
Manon's rooftop has a breathtaking view of the city, making it the ideal spot to enjoy some of its signature cocktails.
Adina Apartment Hotel Copenhagen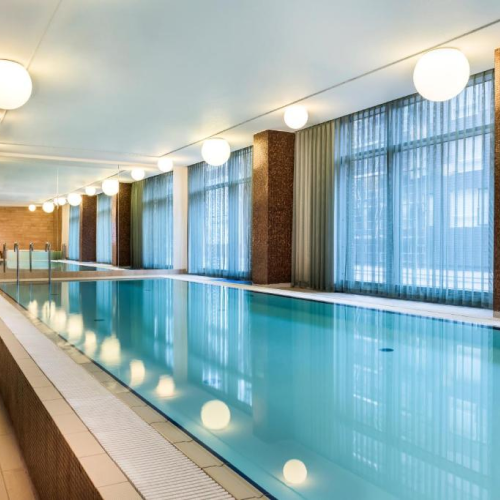 Next on our list of Copenhagen hotels with a pool is the Adina Apartment Hotel. The Adina Apartment Hotel is located near the water next to Copenhagen's ferry terminal. It is within walking distance of the Little Mermaid statue and Langelinje. It is easy to reach from Østerport train station. Hotel Adina features stylish studio apartments with free wi-fi, a balcony, and a fully equipped kitchen with a separate lounge and dining area.
Moreover, the hotel offers free gym facilities with a swimming pool as well as laundry facilities. The local buses stop nearby and are ready to take you anywhere you want to go! If you need a place to eat, Adina Copenhagen Hotel's restaurant is called StoreHouse Copenhagen,
Tivoli Hotel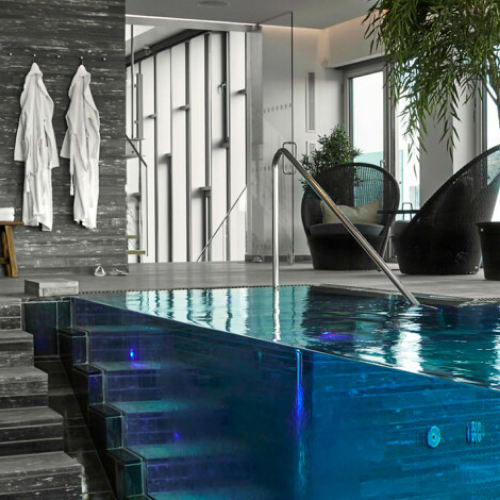 This unique hotel next to the Copenhagen central station is a part of the Tivoli family, and you cannot miss that if you visit this luxury hotel. Tivoli hotel is decorated with kaleidoscopic art, Hans Christian Andersen and his fairytales, back and white silhouettes of the famous clown figure Pierrot, and silver shining columbine ballet dancers. This is in the whole structure, from the lobby to the room's modern bathroom. The hotel offers room service to start your morning in piece. Tivoli Hotel features an indoor swimming pool and a fully-equipped fitness centre. It is placed within walking distance from the Copenhagen city centre, with the city hall square only a few minutes away.
Moreover, Tivoli Hotel is home to a beautiful sky bar, where you can enjoy a cocktail and some snacks on the outdoor terrace. Furthermore, the hotel is home to two delicious restaurants, where you can enjoy handmade sushi at Sticks and Sushi or enjoy a steak at Mash Steakhouse.
Urban Eco Resort Bryggen Guldmeden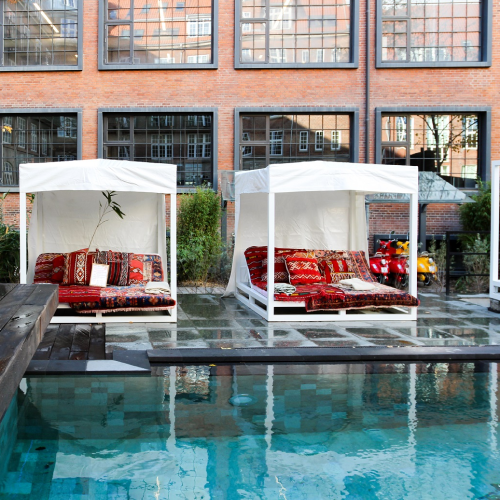 Denmark's most accomplished sustainable luxury hotel is located in Islands Brygge. In theme with the other Guldsmeden hotels, the hotel is decorated with a unique Nordics-meets-Bali vibe. The hotel is equipped with a bar and a restaurant. The hotel is where you can enjoy its signature brunch, featuring organic produce according to season. The guests enjoy free access to the hotel's "jungle gym." Urban Eco Resort Bryggen is close to Islands Brygge harbour front, where locals spend their time bathing in the habour, having a picnic on the grass, or enjoying a stroll with the beautiful ocean view. The hotel features an outdoor swimming pool, where you can take some time off and take a self-catering break. You have free access to all of their facilities when you stay at the hotel.
The rooms are equipped with free wifi, a flat-screen TV, and a private balcony. In addition, the hotel has excellent meeting facilities, where you also can order food from the hotel's restaurant.
Other places to swim in Copenhagen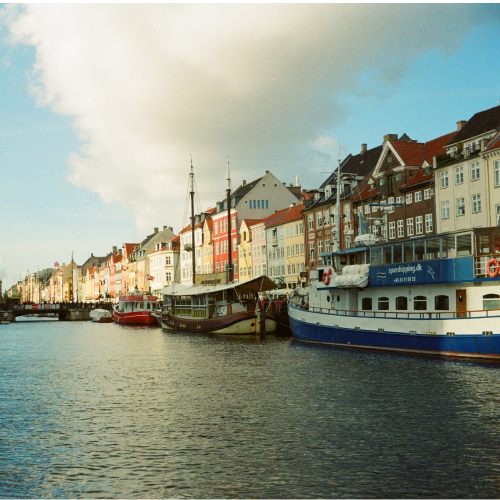 If you are not staying at any of these Copenhagen pool hotels, fear not; there are many others ways to take a dip in the city. In addition, if you are not staying at any of these pool hotels in Copenhagen, you can still visit the respective hotels and ask what is needed to access their facilities.
Otherwise, there are many places that locals like to use all year round in central Copenhagen. Copenhagen's Nordhavn harbour is a popular swimming spot. There are also many places in and around the Copenhagen canal where locals jump in the water in the summertime. Moreover, there are many public pools all around the city.
If you're looking for a hotel in Copenhagen with a pool, we've got you covered. All of the hotels on our list have an indoor swimming pool that will help you stay cool during your stay in Denmark's capital city. So, what are you waiting for? Book a stay in one of these fantastic Copenhagen hotels today!