Imagine dipping your toes into a sunny roof terrace pool in Barcelona while you have your favorite drink and enjoy the scenic urban view. Or maybe swimming in one of the longest pools in Dubai. If you are looking for a getaway while still being in the city, these hotels have the best urban pools to relax by. We list the top-rated and best urban pools in the world that stand up for their luxury design and eco-awareness. Which one would you swim in?
#1 BEST DESIGN: MANON LES SUITES, COPENHAGEN, DENMARK
Dive into a piece of Bali in the heart of Copenhagen.
A 5-star hot spot in Copenhagen and right in the middle of the city's most attractive sights, a stay at Manon Les Suites will be a dream experience that you will never forget. At Manon Les Suites, bohemian luxury, breathtaking design, and a festive atmosphere meet sustainable and quality food, drinks, and service.
Manon Les Suites has 87 suites available and surrounds an outstanding Bali-style indoor pool with a lounge area. The hotel also offers extended fitness facilities as well as a fantastic rooftop terrace.
Manon Les Suites takes the Guldsmeden Hotels concept to a new level – the relaxed, sustainable lifestyle in a hip, happy and lush environment is the perfect urban base for friends, couples, or families looking to enjoy everything that Copenhagen has to offer.
Green Globe certified Guldsmeden Hotels are pioneers in sustainable hotel operation as they have set the highest standards for sustainability worldwide. During your stay, you will be a part of an inspiring and eco-friendly universe that recycle, reuse and reduce whenever possible.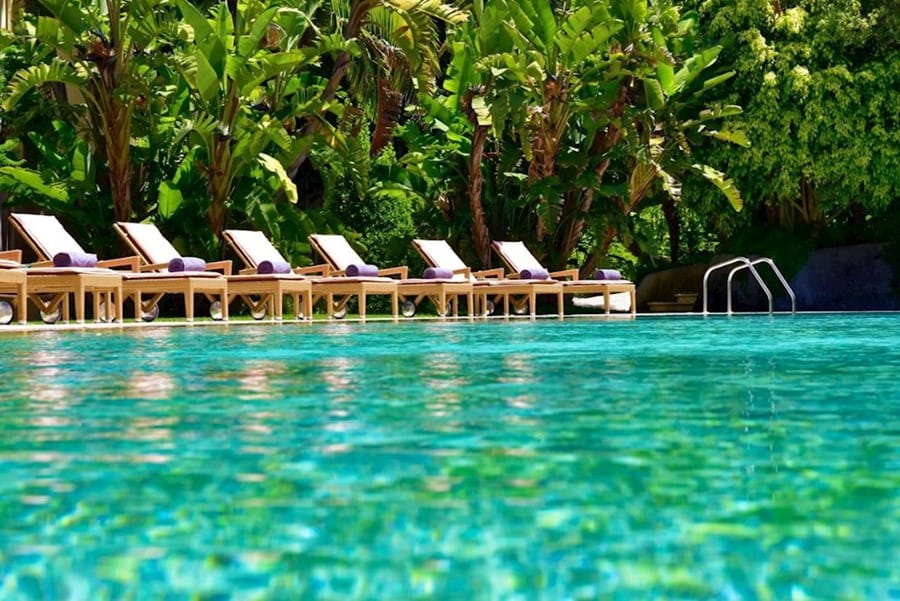 Lisbons hidden jewel with an beautiful lake swimming pool.
Located in a restored 19th-century palace, the Pestana Palace Lisboa is one of The Leading Hotels of the World, which are recognized for their extraordinary service.
This 5-star hotel in Lisbon is close to the city's main monuments, such as the Tower of Belém, the Belém Cultural Centre, the Jerónimos Monastery, the MAAT –Museum of Art, and the Lisbon Convention Centre.
With two swimming pools, indoor and outdoor, a spa, and lush gardens, Pestana Palace Lisboa has everything for you to enjoy the culture, food, and charm of beautiful Lisbon.
#3 MOST EXCLUSIVE: THE H DUBAI, DUBAI, EMIRATES, U.A.E.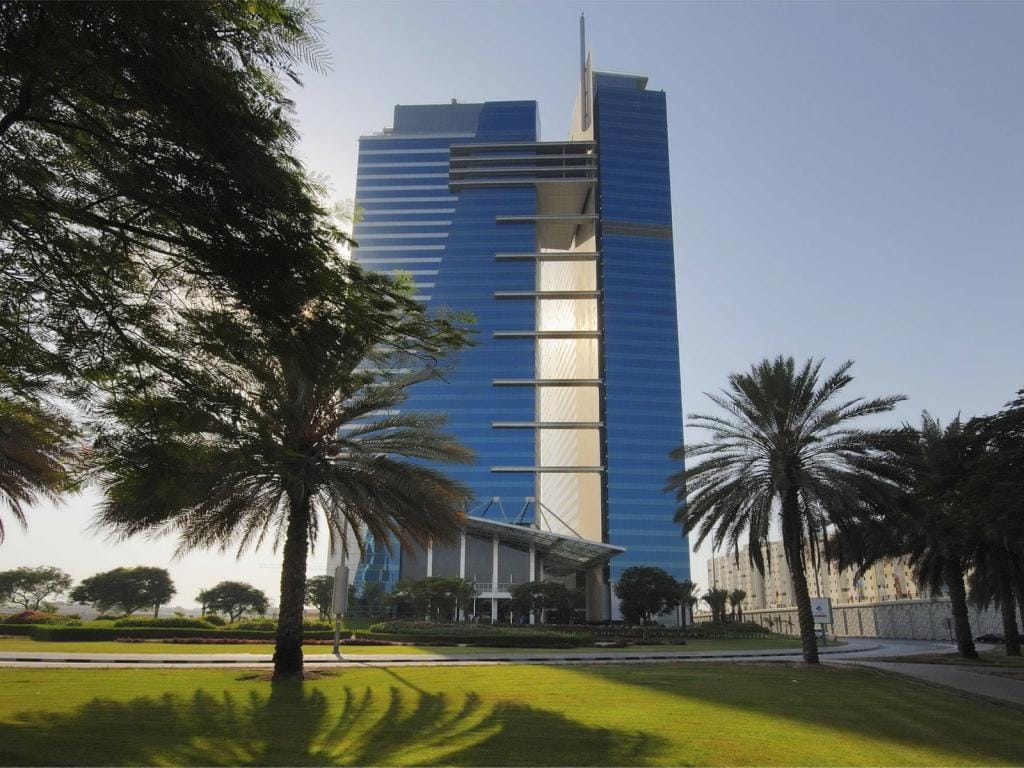 5-star holistic wellness close to Dubai's city center.
H Dubai is a gateway to the Middle East's most dynamic city. It is just a short distance from all of the city's main attractions and business districts, including Burj Khalifa, Dubai Mall, Dubai Frame, Dubai Garden Glow, La Mer Beach, and Dubai World Trade Centre.
The 5-star hotel boasts a world-class collection of 236 spacious rooms and suites, a residential tower, an office tower, and a dynamic events center. A stay at The H Dubai promises the best of both worlds.
Embark on a culinary journey across 11 dining outlets offering diverse cuisines and daily live entertainment, rejuvenate at the award-winning Mandara Spa, or spend relaxing days at the outdoor pool.
A dedicated floor is available for modern meeting, conference, and banqueting facilities. The H Dubai is truly a destination of life and style and provides a perfect blend of amenities and location for both business and leisure travelers.
#4 BEST ROOFTOP VIEW: SIR VICTOR, BARCELONA, SPAIN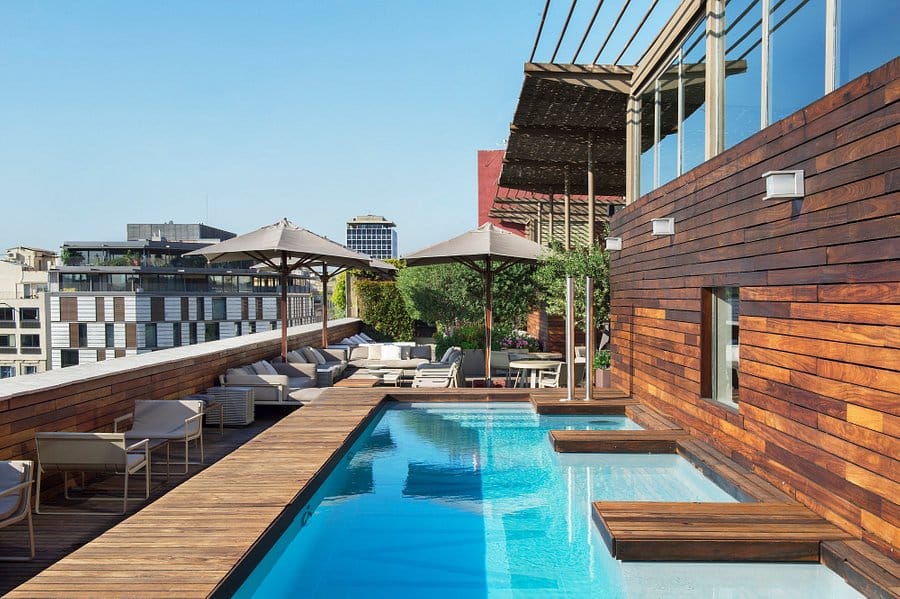 Ar

t Nouveau views and stylish ambiance.

Sir Victor Hotel in Barcelona offers stylish accommodations on Passeig de Gràcia, 5 minutes walk from Gaudí's La Pedrera.

It features a rooftop swimming pool and a terrace offering excellent views of Barcelona. Let yourself unwind and lay down in one of the many sunbeds at the terrace.

Each of the Sir Victor Hotel rooms has chic, contemporary décor and overlooks either the Passeig de Gràcia or the hotel's interior garden.

The Spa features steam baths, a fitness room and offers a selection of treatments including body and facial treatments, massages, and other treatments from around the world.
#5 MOST ROMANTIC: RIAD DAR ANIKA, MARRAKECH, MOROCCO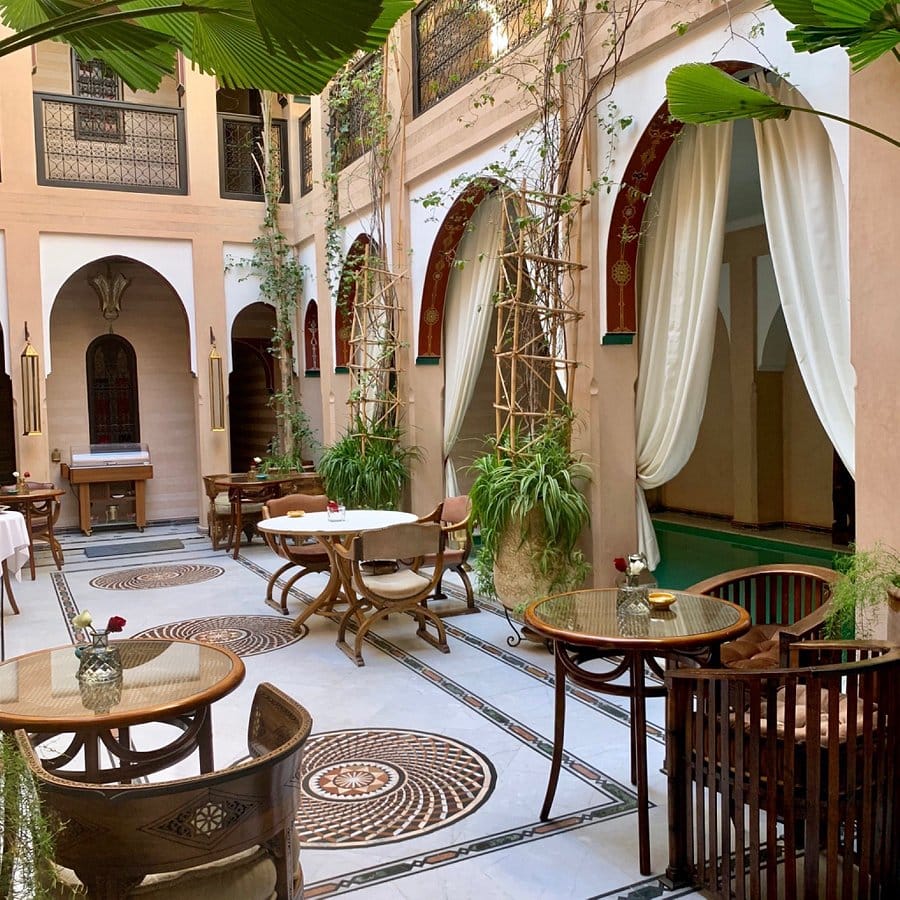 Eco-aware luxury nestled in Medina.
Dar Anika is an eco-aware luxury riad hotel, known for its sunny roof terrace framed by palms and covered like a giant Berber tent that serves as the perfect setting for formal candlelit dining set to live music.
Riad Dar Anika offers 12 individually styled rooms with flair and imagination, a swimming pool, and a relaxing hammam. A home away from home where guests can relax in an oasis of calm away from the hustle and bustle of the Medina.
The location of Dar Anika gives you a unique and privileged advantage to visit more with a minimum effort. Hidden inside the Medina, Dar Anika is just 3-minute away from the main palaces and monuments and just 5 minutes away from the main attraction of the city, "Jamaa el Fna square".
From the very moment you step through the heavily carved door of Riad Dar Anika, the staff will be ready to ensure a perfect stay in every way you can imagine. Every fine detail has been thoughtfully considered, from the crisp bed linen and fresh flowers to the authentic and organic Moroccan cuisine.
Dar Anika is truly committed to sustainability and supports both environmental and social practices to prove responsible tourism and luxury can co-exist.
We hope you got inspired to book your eco-luxury getaway with EcoHotels.com. Which urban pool would you dip in? Let us know in the comment section below!
COVID-19 travel recommendations
Before traveling to any of these destinations, make sure to check out the World Health Organization Covid-19 Dashboard for continuously updated information.
For requirements to enter the countries and recommendations on travel destinations, consult the national and local warnings available at the destination.