If you're looking for a thrilling and exotic travel destination, look no further than Central America. This region is home to some of the most beautiful and diverse landscapes in the world, as well as a wealth of cultural experiences. So whether you're looking for a relaxing beach vacation or an adventure-filled journey through the jungle, Central America has something for everyone. This guide will outline some of the best places to visit in Central America and provide you with an itinerary to help you make the most of your Central America trip!
Is it safe to Visit Central America?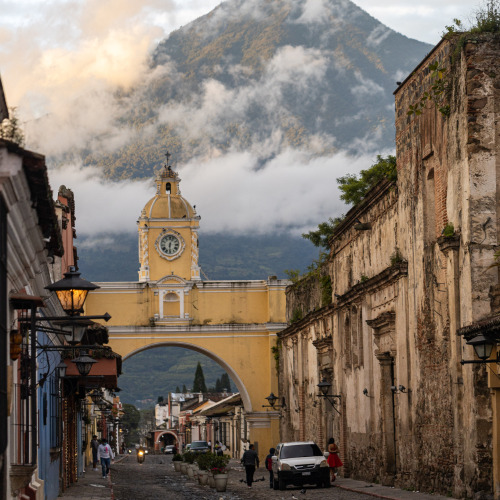 Central America has before had a reputation for high crime rates. But still, around 11 million tourists visit Central America every year. From ancient ruins to pristine coastlines, the countries of Central America have something for every kind of traveler.
In short, Central America is safe to travel to.
In fact, every Central American country has a better 2021 Global Peace Index rating than the United States, meaning that according to statistics, it is safer to travel to Central America than to travel to America. Honduras and Belize are not included in GPI rankings. The biggest safety concern for tourists is theft. This is a safety concern for every tourist, regardless of which country they travel to.
Budgets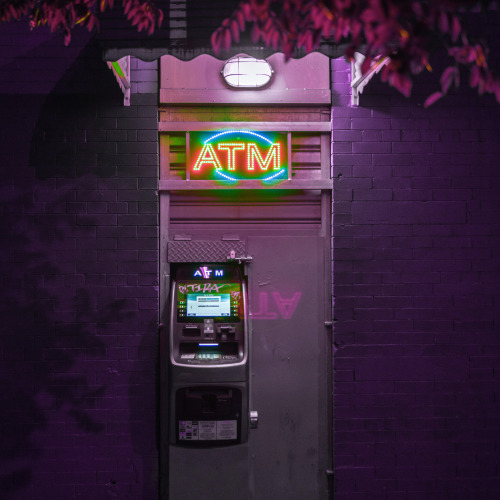 Accommodation:
Consider your budget and what type of vacation you want to go on. For example, if you stay in a hostel, private rooms start from between 15 and 30 US dollars, while if you sleep in a dorm or stay at a hotel, the price range will be different.
If you want to stay for as cheap as possible, most hostels and national parks have spaces for you to sleep in a tent or a hammock, which you can do for as little as 5 US dollars per night.
Food:
The food in Central America is a mix of Spanish, Caribbean, and traditional Mesoamerican.
You can expect to pay 5 US dollars at small restaurants serving regional cuisine for a meal. However, you can find street food for under a dollar.
If you eat at more prominent restaurants, you can expect to pay around 10 US dollars for a meal. However, you should be aware that western food costs about three times as much as local dishes.
If you plan on cooking your meals with groceries from the local market, you can eat for between 20 and 40 US dollars per week.
Transportation:
Public transportation is the cheapest and most convenient way to get around Central America. Fares cost less than a dollar. All over Central America, you can find the famous chicken bus. A chicken bus is usually an old-school bus. The story behind the name "chicken bus" is that passengers often are crammed in the vehicle, not unlike a truckload of chickens. It is also not unusual to see live animals on the buses.
Longer bus rides and overnight trips between countries cost between 10 and 30 dollars. Read more about this further down this blog post.
You can also fly from country to country, although this is not recommended if you want to save money. For example, a flight from Guatemala to Belize is around 300 US dollars.
Best time to visit Central America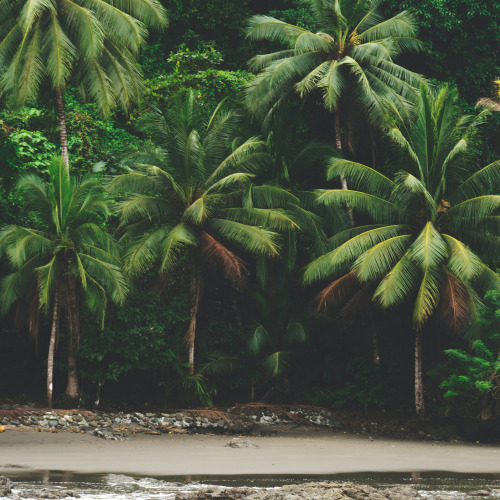 The best time to visit Central America is between December and April, which is the dry season.
Temperatures vary from country to country, ranging from 10 to 32 degrees Celsius.
However, the weather in Central America is always tropical, so you can travel to these countries at all times and still get a good trip.
Rain season is between May and November, resulting in bursts of heavy rain. These bursts usually do not last for more than a few hours. Rain season may be cheaper, but the weather is not as ideal in the rest of the year.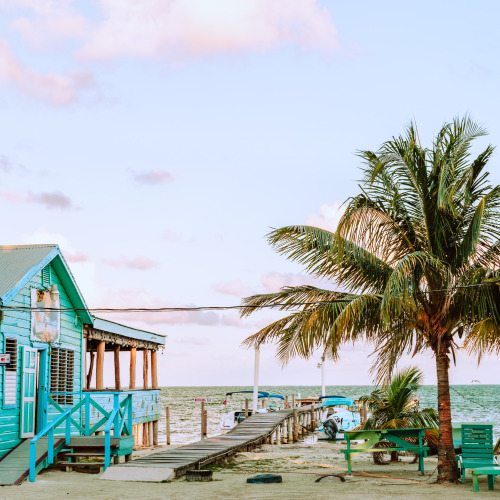 It is recommended that you spend at least five days in Belize. This guide will be based on a week's itinerary.
Belize City
The travel time from Flores in Guatemala to Belize City is three hours.
Belize is a beautiful country with so much to see, so we recommend you skip Belize City and go directly to your first destination.
Caye Caulker (5 days)
You can take a boat to Caye Caulker. Caye Caulker is an Island filled with little colored houses and breathtaking beaches. You should dive, take a break, and relax on the beach. Here you can also visit the local restaurants for tasty and cheap food!
From there, you can take some amazing sailing trips, from day trips and also even longer. We recommend spending at least two days on the boat if you have the time and budget. Then, you can enjoy the blue waters and snorkel to see the turtles, squids, and other marine life there.
Great Blue Hole (1 day)
This is not a city, but if you are ever going to Belize, you HAVE to visit the Great Blue Hole, trust me. You can dive into it or see it from above via a scenic flyover tour.
San Ignacio (3 days)
You can take the bus or a shuttle to San Ignacio in three hours.
Here you can visit the Mayan ruins of Xunantunich and Cahal Pech.
Moreover, you can go cave tubing or ziplining.
You can do it all separately or ask your hotel or hosts if there are any tours combining them.
This city also has cute local restaurants to enjoy traditional food from Belize.
You can also take a day trip to the Mountain Pine Ridge Reserve, visit Belize's largest Mayan Ruin, explore the Rio Frio Cave and swim in the Rio On Pools.
Lastly, you can visit the Actun Tunichil Muknal Cave, which is worth a visit. Besides the breathtaking cave itself, you can see ancient Mayan offerings. (Yes, I am talking about human skeletons).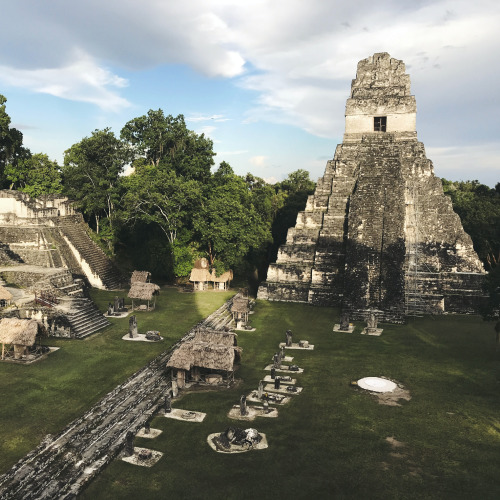 Guatemala is the cheapest country in Central America. The recommended days to spend in Guatemala are around 7 to 10 days, so this is what this itinerary will be based on. But first, let's take a look at what you must experience.
Guatemala City (1 day)
If you fly to Guatemala, you will arrive in Guatemala City. It is a city with loads to do, but it is pretty dirty, and we recommend that you spend no more than a day there. There is so much else to do in this beautiful country! If you spend a day or two there, wander around the city and visit some of its museums.
Antigua (2 days)
Antigua is a UNESCO world heritage site.
Hike to the viewpoint at Cerro de la Cruz and watch the sun go down over the city.
Visit some of the city's many historic buildings, and try their world-famous Antiguan coffee.
If you like to hike, you can hike the Volcan Pacaya.
Lake Atitlan (Panajachel) (4 days)
It only takes a couple of hours to get from Antigua to Panajachel, so if you leave in the morning, you could arrive in time to still get an almost full day in Panajachel.
Take a TukTuk to Santa Catarina. Palopo, and take pictures of the colorful houses.
Go from Santa Catarina to San Antonio Polopo to buy handcrafted ceramics and explore the city where women wear traditional handwoven 'traje.'
Take a Lancha, a public boat, to San Marcos to visit the Lake's spiritual town. Here you can take a yoga class or get a massage.
Explore Lake Atitlan. This Lake is one of the most beautiful in the world, and there are loads to see. Explore cities like San Juan La Laguna, Santiago Atitlan, and Sand Pedro La Laguna.
There are also many hiking trails here. An option is a 1-hour climb up to the Indian Nose Viewpoint. If hiking is not for you, you can visit their colorful markets. Our recommendation is the Chichicastenango market.
Semuc Champey (1-2 days)
It takes approximately 8 hours to get to Semuc Champey from Panajachel.
Semuc Champey is a 300-m-long limestone bridge over the river Cahabon. The nature and wildlife there are stunning and right in the jungle. Here, you can explore nature, go on a hike, and go on tours to the caves.
Flores (1 day)
Like the journey to Semuc Champey, the travel time from Semuc Champey to Flores is around 8 hours.
Explore the city, get dinner, and enjoy the view over Lake Peten Itza.
Tikal (1 day)
This is a must if you visit Guatemala. Tikal is a city with a rich history. Is it said that this city was one of the most influential cities in the Maya civilization. It is a national park as well as a UNESCO World Heritage Site. This is a day trip from Flores, and you can choose to explore it yourself or get a guided tour. We took the sunrise tour. It was tough getting up at 3, but it was so worth it! You get to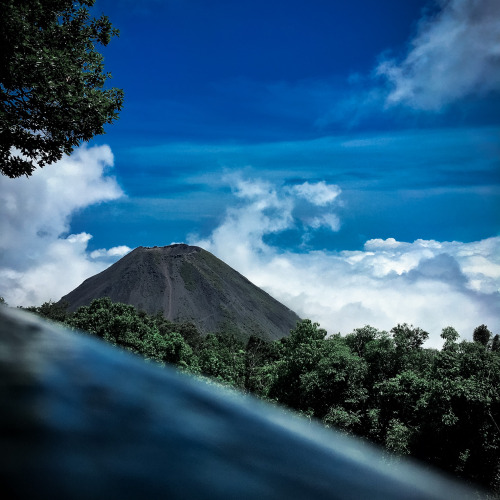 El Salvador is an underrated destination. It is a country filled with adventures and breathtaking views. This is not a country you want to skip on your Central America trip. The recommended time spent in El Salvador is one week to 10 days, depending on how much time you have. So let's get right into it.
Santa Ana (4 days, including day trips)
Sant Ana is easy to reach from most countries in Central America. For example, if you come from Guatemala, you can take a shuttle for 40 USD. This will take you around 4 hours. Either way, a great place to start in El Salvador is here.
As with many other of the bigger cities in Central America, it is recommended that you spend no more than one day here.
While you are here, you can visit the main square, to eat some street food and see some of their historic buildings. Otherwise, walk around and explore the streets of Santa Ana.
From here, you can take day trips:
Santa Ana Volcano, where you can hike to the top of Santa Ana Volcano and experience the incredible view of Coatepeque Lake. This hike will take around 2 hours.
Ruta de las Flores. Ruta de las Flores consists of five romantic villages, each known for specific things. For example, Ataco is known for its coffee and arts and crafts. Apaneca is known for its famous labyrinth. It is also popular to zipline here.
Salto Malacatiupan hot waterfall. For only 1 USD, you can visit this incredible waterfall, where two natural pools are as hot as a bathtub.
El Tunco (3 days)
El Tunco is known for its great waters. If you like to surf or want to try it out, you should go here! It is a day paradise, with loads of different beaches and caves. After sundown, El Tunco becomes a popular party place for people backpacking Central America.
You can take a shuttle from here to your next destination in your Central America Itinerary.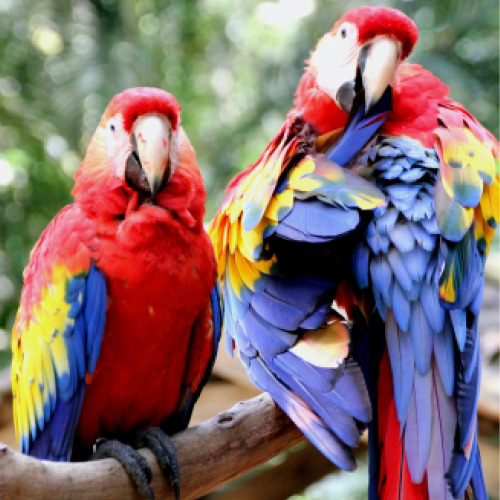 Honduras is not the safest country to visit, so we recommend you research your country's embassy's recommendations regarding traveling to Honduras.
This itinerary will be based on a one-week trip.
Copan (2-3 days)
If you arrive in Honduras in San Pedro Sula, you can take the bus to Copan in about 4 hours.
Copan is a cute little city with beautiful architecture and romantic cobblestone streets.
Here, you can walk around and explore the city or visit the Copan Ruinas, an archaeological site where you can see the famous Mayan ruins.
Roatan (2 days)
Roatan is known for its beautiful diving spots. Here, you can scuba dive, chill on the beach, go on jungle adventures, or even go river rafting!
Utila (2 days)
Utila is another beautiful Island. It is popular with backpackers because it is the cheapest Island in the region. It is also known for its parties and loads of life.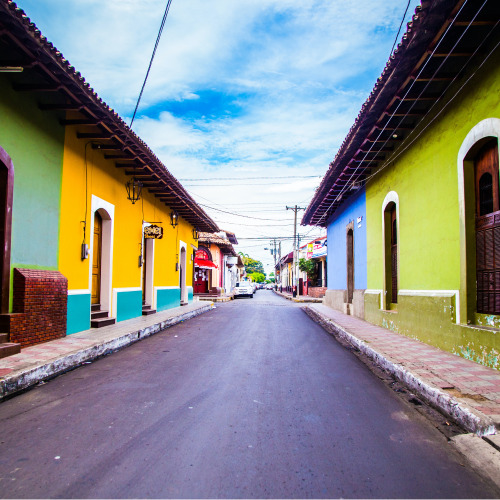 The perfect itinerary is based on a 2-week trip.
Leon (2 days)
The first stop is Leon. Here, you can visit their cathedral. The roof of their cathedral is a UNESCO World Heritage site and worth a visit.
You can also explore the city's streets, feast on their delicious street food, and enjoy the beautiful murals covering Leon's walls.
But one of the most unique activities that Leon offers is that you can go volcano boarding down Volcano Cerro Negro.
Granada (2 days)
Granada is a lovely town in Nicaragua where you can take in the local culture and eat at the local eateries. This is one of those places where you can wander around all day and not get bored.
An absolute must-do in Granada is visiting the Masaya Volcano, an active volcano. You can go there and see the lava beneath you!
Ometepe (1 day)
After experiencing a lot of busy cities in Nicaragua, Ometepe is the perfect place to take a break and wind down. Although it can be complicated to arrive at Ometepe, we recommend that you consider making this a part of your itinerary. Ometepe is made up of two volcanoes in the center of Lake Nicaragua. It has incredible views and is perfect for winding down and taking a breather.
San Juan del Sur (3 days)
San Juan del Sur is known for its breathtaking beaches. You can hike to the Christ of the Mercy statue and take in the stunning view of the city. You can find a market in the center of town, where you can get cheap local food for almost no money.
Besides its beaches and views, San Juan del Sur is known for being a party city. The week's highlight is on Sundays when you can partake in a "pool crawl" and enjoy some drinks. This is, of course, only if you are into those kinds of things.
You can go directly to Costa Rica, which is only an hour away from San Juan del Sur!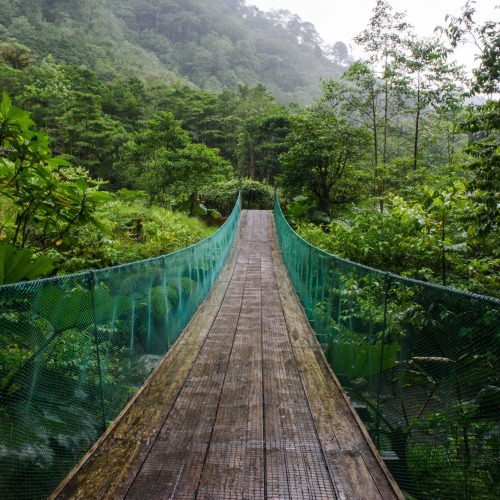 Costa Rica is regarded as the safest country in Central America and is a country you should have on your bucket list. The recommended days to spend in Costa Rica are 10 to 14 days.
San Jose (1 day)
San Jose is the capital of Costa Rica. If you have read this blog post, you already know what I'm about to say… As for the rest of the bigger cities in Central America, we do not recommend spending more than a day here. Not because it is not a city worth exploring, but because the rest of the country is so beautiful. San Jose still has a lot of value; if you have time, you can enjoy your time there.
Tortuguero (3 days)
Take the bus from San José via Cariari to La Pavona. It is along the road, with a traveling time of about 3.5 hours, but it is the cheapest way to get there. From La Pavona, you can take a boat ride directly to Tortuguero. This boat ride is said to be super beautiful and will take a little over an hour.
Tortuguero National Park is truly a piece of heaven in the middle of costa Rica. It is a nature park; if you like being in nature, this is the place for you! There are endless things to do here. From ziplining, canoeing, or hiking to doing nighttime jungle tours, there is something for everyone. So take a few days here and take in the incredible nature of Costa Rica.
La Fortuna (1 day)
La Fortuna is known for its volcanic activities, as well as its natural hot springs. So choose between one of the many hikes, and end your day in one or more of the natural geothermal activities. Yes! Natural pools!!
Monte Verde (2 days)
It takes around 7-8 hours to get to Monte Verde from La Fortuna, so leave as early as possible to get the most out of your day. If you travel by car, we recommend stopping at the Mistico Hangin Bridges, a 3 km jungle trail that includes jungle bridges, which is a once in. lifetime experience!
You can also take a ferry across Lake Arenal, which will take around 2-3 hours. This is a stunning way of getting there, as it allows you to take in the incredible views of a volcano.
Monte Verde is home to the natural phenomenon of cloud forests. This is when a forest area is at high altitude, which causes mist and low-lying clouds to appear through the trees. Definitely bucket-list worthy. Here, you can hike, zipline, and find many more ways to explore the cloud forests.
Manuel Antonio (2 days)
Manuel Antonio is known for its beautiful white sand beaches, surrounded by blue ocean water and green jungle. This city is home to the Manuel Antonio National Park, one of the most beautiful ones. in the world. Moreover, it is also not the biggest one. So one day should be enough for you to explore the park and get a chance to see wildlife such as iguanas, sloths, and monkeys. After you have explored the jungle, you can take a day or two to enjoy the picturesque beaches.
Uvita (3 days)
It takes around 2.5 hours to get to Utiva from Manuel Antonio by bus.
If you are visiting in January-March or July-October, there is a good chance that you will see a humpback whale! Besides that, you can take surf lessons, go on a mangrove tour, and much more.
Puerto Viejo (2 days)
Puerto is a little beach town with vibrant Caribbean vibes and delicious local food. This is the perfect place to end your trip, as there is not much to do other than lay back and relax on the beach. So take a few days and load up on your fresh fruits and good vibes.
From here, you can take the bus back to San José to fly home or take the bus further to Panama.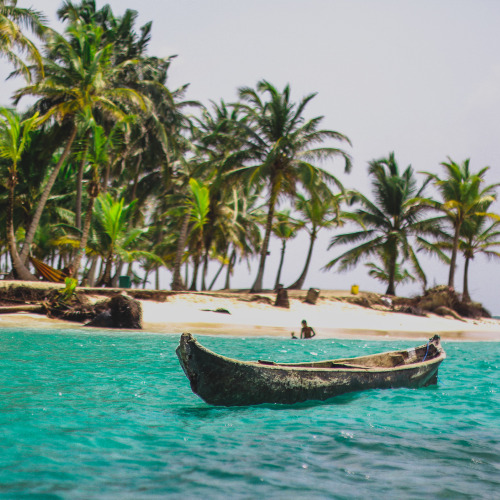 The recommended time to spend in Panama is 10 to 14 days.
From Puerto Viejo in costa Rica, the border is only a 40-minute drive. However, it takes 2.5 hours to get to Bocas del Toros Islands in Panama.
Bocas del Toro (3 days)
Bocas del Toro is one of the most popular destinations for travelers in Panama, so it is, of course, a part of our itinerary. Here you can lay back, relax, and explore the different beaches and jungle paths.
We do encourage you to swim with starfish at Playa Estrella. This is arguably the most popular beach on Bocas del Toro.
Boquete (3 days)
Boquete claims to be the ultimate outdoor adventure destination of Panama. There is so much to do that you can easily spend weeks here without getting bored.
You can hike beautiful trails around this city and even see wild sloths and monkeys on the way.
Go ziplining at Boquete Tree Trek. Their longest zipline is half a km long and 60 m above ground. If you are not into active adventures, you can enjoy the Chiriqui Highlands around Boquete. This place is Panama's most famous coffee-rowing region. Here, you can learn about coffee and see how coffee is made from start to finish.
San Blas Islands (3 days)
Although it can be a hassle to get there, it is so with it. First, you have to take a shuttle ride to the Kuna Yala port and then go on a boat for 45 minutes to reach the islands.
You can stay on the beach, soak in. the sun, play games, or go for a dip in the water. This is the perfect place to relax and enjoy life. Don't forget to taste the fresh coconut water! The dry season is from January to April, but the rain should not be something to keep you from visiting.
We recommend that you go Island hopping and see the different islands.
Panama City (1 day)
We will end our weeks in Central America in Panama City. Here, you can chill at your accommodation, go out and explore the city, eat some delicious food, and prepare for your trip home.
Tips and tricks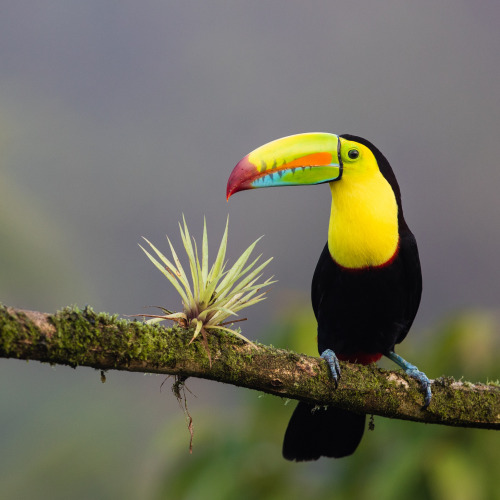 Finally, you should know some safety tips and tricks before you go. Whether you are going on a backpacking trip or traveling to Central America more luxuriously, we always recommend you do your own research!
Stay informed of the political climate of the countries you are visiting.
Separate your cash so you still have some cash if you are unlucky and lose them or fall victim to a crime.
Avoid isolated areas, especially at night. Instead, stick to more populated areas to make it less likely to fall victim to a crime.
Download navigation apps that can be used offline to find your way, even when you don't have a signal or Wi-Fi.
Avoid Hurricane and Flood seasons. Hurricane seasons run from the start of June until the end of November. Flood seasons vary, so look those up before planning your trip.
Buy travel insurance.
Want to learn mire? Check out our blog posts on how to plan the perfect road trip or how to save money while traveling.
Now that you know a little more about Central America, what are you waiting for? This region has so much to offer travelers of all types. Central America should definitely be at the top of your list if you're looking for an adventure. So start planning your trip today!