We have collected 7 Best luxurious, eco-friendly hotels in Copenhagen, to prove that luxury and sustainability go hand in hand.
Where in the world can you swim in an urban harbor, ski down the roof of a green-energy power station, drive a solar-powered boat, stay in an eco-friendly hotel and dine on organic food on every street corner? The answer is Copenhagen – the world's greenest major city. Denmark's capital has long put sustainability at the top of its agenda, as have many of its inhabitants. Many more initiatives are taking place in the following years as the city continues its bid to become carbon-neutral by 2025. We have ranked the top 8 best hotels in Denmark, Copenhagen that are committed to protecting the environment and social responsibility.
The Best Hotels in Copenhagen, Denmark
1. Manon Les Suites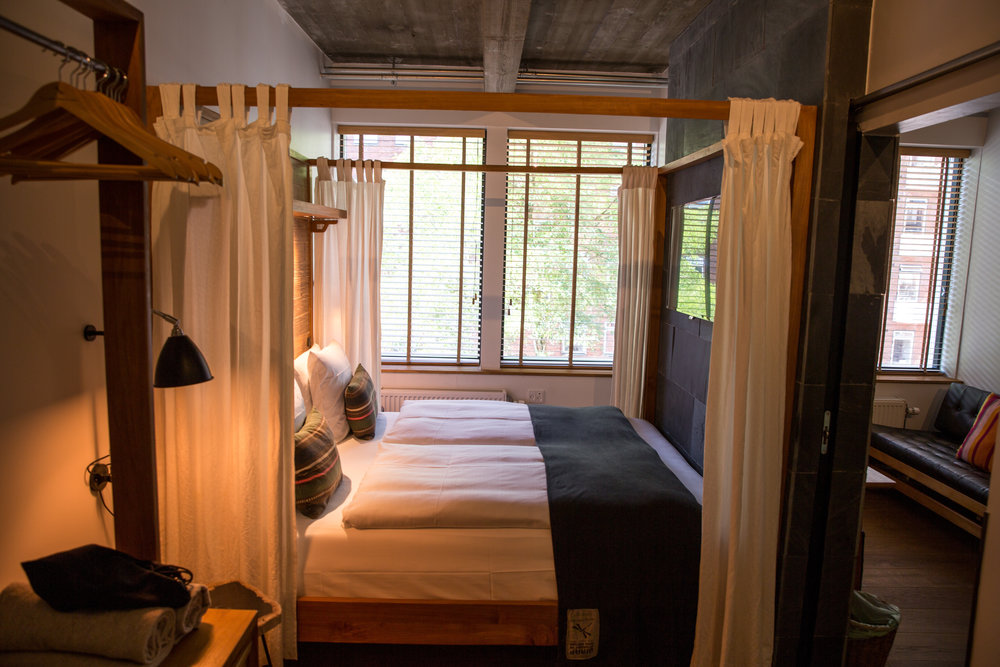 A LITTLE SLICE OF BALI IN THE HEART OF COPENHAGEN
Known as one the best hotels in Copenhagen, when asking locals as well as travelers. A stay at the 5-star Manon Les Suites will be a dream experience that you´ll never forget – bohemian luxury, breathtaking design, and a festive atmosphere meet sustainable and superb food, drinks, and service. The Green Globe certified Manon Les Suites is a pioneer of sustainable hotel operation and sets the highest standard for sustainability worldwide. During your stay, you will be a part of an inspiring and eco-friendly universe that recycle, reuse, and reduce whenever possible.
With its central location, Manon Les Suites has 87 suites available, and offers a Bali-style indoor pool with a lounge area and extended fitness facilities, as well as a fantastic cozy rooftop terrace.
Manon Les Suites takes the Guldsmeden Hotels concept to a new level – the relaxed, sustainable lifestyle in a hip, happy, and lush environment is the perfect urban base for friends, couples, or families looking to enjoy everything that Copenhagen has to offer. Just a few minutes walk from the iconic Copenhagen lakes, Tivoli gardens and city center, Torvehallernes gourmet-food market, the lovely green inner-city parks, design shops, and restaurants – you name it, it's just around the corner!
Manon´s Rooftop Restaurant and cocktail bar offer an amazing view while serving signature cocktails, the very best in wine, and a mouth-watering menu of bistro classics done in Guldsmeden style. There´s something for everyone, and you can enjoy your selected favorites while lounging on the soft rooftop beds or enjoying the view from the tables in the restaurant.
2. Axel Guldsmeden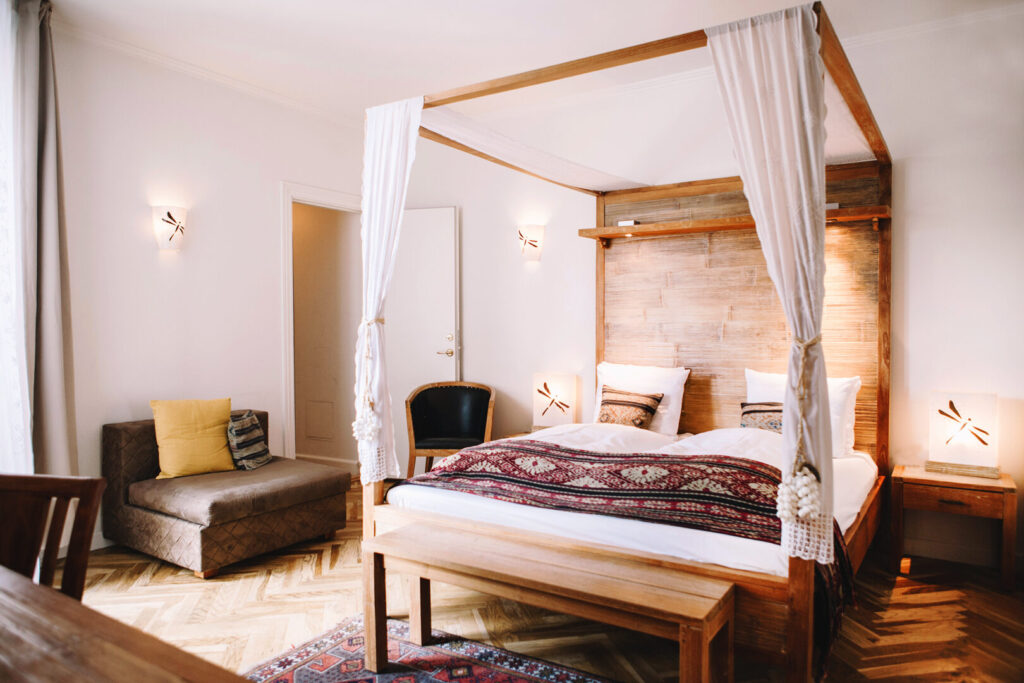 LOVELY ECO-FRIENDLY HOTEL CENTRALLY LOCATED IN THE VIBRANT VESTERBRO DISTRICT – A PET FAVORITE OF THE SUSTAINABILITY AND ECO-CONSCIOUS TRAVELER.
Situated a stone's throw from Tivoli Gardens and Copenhagen Central Station, Axel Guldsmeden is a cozy and magical universe unto itself, with a unique atmosphere in the signature Guldsmeden Nordic-Balinese design. The Axel Guldsmeden features a relaxing spa and jungle-like courtyard. The hotel also offers a restaurant, bar, and conference facilities. Axel Guldsmeden is Green Globe and Green Key certified and awarded the Golden Ø for being 90 -100% organic.
The hotel features 212 rooms, including 4 amazing penthouse suites with their own private rooftop terrace and hot tub. If you have time, don´t miss a trip to the Axel Spa – it's such a beautiful relaxing oasis. Also, come down to the lounge and courtyard and hang out with the big Axel family. Before exploring the wonders of the green and vibrant Copenhagen, don't miss the completely organic Guldsmeden signature breakfast – Dig in, and you won't feel hungry again before evening!
Guldsmeden Hotels have always had a preference for local and sustainable products. Overall, sustainability is the fundamental element of the entire operation, and no decision is made without the sustainability angle having defined it first. Axel Hotel is committed to giving its guests a wonderful stay with as little negative environmental impact as possible.
3. Hotel Kong Arthur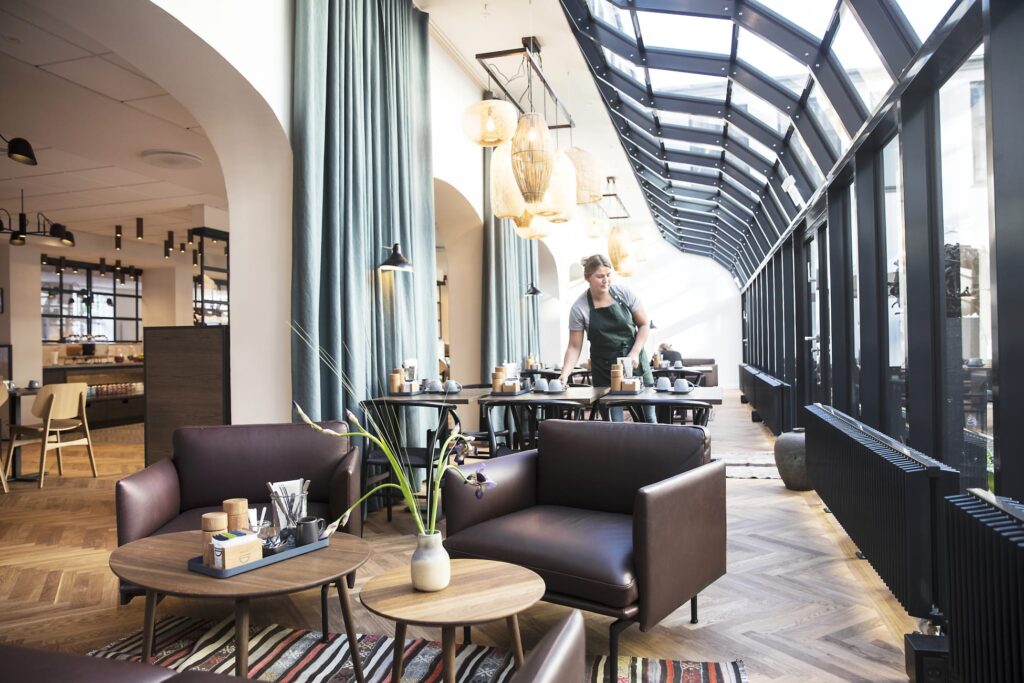 AT THE LOVELY GREEN KEY CERTIFIED HOTEL KONG ARTHUR, YOU'LL FIND PEACE AND WARMTH IN THE UNIQUE ROOMS, THE SPA, AND THE FIREPLACE IN THE LOBBY.
Hotel Kong Arthur is nestled in a small cobblestone nook, just off the road that runs around Copenhagen's historic lakes in central Copenhagen. The now modernized historic building was originally built in 1882 and is located in the Latin Quarter around Nansensgade, where independent shops, hip restaurants, small green parks, and cozy hangout spots come together authentically. Copenhagen's finest food marketplace, the scenic Ørsted Park, and high-end shopping are all within minutes of walking, making the eco-aware Hotel Kong Arthur the perfect place from where to explore the best of what Copenhagen has to offer.
After an adventurous day out in the town, indulge in the Bali-inspired spa – a world of pure relaxation and dine at any of the three popular restaurants offering the best organic food.
Inside Hotel Kong Arthur's historic walls, you'll be met with a unique fusion of modern, traditional, and sustainable design and furniture. Also, the hotel offers a fully-equipped gym, conference center, and the coziest courtyard in town.
Hotel Kong Arthur is honored to be a pioneer of hotel green practices. The hotel is Green Key certified, a leading standard of excellence in the field of environmental responsibility, and sustainable operation within the tourism industry. Among many other planet-friendly initiatives, the hotel has energy-saving light bulbs, waste recycling, and a bicycle rental service, the hotel invites you to explore beautiful Copenhagen in an alternative and local way. Staying at Hotel Kong Arthur, you are helping to make a difference on an environmental and sustainability level.
4. Hotel Skt. Annæ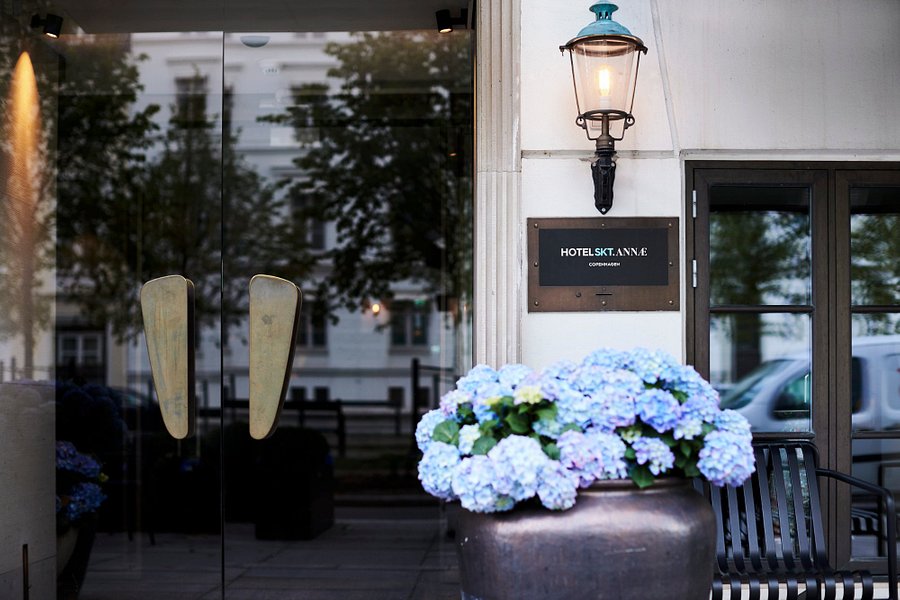 ECO-FRIENDLY 4-STAR BOUTIQUE HOTEL NEAR NYHAVN WITH 145 LUXURIOUS ROOMS AND SUITES.
Situated on the leafy square Sankt Annæ right next to Kongens Nytorv, the location provides tranquility in the very heart of Copenhagen. At the end of the square, the street opens up to the beautiful harbor of Copenhagen where you can swim in the clean water. The hotel is built around two beautiful atrium courtyards, and the design is kept in a modern nordic style. All Deluxe rooms are individually designed to keep the atmosphere and the historical feeling from the area. Also, the hotel serves a healthy and homemade breakfast buffet with a focus on organic produce.
Hotel Skt. Annæ has a perfect location with a lot of prominent neighbors. To name a few are the Royal Palace Amalienborg, the Royal Theater, the citadel of Frederiksstaden, and The Little Mermaid. Besides that, you will find yourself at the main shopping street, only a hundred meters walk from the hotel's doorstep.
The restaurant on-site is located in Copenhagen's most beautiful atrium courtyard, hidden away from all the hustle and bustle. The ceiling may be high, but you will feel right at home in the intimate settings. End your dinner with one last glass in the exclusive bar or at the rooftop terrace with an astonishing view over Copenhagen.
Copenhagen has been selected as the world's best city to visit, and the city's ambitious green profile has a clear goal: The City of Copenhagen is aiming to become the world's first CO2-neutral capital in 2025. Hotel Skt. Annæ is honored to be a pioneer of hotel green practices. The hotel has been Green Key certified since 2020. During your stay at Hotel Skt. Annæ, you will be a universe where organic products, waste recycling, and sustainable design are a must.
5. Bryggen Guldsmeden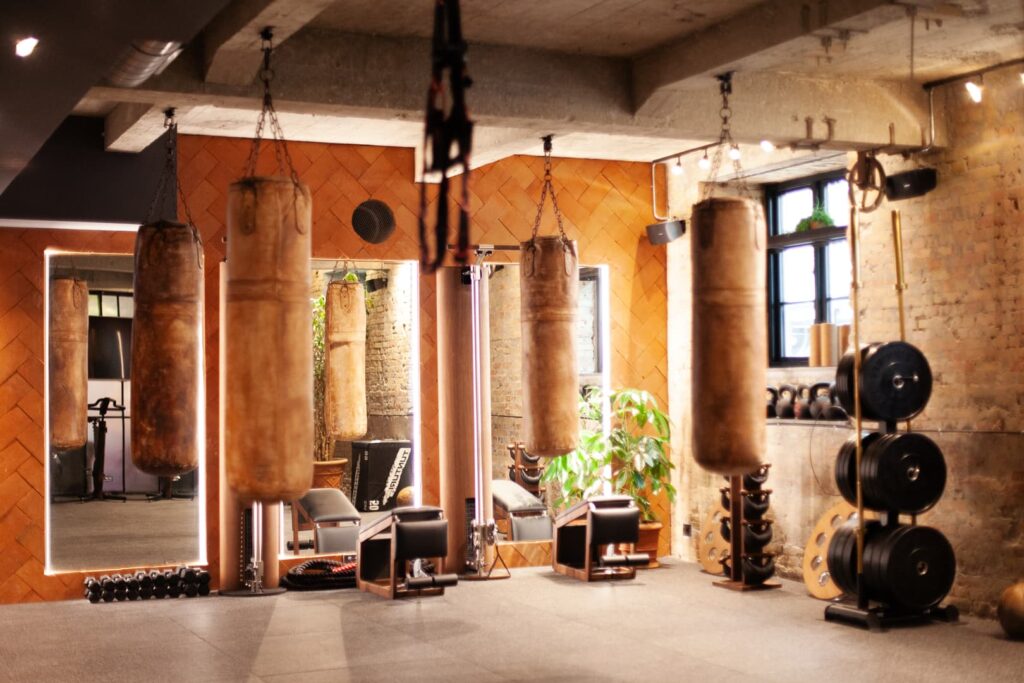 DENMARK'S MOST ACCOMPLISHED SUSTAINABLE LUXURY HOTEL IN THE TRENDY DISTRICT OF ISLANDS BRYGGE.
Bryggen Guldsmeden is what Guldsmeden chooses to call Denmark's most accomplished sustainable luxury hotel. With 212 rooms furnished and decorated in a unique Nordics-meet-Bali style and organic restaurant in the amazing area of Islands Brygge – a particularly charming area in itself, Bryggen Guldsmeden is within walking distance from the Islands Brygge metro station and the Copenhagen harbourfront, where locals and visitors gather during summertime to swim and hang out.
Luxurious simplicity, an unpretentious atmosphere, and uncompromising sustainability are Bryggen Guldsmeden's guiding principles. The hotel features a cozy courtyard, an indoor Bali-style pool, and fitness facilities.
The Green Globe and Green Key certified Guldsmeden Bryggen sets the highest standards for sustainability worldwide. With Planet-friendly initiatives, the hotel seeks a minimal environmental impact and supports environmental and social activities. All textiles – from bed linen to towels are made from sustainable eco and recycled materials. The fantastic showers not only guarantee a steady flow of perfectly temperate water but save between 50 and 90 percent of water consumption. The signature breakfast is organic AND sustainable. Wonderful iLoveEcoEssentials products are available in all rooms.
Most importantly, the Bryggen family promises to spoil you thoroughly throughout the day with loads of delicious organic food and drink, loving attention, and whatever else you may wish for – Ensuring that you enjoy staying in as much as going out!
6. Babette Guldsmeden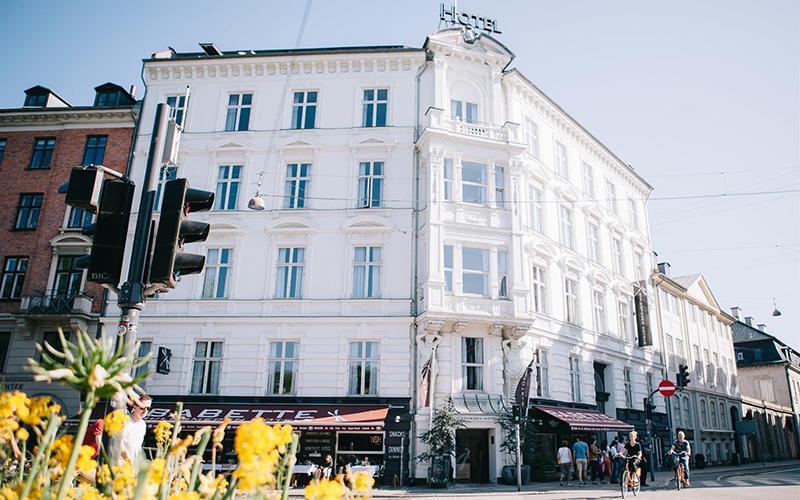 LUXURIOUS SIMPLICITY, AN UNPRETENTIOUS ATMOSPHERE, AND UNCOMPROMISING SUSTAINABILITY.
Situated in classical Copenhagen, only minutes from the Royal Castle and the Little Mermaid, as well as the best shopping and dining areas, Babette Guldsmeden is ideally suited for experiencing the best that Copenhagen has to offer. Babette Guldsmeden has 98 charming rooms, as well as an all-day organic restaurant, and cozy courtyard.
The leafy Orangerier has been established in the former carriageway and is a fragrant Mediterranean corner to unwind. The courtyard is a little oasis, and with colored strings of lights and comfy couches, it invites you to settle down for your meal, coffee, cocktail, or just a breath of fresh air. Also, don´t miss the completely organic Guldsmeden signature breakfast – Dig in, and you won't feel hungry again before evening!
Intending to provide guest experiences with a high level of comfort, the hotel aims to maintain and extend its environmental efforts by reducing waste as well as bringing down the consumption of energy and water wherever possible.
Most importantly, the Babette family promises to spoil you thoroughly throughout the day with loads of delicious organic food and drink, loving attention, and whatever else you may wish for – Ensuring that you enjoy staying in as much as going out!
7. Hotel Alexandra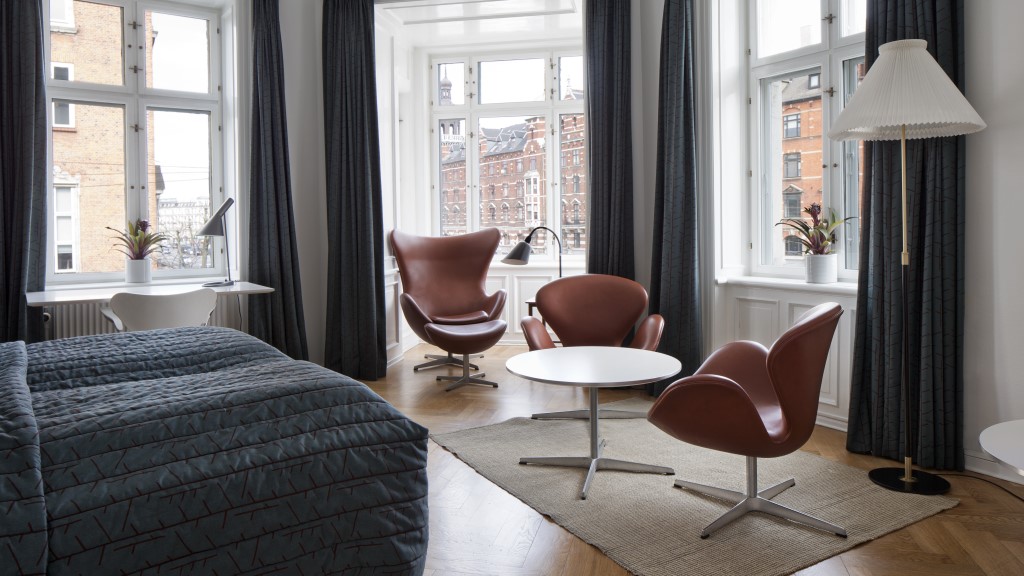 BOUTIQUE HOTEL WITH A GREAT PASSION FOR DANISH DESIGN AND ART CENTRALLY LOCATED IN DOWNTOWN COPENHAGEN.
If you are in search of an authentic, designer, boutique hotel with local charm, you've come to the right place. As soon as you step into the Hotel Alexandra, you enter a magical time bubble of exquisite Danish design and calm. A stay in any of the unique rooms is like immersing yourself in a living museum. The hotel's greatest passion is to make you feel at home and create a memorable experience, making sure that you enjoy staying in as much as going out! Every morning, the staff will serve you an organic and healthy breakfast to begin an adventurous day out in town.
Green Key Certified Hotel Alexandra is located in the heart of Copenhagen. Right around the corner, you will find the City Hall square, the main shopping street, cinemas, museums, hip galleries, and you name it. Feeling hungry? May we suggest the neighboring restaurant, Spisebar KNØW. A high-end yet casual nordic restaurant with a focus on organic and local ingredients.
Hotel Alexandra is proud to be green-key certified – a leading standard for excellence in the field of environmental responsibility and sustainable operation within the tourism industry. Staying at hotel Alexandra, you will thereby help to make a difference on an environmental level.
8. Tivoli Hotel and Congress Center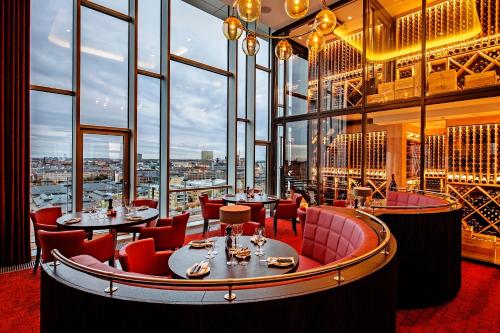 A COMPLETE UNIVERSE COMES DOWN TO EVERY CLEVER DETAIL.
A complete universe comes down to the clever details. Tivoli Hotel and Congress Center have of course integrated those details into the decoration of the hotel. Therefore, guests will for instance be met with kaleidoscopic art, a majestical statue of Hans Christian Andersen and his popular fairy tales, black and white silhouettes of the clown figure Pierrot, and silver shining Columbine ballet dancers. The hotel also treasures color-changing fireworks and mechanic flowers that fold out their petals… and fold them back again. Yes, several associations from Tivoli Garden and playful clues are hidden in the hotel. Can you spot them?
The hotel is working to promote and develop sustainable tourism. It is doing this by integrating responsible consumption and production into its business. This applies to its choice of suppliers and cooperation partners and, in particular, to its own actions.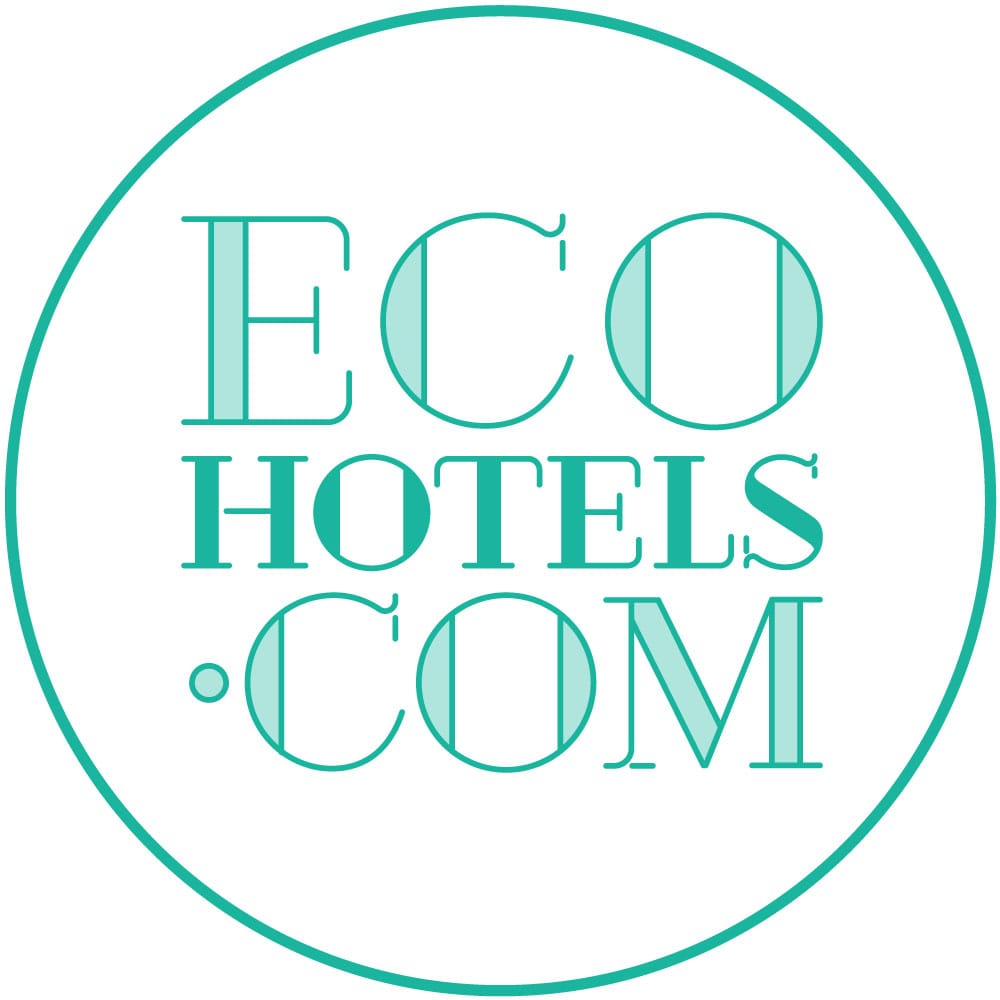 This article is made in collaboration with EcoHotels.com – A Booking site only for eco-certified hotels, so you can rest in the knowledge that you travel responsibly.