The Californian coastline is one of the most beautiful in the world. If you are looking for a road trip that will take your breath away, this is it! We have put together a guide to help you make the most of your journey, including the best hotels along the way.
The coastline of California is the ideal location for a memorable journey. Beautiful cities, such as San Francisco, Los Angeles, and San Diego, as well as stunning natural areas like Big Sur, provide fascinating historical sites along the shore. Here are some itineraries and suggestions to make your California coast road trip truly unforgettable.
Pack your bags and head to the hotel of your choice for this exciting experience!
Seacliff Inn Aptos, Tapestry Collection by Hilton
From the comfort of this distinctive Aptos lodging near the Santa Cruz Beach Boardwalk, enjoy the majesty of northern California's beaches and verdant natural settings. This lovely Aptos hotel is located just minutes from Seacliff Beach and has easy access to the region's numerous activities.
A short car trip takes you to the world-famous Santa Cruz Beach Boardwalk, which is home to roller coasters and boardwalks. Whale watching, kayaking, sailing, and other activities are all close by. Outdoor enthusiasts may enjoy exploring the stunning redwoods and other flora at Wilder Ranch, Henry Cowell State Park, and Nisene Marks State Park.
Experience something new and go back in time by taking a ride on the historic Roaring Camp Railroads. Or, if you are looking to stay close to home, sample some of California's finest wines at Santa Cruz wineries or get a glimpse of sea life at the world-famous Monterey Bay Aquarium. All options are less than an hour away!
Book the hotel here
Ramada by Wyndham Monterey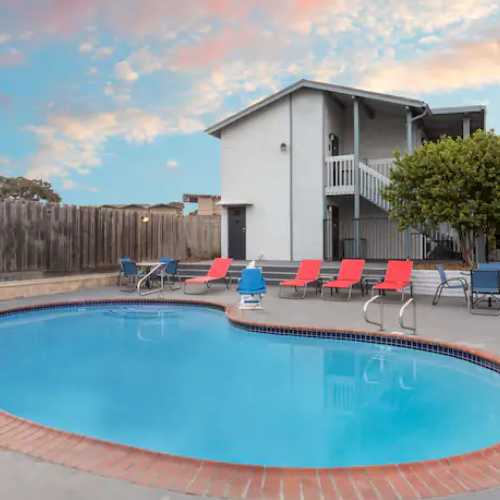 The Ramada Monterey provides comfort and convenience whether you are visiting or working in Monterey (CA). The property offers a variety of services to make your stay more enjoyable.
The Ramada Monterey is a hotel that puts the needs of its customers first. The staff will greet you and assist you at the Ramada Monterey. Elegantly furnished and equipped with convenient services, each guestroom is lovely.
Ramada Monterey makes your stay unforgettable with its lovely ambiance and recreation areas.
Book the hotel here
Hampton Inn and Suites San Luis Obispo, CA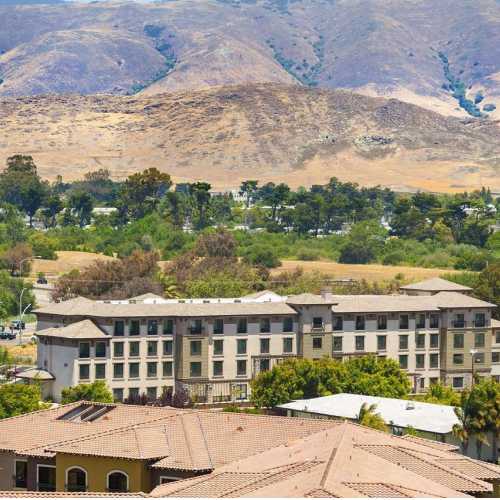 Situated in lovely Central California, the Hampton Inn & Suites-San Luis Obispo is only a few minutes drive from Hwy. 101 and Los Osos Valley Rd.
The Hampton Inn & Suites-San Luis Obispo offers championship golf courses, over 40 premium wineries, surfing, fishing, and hiking in a beautiful California setting. You will likely leave a great impression of San Luis Obispo and the Hampton Inn & Suites when you stay near Cal Poly University's Mission de Tolosa and the famous Hearst Castle.
Every day, enjoy a free hot breakfast. Stay connected with our business center, keep up with your fitness routine in our fitness center or unwind in our indoor swimming pool and whirlpool.
Book the hotel here
Embassy Suites Lompoc Central Coast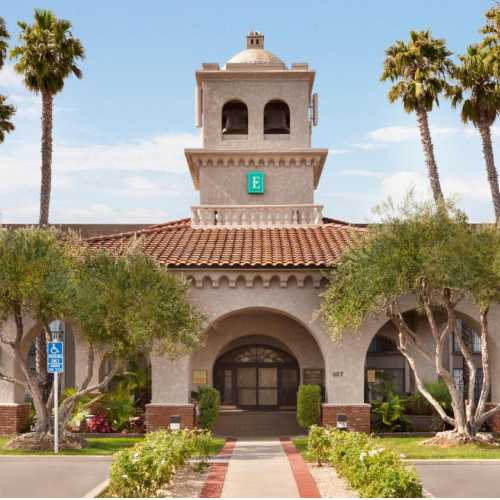 Greetings and a warm welcome to the Embassy Suites by Hilton Lompoc – Central Coast. The breathtaking location downtown central California coast makes this Hotel your perfect home away from home during your road trip.
During these unprecedented times, guests will still enjoy all the fabulous amenities the Hotel is known for, including complimentary breakfast served To-Go style by our front desk staff, two free drinks, and a choice of snacks from our Gift Shop. Plus there is always free WIFI because nobody likes paying those pesky hotel internet fees!
In addition to the great amenities at the hotel, enjoy La Purisima Mission, Movie Theatres (right next door), Wine Tasting in Lompoc's Wine Ghetto, and more while you are here.
Book the hotel here
Hyatt Regency Long Beach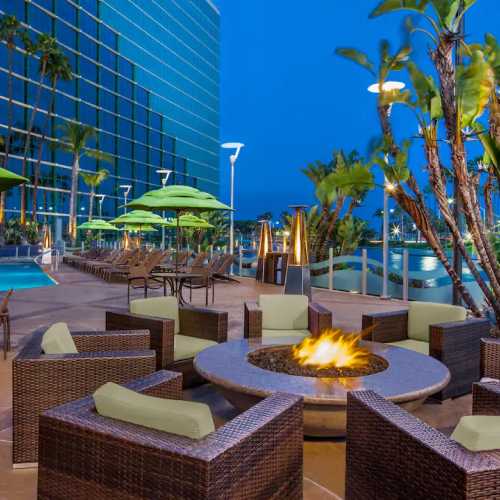 The Hyatt Regency Long Beach is close to the city's most popular sites, just steps away. When it comes to going out, tourists will be in the thick of things with over 100 restaurants within walking distance, shopping and entertainment across the street, and the fascinating Aquarium of the Pacific nearby. Furthermore, Southern California theme parks, including Disneyland, Knott's Berry Farm, and Universal Studios, are all less than 30 minutes drive away.
This luxurious downtown hotel offers guests a perfect combination of style, sophistication, and comfort. Visitors can easily make themselves at home in one of the modern rooms with ocean views and world-class amenities. For a perfect evening with friends, guests can enjoy specialty drinks and sports at the Lobby Bar, while the outdoor pool beacons with azure water and a sun deck.
Book the hotel here
Kimpton Shorebreak Resort Los Angelas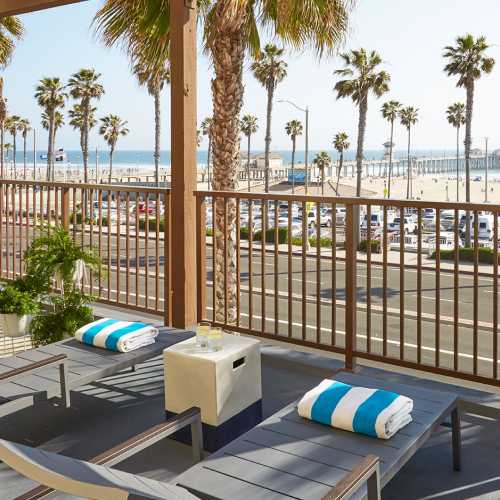 This outstanding hotel offers the ultimate beach experience with a contemporary twist. It is located in Huntington Beach and combines the relaxed, sun-drenched spirit of an Orange County coastline hotel with edgy modern accents. The hotel also offers stunning ocean views!
It boasts a prime situation near the iconic intersection of Main Street and Pacific Coast Highway, situating visitors at the center of eclectic shopping, dining, and entertainment, all within earshot of crashing ocean waves. This property is a showcase of modern hotel design at the cusp of lifestyle trends. It draws its inspiration from Southern California's cultivated yet laid-back surf culture, combining gorgeous touches with a penchant for fun.
Hotel highlights include guestrooms with ocean views, exquisite furnishings, and versatile event and meeting spaces. Guests will appreciate the romantic fire pits as well as the wide range of exciting recreational activities. The onsite restaurant & bar, Pacific Hideaway, offers coastal favorites with a side of good vibes in Huntington Beach.
Book the hotel here
Holiday Inn Express Newport Beach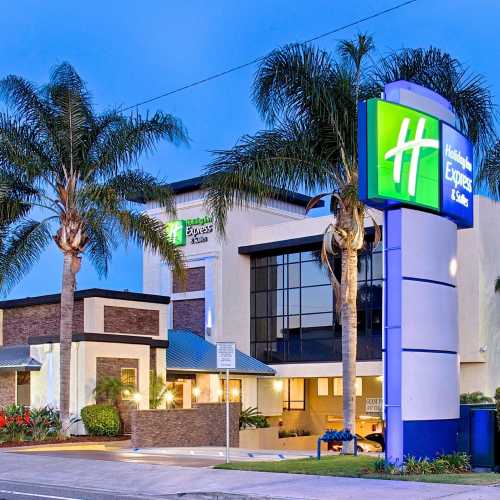 The hotel is situated on Mariner's Mile in Newport Beach, California, and offers guests the perfect location for a vacation getaway or productive business trip. Guests can enjoy world-famous beaches, world-class shopping, and attentive service while staying in Newport Beach, California.
The Holiday Inn Express Newport Beach is located across from Newport Beach Harbor and has a range of eating, shopping, and entertainment options nearby. For leisure travelers, the hotel's location adjacent to Newport Bay Ecological Reserve and close to Fashion Island, Balboa Island, and other popular attractions makes it an ideal choice.
Book the hotel here
Doubletree San Diego Del Mar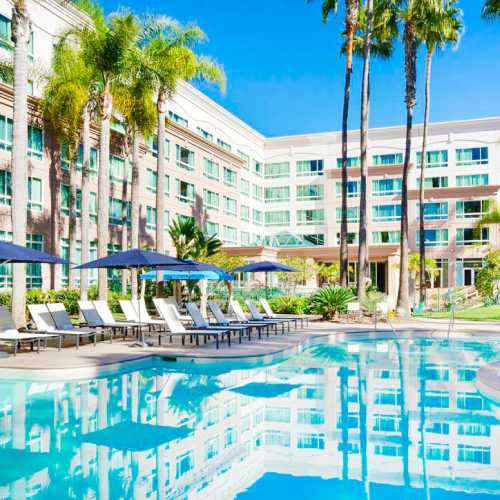 The Doubletree Hotel San Diego, Del Mar is the perfect place for your next road trip or family vacation. With its Pacific breezes, convenient location, and stylish Sweet Dreams guest rooms, you will surely enjoy your stay!
If you are looking for world-class golfing, some of the best beaches in Southern California, and top attractions like the San Diego Zoo and Wild Animal Park, then look no further than the Doubletree Hotel San Diego, Del Mar.
Looking for a hotel with great amenities and staff who will go above and beyond to make your stay enjoyable? Look no further than our resort-style hotel. The hotel offers an outdoor pool, and it includes a hot tub and a children's pool. They also have an on-site exercise room and meeting and event space. And be sure to enjoy some of the best French and Italian-infused California cuisine at Sydney's restaurant while you are there!
Book the hotel here
Holiday Inn Express San Diego South – Chula Vista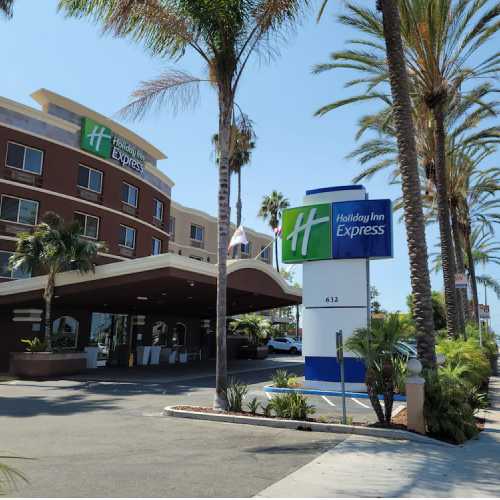 The Holiday Inn Express San Diego is located in the city center, minutes from downtown San Diego via the trolley. This is one of our less expensive hotels and is ideal for a layover on your trip. The hotel offers comfortable rooms and has great guest reviews. You can find many cute spots within walking distance.
USS Midway Museum is a great place to stop if you are interested in some culture. Or, if you prefer natural beauty, explore Balboa Park and Coronado Beach. Another popular choice among travelers is Petco Park—be sure to check out an event or game there! And San Diego Zoo should not be missed. It is one of the area's top attractions.
Book the hotel here
We have collected a list of beaches to visit along the way on the California Coastline! Because who does not love a beautiful beach and a stunning beach sunset?
Pacific beach
Carmel beach
Pismo beach
Newport beach
Santa Monica beach
Pebble beach
Ecohotels.com offers eco-friendly hotels all around the world. This is a list of some of our hotels along the California coastline. We offer hotels with private balconies, rooftop bars, spa treatments, free parking, yoga classes, and much more! We also really recommend that you visit half moon bay and Santa Barbara along the way.
If you are looking for a place to stay on the California coastline, we hope that this guide has been helpful. We have provided some of our favorite hotels in each area, so you can find the perfect spot for your next vacation. Whether you are looking for a luxurious getaway or a budget-friendly option, we have something for everyone. So what are you waiting for? Start planning your trip today!