Do you know what's even better than flowers and chocolates on Valentine's Day? A romantic valentine's day getaway! Look no further for the perfect place to celebrate Valentine's Day, as these hotels and resorts make it the best romantic getaway this year. Each of these properties offers something unique, whether luxurious amenities, stunning views of natural beauty, or an intimate setting. So if you're looking to sweep your loved one off their feet, consider booking one of these fantastic hotels!
Kimpton St Honoré Paris
Paris, France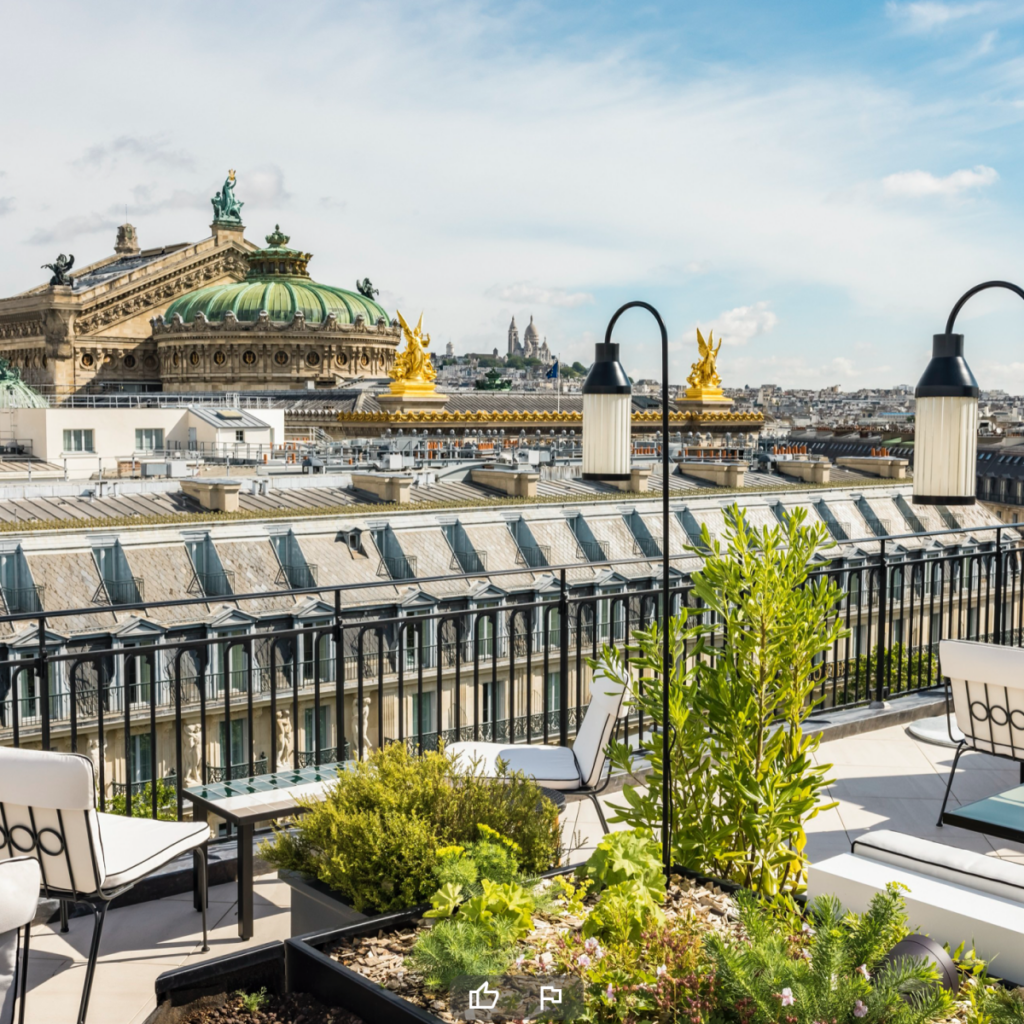 Paris makes it for the perfect valentines getaway! The city is steeped in history and unmatched romance at every turn. The uniform Haussmann buildings, the charming shops, the abundance of gilded historical monuments, and the glimmering Seine have arguably made Paris the most recognizable and romanticized cityscape in the world. Paris is a city for lovers and a city to fall in love with.
Moments away from Opera, Faubourg St Honoré & the Tuileries Gardens, Kimpton St Honoré Paris brings a creative flair to its 1917 Art Déco facade. Its 149 stylish guest rooms and 24 beautifully designed Suites are the work of renowned Paris-based interior designer Charles Zana.
Inspired by minimalist Art Nouveau aesthetics and a light-hearted sense of Parisian chic, Kimpton St Honoré Paris appears as one of the most stylish hotels in Paris.
Thanks to its California-inspired patio restaurant that sets the frame for a romantic dinner, a cutting-edge spa completed with an interior swimming pool, and the unrivaled 360-degree views of its rooftop bar and garden, Kimpton St Honoré Paris offers the perfect Valentine's break in Paris. So do not hesitate to spend Valentine's Day, or even better, a long intimate weekend with your loved one at this fantastic hotel.

Fairmont Grand Hotel Geneva
Geneva, Switzerland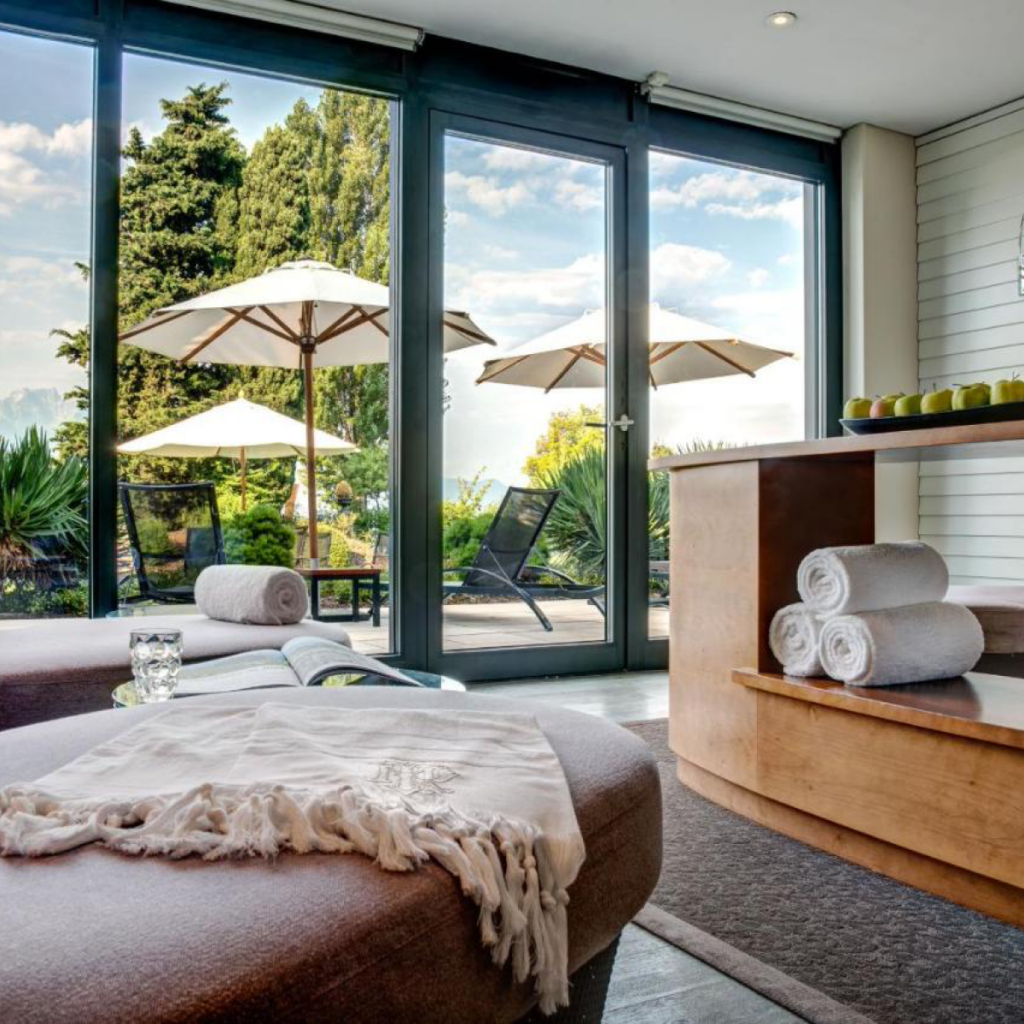 Are you considering heading to the beautiful city of Geneva? Then you're in for a treat! Geneva is one of the top unique cities in all of Europe. It is known for its luxury hotels, top-notch cuisine, and scenic setting on the southern tip of Lac Léman. It's also known as one of the most romantic cities in Europe.
It would be a mistake not to mention Fairmont Grand hotel Geneva when listing the best Valentine's day getaways in 2022. Grand Hotel Geneva is a destination spot all on its own – a luxurious staycation option, a peaceful respite in an urban setting, or a private, lavish haven that far exceeds guests' expectations.
Situated on 1,300 acres in the woodlands of Lake Geneva, the award-winning hotel offers a one-of-a-kind Valentine's Day experience for those who want to take their relationship to great heights with grand gestures and memorable experiences to make up for practically a year with no date nights.
Grand Hotel Geneva is home to three exclusive gourmet restaurants, a cozy lounge area, a bar, the largest private indoor swimming pool in Geneva. It also offers exclusive access to its elite spa and fitness center, offering, among other things, intimate couples massage.

Sir Albert Hotel
Amsterdam, Netherlands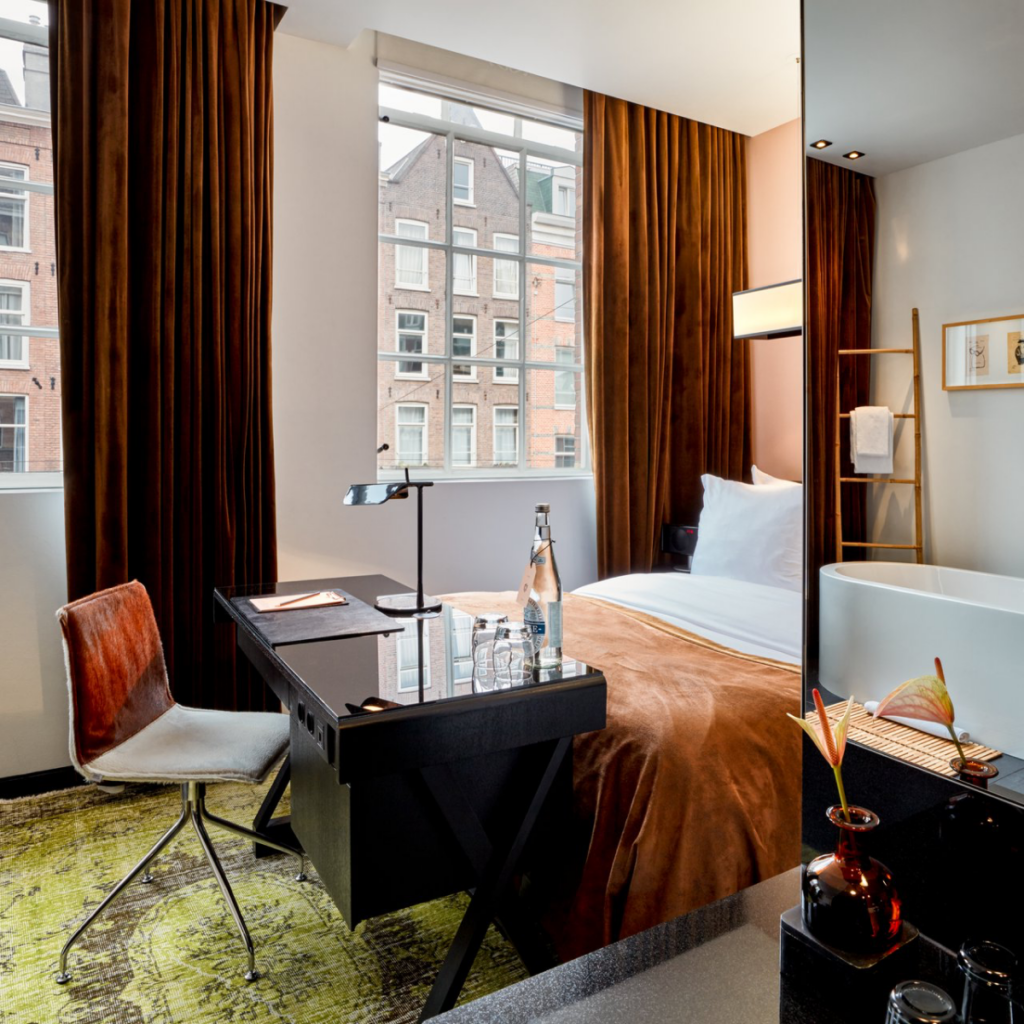 Amsterdam is almost like an open-air museum, and the scenery alone is super romantic already. Especially by night if you walk along the canals with all the beautiful lights. It's magical!
Right in the heart of Amsterdam's De Pijp district, within walking distance of Museum Square and just down the street from the famous Albert Cuyp Market, Sir Albert is a sophisticated destination for culture vultures.
At Sir Albert, it's all about connecting with yourself and your loved ones, and you'll find a space to do just that right when you walk into the hotel. So settle yourself by The Study's fireplace, have a drink, and breathe.
With high ceilings and large windows, rooms at Sir Albert merge historical detail with clean, modern style and ensure that you love staying in as much as going out.
Also, couples fascinated by innovative culinary concepts can have a romantic dinner at one of Amsterdam's most famous fine dining spots; the on-site restaurant, IZAKAYA Asian Kitchen & Bar. The restaurant presents modern Japanese cuisine with South American influences. The menu features fresh sushi, sashimi, and a variety of exquisite meat and fish, prepared on a traditional robata grill or in a hibachi fire bowl.

Villa Copenhagen
Copenhagen, Denmark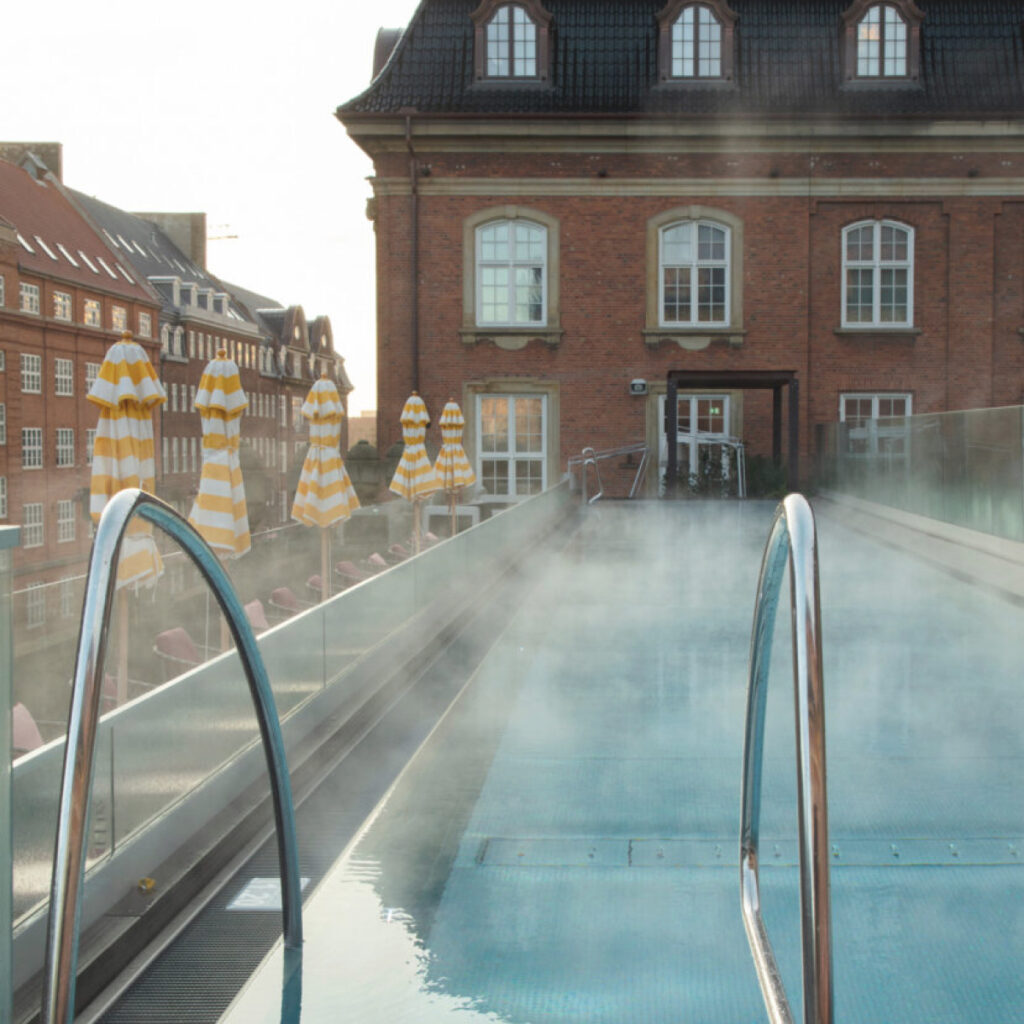 Some of the best hotels for a romantic Valentine's getaway are based in Copenhagen, Denmark. This city is one of the most romantic European cities, with narrow streets, historic architecture, and an abundance of parks. Regarding accommodation options for a special romantic break, there is something for everyone in Copenhagen – from grand luxury hotels to small boutique properties. The new-opened Villa Copenhagen in the city's heart is one of the most luxurious hotels in Copenhagen, and it is worth a visit.
Situated next to the Central Station and Tivoli Gardens and only 15 minutes from CPH Airport, Villa Copenhagen has a unique and ideal location with all major attractions within walking distance. Indulge in an intimate and romantic getaway with many experiences at Villa Copenhagen.
Honoring the ethos of charming old Europe expressed in history allows the past presence and future to come together in an inspiring and playful ambiance. Its unique rooms and suites designed in a Scandinavian luxury style, a year-round heated pool on their lovely rooftop terrace, and a gym make it one of Copenhagen's most luxurious and romantic places.
In the brasserie Kontrast we are embracing and uniting the raw, quirky, and more urban Vesterbro with the luxury and exclusivity that characterizes the inner city of Copenhagen. With sustainably produced meat and fish and seasonal and organic ingredients and wines, all courses at Kontrast have their origin from local farmers. In addition, Kontrast goes for an attentive, relevant, and embracing atmosphere. The hotel promises a journey of magical experiences for all senses.

Hospes Maricel & Spa
Mallorca, Spain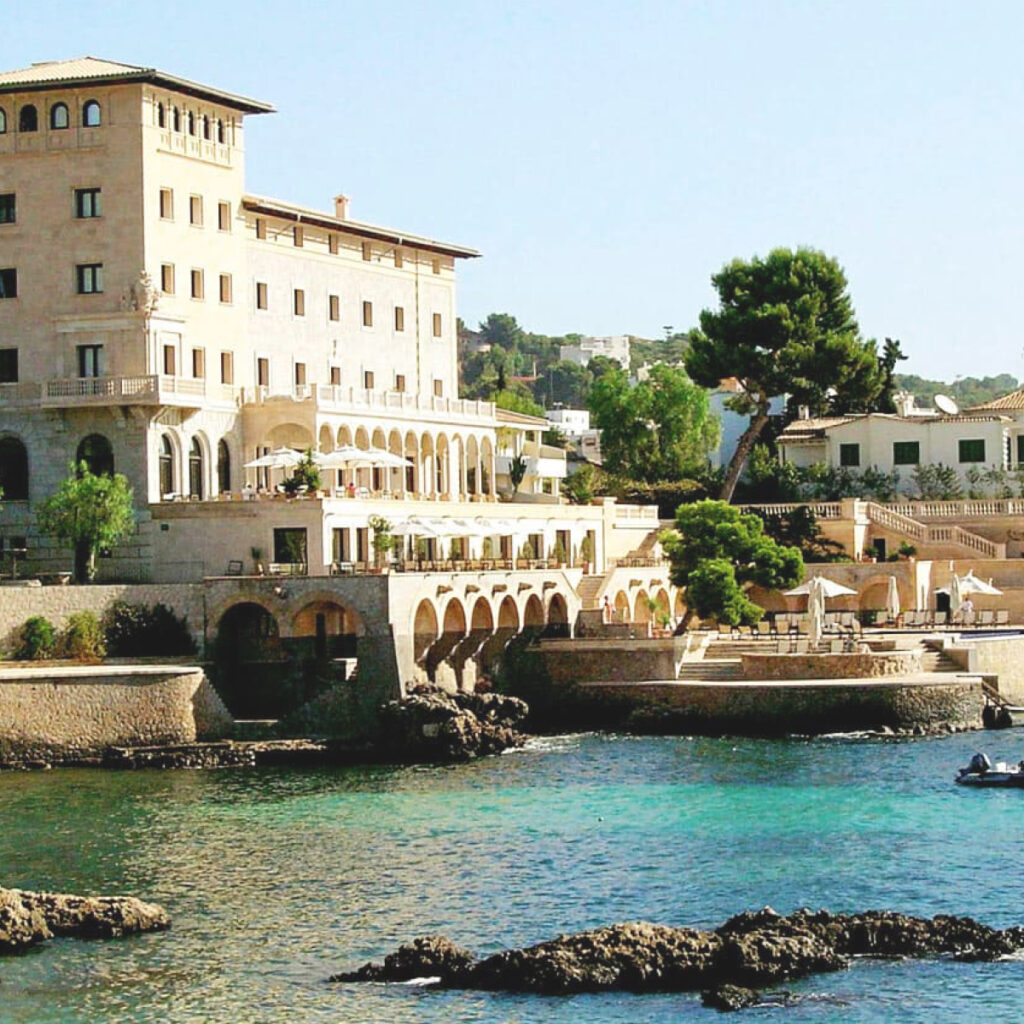 The island of Maalorca is a paradise for couples who want to get away from it all and relax and enjoy each other's company. Mallorca is renowned for its natural beauty with idyllic villages, stunning beaches, and rugged countryside, making this a perfect destination for a romantic break. The island is also peppered with an excellent choice of accommodation.
This hotel enjoys a peaceful coastal setting on the island of Mallorca, lying just 5 km away from the beach, Palma de Mallorca, and the exclusive Puerto Portals. In addition, the hotel lies just a 15 minutes driving distance away from the airport. This charming hotel beautifully combines modern architecture with influences from the 16th and 17th centuries.
The hotel comprises elegantly-designed guest rooms, which exude style and poise. The rooms are equipped with modern conveniences, ensuring a comfortable, enjoyable stay for you and your significant other. In, addition, couples can indulge in ultimate relaxation and rejuvenation in the relaxing surroundings of the spa. This charming hotel is sure to impress.

Atlantis Bay
Sicily, Italy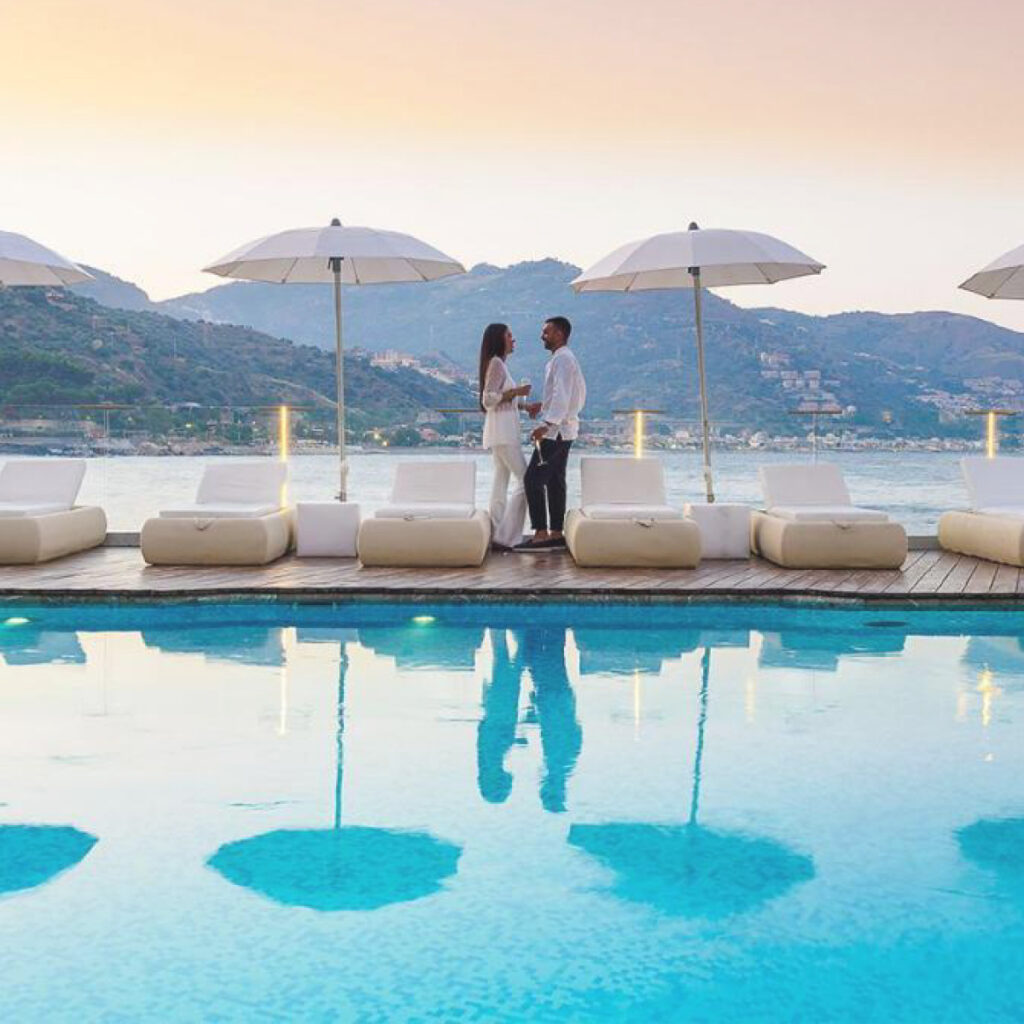 Overlooking the sea on one of the most beautiful stretches of the Sicilian coast, Atlantis Bay is situated amongst the allure of the Baia delle Sirene, the sparkling beauty of the Mediterranean Sea, and the winding alleyways of Taormina. Taormina is one of the most beautiful and charming towns in Italy, with its small and narrow streets giving an old-world feel.
A true oasis of peace and tranquility nestled in an exceptional landscape. The hotel is built into the cliff with all rooms with a spectacular sea view. The hotel has a very typical Mediterranean style with maritime settings that make your stay memorable.
The essence of Sicily flows into the food and wine pairings of Atlantis Bay. Traditional ingredients and the great classics of Mediterranean cuisine are creatively reinterpreted for an experience of flavorful experimentation.

Pestana Palace Lisboa – Hotel & National Monument
Lisbon, Portugal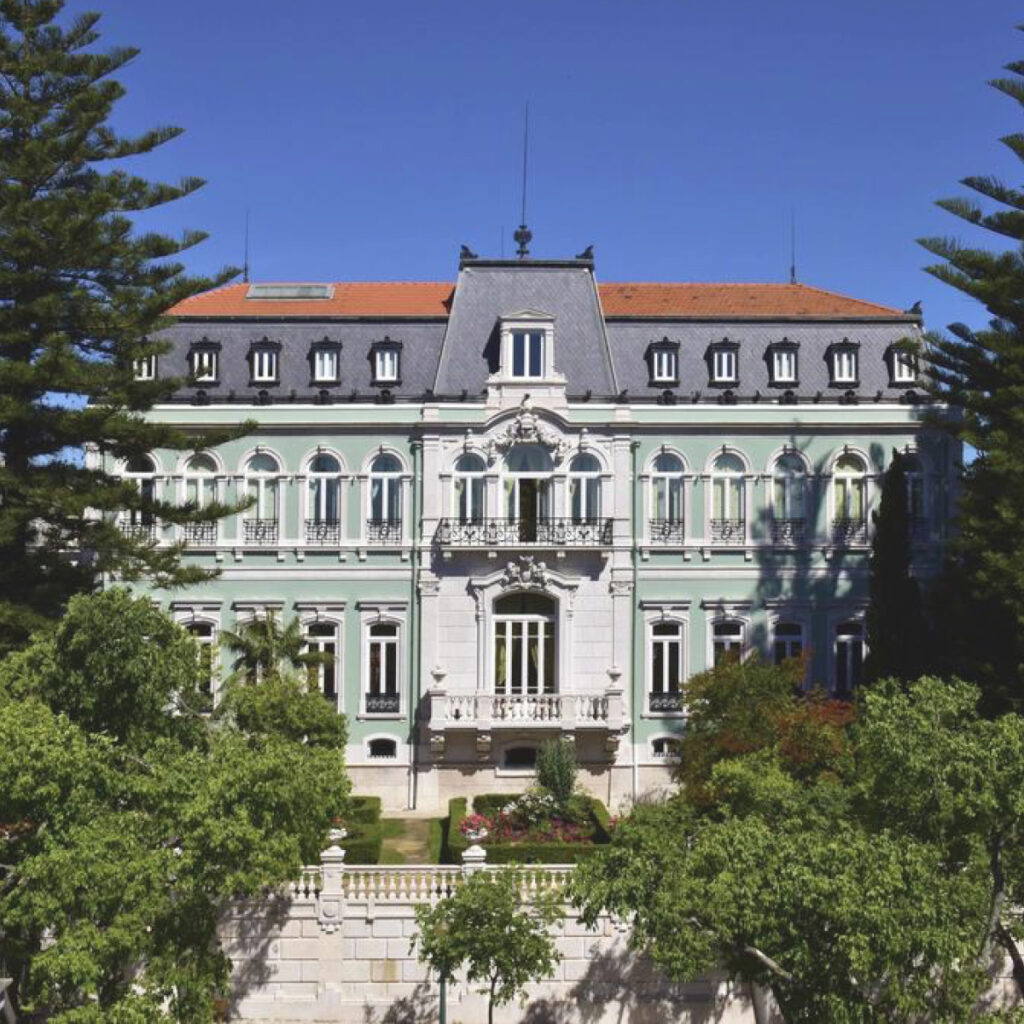 Picture yourself in a hotel that was once the primary residence of a 19th-century nobleman, the Marquis of Valle Flôr, a well-traveled man of refined taste. The hotel is considered one of the world's best luxury hotels. Madonna, a former guest, can attest to that.
The favorite celebrity hotel in Lisbon is found halfway between the district of Belém (where the prominent landmarks and museums are) and downtown shopping and restaurants. However, you will likely end up staying in the hotel for a large part of the day, thanks to its beautiful gardens, fantastic spa, and swimming pool (there's also a heated indoor pool for the winter months). As soon as you step inside Pestana's breathtaking universe, you will feel the romance. Pestana Palace invites you to a romantic valentines weekend or even a holiday.
The hotel has 193 rooms and four suites, the largest of which, the D. Carlos suite (named after Portugal's next-to-last king), looks like what you would expect royal quarters to be: luxurious, elegant, roomy, and comfortable.
You will find the unassuming Valle Flôr restaurant and its traditional Portuguese menu among the old ballrooms.

With Valentine's Day fast approaching, it may be high time to start planning your romantic getaway. We've searched the world for the best hotels with accommodations that make an ideal destination for a romantic escape this February 14th. Whether you're looking for luxurious suites in Paris or cozy cabins in Colorado Springs, our list has something for everyone! Check out our top 10 destinations and book your trip today. You'll thank us later.