If you are planning a trip to the east coast of Sicily, Syracuse is the place to go. It has everything: picturesc historic sites, beautiful beaches and natural sceneries, as well as incredible baroque architecture.
This bright coastal city is famous for its fascinating historical heritage and its enchanting historic center which is on an island! To help you plan your stay in Syracuse we made a 3-day itinerary to make the most out of your trip. We also recommend the best eco-accommodations in the area so you know where to stay in Syracuse. Check it out!
Day 1: Historic center and ruins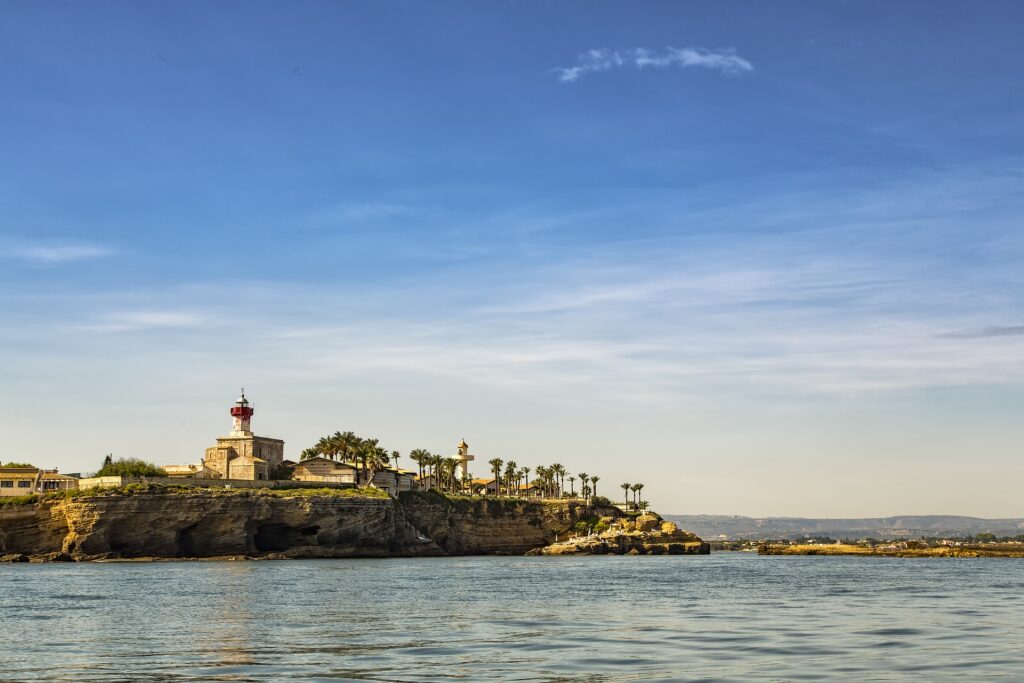 Syracuse is full of history, everywhere you look you will find ruins from different historical periods. Syracuse is home to Greek theaters, Roman ruins, Byzantine churches, Norman caves, and medieval castles, all co-existing in a harmonious landscape. In 2005 Syracuse became a World Heritage Site for obvious reasons!
Syracuse is a safe and walkable city that extends partly on the mainland and partly on the island of Ortigia connected by two bridges: Umbertino and Santa Lucia. Start your day by walking through the historic center and visiting the Duomo di Siracusa at Piazza Duomo di Ortigia. Then visit the temple of Apollo, an archeological site from the 7th-6th century BC. Make sure to check out the Syracuse Archeological museum to find out more about how the structure looked like in the past.
Close to the archeological site is the Syracuse market, a market held every morning by local farmers where you can buy the freshest foods! You will also find food stands and restaurants in the area where you can grab a bite. Then head up to the north part of the city to the Neapolis archaeological park. There you will have access to different archeological sites such as the Roman amphitheater, the altar of Hieron II, and The Ear of Dionysius, an ear-shaped cave! Nearby the Archeological Park of Neapolis there's also the Catacombs of San Giovanni, not as popular among tourists but definitely worth a visit.
Day 2: Beach and nature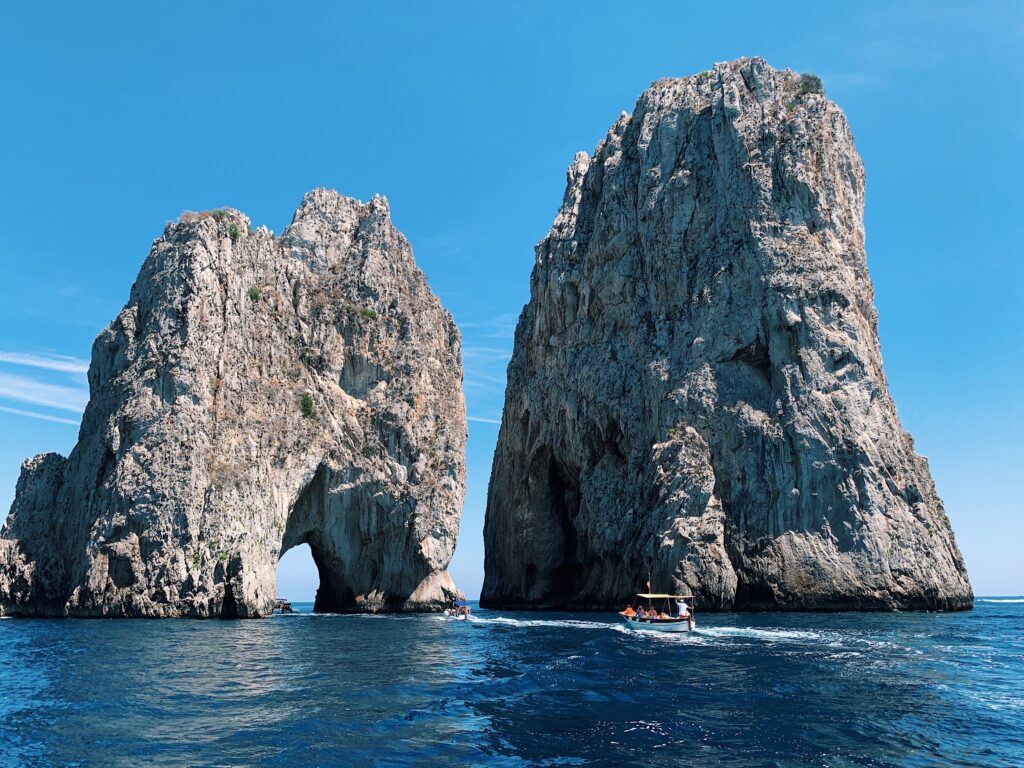 After visiting temples and ruins you need a break, it's beach time! There are several beautiful beaches around Syracuse including Ortigia, Vendicari, Calamosche, Fontane Bianche, and Avola. However, Arenella beach is one of the best to swim. It's a small bay of fine and golden sand about 9 km south of the historic center.
Close to Arenella beach, is the Plemmirio Marine Park, a marine protected area 20 minutes south the historic center. Fifty kilometers further south you will also find the Vendicari Wildlife Reserve. The reserve is a breathtaking eco-destination perfect for outdoor activities such as snorkeling and trekking.
Once back to Syracuse's historic center, walk to the Fountain of Dian and take a look at the fishing port. Walk to the fortified area of Castello Maniace. End the day at the Fountain of Arethusa to watch the sunset. A perfect moment to have a drink or a gelato at the many terraces and bares in the area.
Day 3: Baroque towns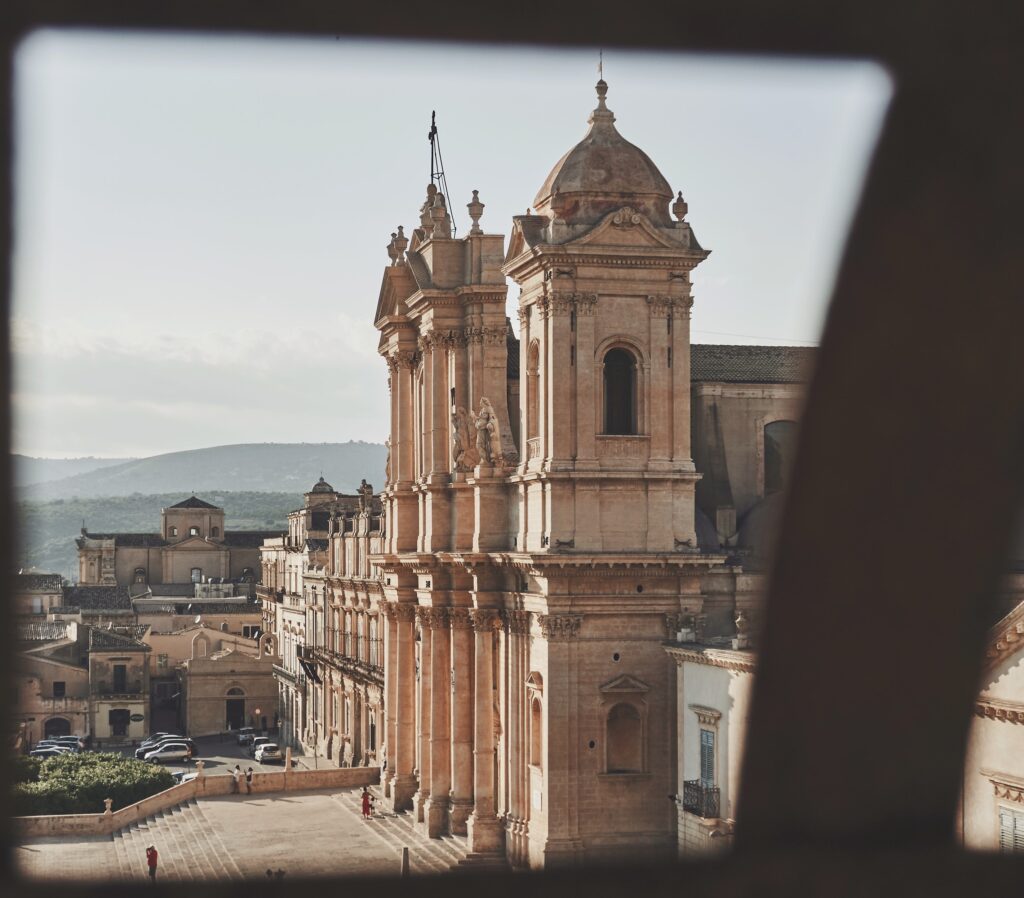 Sicily is well-known for its baroque architecture. Make the most out of the trip and visit the nearest baroque towns to Syracuse: Noto, Ragusa, and Modica.
Noto is only 30 minutes by car from Syracuse or 1.15 minutes by regional train from the historic center. The main sites to visit in Noto are Piazza Immacolata, Piazza Municipio, Piazza XVI Maggio, Via Cavour, and Via Nicolaci with Palazzo Nicolaci di Villadorata. Probably some of the most famous buildings of Sicily.
Modica is a bigger city consisting of three urban centers. 1) Modica Alta, where the medieval town is. 2) Modica Bassa, a baroque town famous for its chocolate production. 3) Modica Sorda, the modern part of the city. You might want to spend more time in Modica Bassa due to its architectonic attractions.
Ragusa is only 20 minutes by car and 40 minutes by train from Modica. The main sights include the Baroque cathedral of San Giorgio, the Church of San Giuseppe, Palazzo Consentini, with its balconies, Palazzo Nicastro, the olds prison, and Santa Maria Delle Scale, a long stairway leading down to Ragusa Ibla and offering a magnificent view of the city, exceptionally beautiful!
Sustainable hotels to stay in east Sicily can be booked through EcoHotels.com, this way you ensure to be as sustainable as possible when traveling taking part in the movement towards sustainable traveling.
Eco-accommodation in Syracuse
A contemporary 4-star hotel created from the ruins of a nineteenth-century building represents an important project in improving the outstanding countryside of Syracuse. Addauro Resort deservedly belongs to the category of Eco-Hotels, as it boasts a construction process with zero environmental impact. The volume of the existing building was unaltered and it is able to produce renewable energy. Thanks to a careful selection of natural, local materials, some of them recycled, non-toxic and non-allergenic paint, 100% natural lime plaster, Addauro resort assures perfect breathability in the building's walls and great air quality in all rooms and common spaces. Furthermore, the resort boasts a rainwater recycling system and a low consuming innovative LED illumination system.
Eco-accommodation in Noto
Set on a hill overlooking the famous Vendicari Wildlife Reserve, the eco-conscious Hotel La Corte del Sole is a charming, fully renovated, 19th-century farmhouse, just half a kilometer from the Mediterranean Sea. Hotel La Corte del Sole provides a warm, cozy and familiar atmosphere. Here, you will enjoy the hotel's green surroundings, outdoor pool, and lovely nearby beaches. Admire the hotel's traditional colors with its use of local materials such as Sicilian handmade terracotta, Noto white stone, and Syracuse sandstone.
COVID-19 traveling recommendations
Before traveling make sure to check out the World Health Organization Covid-19 Dashboard for continuously updated information about the cases in each country. For requirements to enter the countries and recommendations on travel destinations, check out the official tourism information from each country.