For many people, nothing beats the sound of the waves crashing against the shore, and the sun on their skin. Unfortunately, not all beaches are wheelchair accessible or equipped with the necessary facilities for mobility-impaired visitors. However, these days, there are many beautiful beaches around the world that provide full access for people with disabilities. In this blog post, we take a look at some of the best accessible beaches in the world. So, get your sunscreen and towel ready for a memorable beach experience.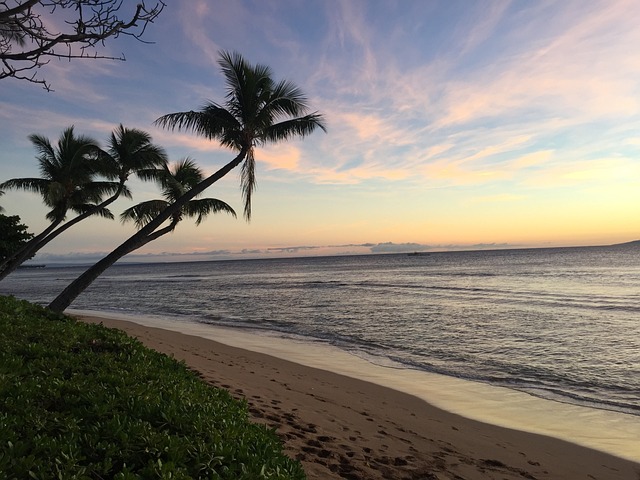 Hanauma Bay is located on the Hawaiian island of Oahu. It is a picturesque beach located at the base of a steep cliff formed by the remnants of an ancient volcano. Despite its unique geological setting, this beach stands out as one of Hawaii's more accessible coastal destinations. Accessibility options include a convenient transportation shuttle from the rim or the convenience of private cars, catering to the needs of travelers, including those using wheelchairs.
The beach offers free beach wheelchairs readily available at the beach kiosk. These specially designed beach wheelchairs facilitate easy movement across both the sandy shores and the inviting Hawaiian waters. Additionally, Mobi manual chairs can be rented, providing a versatile solution for traversing the beach and its sand dunes.
A Beach Conservation Triumph
Hanauma Bay is a cherished state park that underwent restoration in 1990. This has resulted in the revival of its magnificent "curved bay" and the re-establishment of a vibrant marine ecosystem. The beach has become a renowned snorkeling destination, which unfortunately contributed to its deterioration. However, the site now stands as a testament to conservation and land preservation, offering an exceptional experience while safeguarding its natural treasures.
To ensure the well-being of the marine life, Hanauma Bay implements measures such as a weekly closure every Tuesday, allowing fish to feed undisturbed. Additionally, strict monitoring and regulation of visitor numbers are in place. This ensures the beach remains in pristine condition for all to enjoy.
Whether you're an avid snorkeler, a nature enthusiast, or simply seeking a relaxing day on the beach, Hanauma Bay offers a truly exceptional experience. Its accessible features, dedication to conservation, and breathtaking surroundings make it a must-visit destination for all beachgoers, including those with diverse needs.
Do you want to visit Hawaii? Explore hotels here!
Myrtle Beach, South Carolina, USA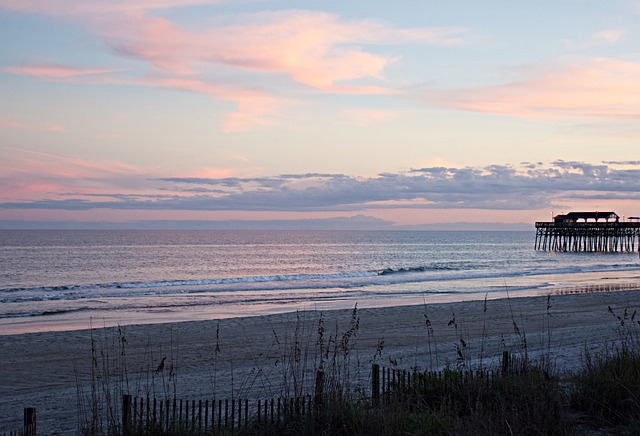 In the city of Myrtle Beach, there are three distinct beaches that prioritize accessibility by providing beach wheelchairs for visitors. The entire area of Myrtle Beach is committed to ensuring that all residents and tourists can fully enjoy their time in this beautiful location.
To enhance accessibility, multiple beach access points are equipped with beach wheelchairs, which are available free of charge. These wheelchairs can be used on a first come, first served basis, but they can also be reserved in advance. If you make a reservation, your beach wheelchair will be delivered to your desired location, weather permitting. The delivery service begins as early as 9am, allowing you to start your beach day with ease. It's important to note that beach wheelchairs are only available until 5pm each day.
Myrtle Beach has a total of 31 wheelchair accessible beach access points. Some of these points feature beach ramps, while others provide full accessibility, ensuring that individuals with mobility challenges can navigate the beach with convenience and comfort.
By providing free beach wheelchairs and a multitude of accessible beach access points, Myrtle Beach strives to create an inclusive environment where everyone can revel in the beauty of the area and make lasting memories.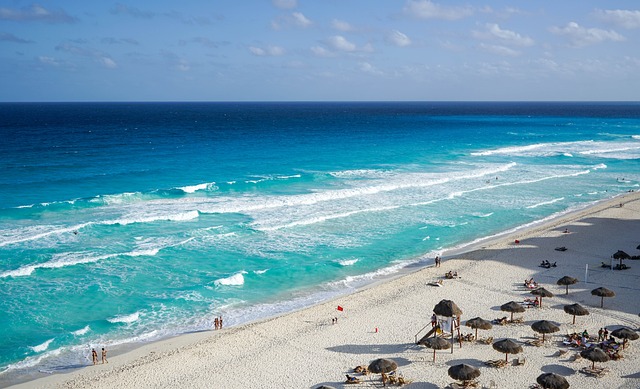 Cancun, Mexico, not only boasts stunning beauty but also stands out as one of the most wheelchair-accessible beach destinations. Along the beach and within the resorts, numerous boardwalks and wide paths are available, providing ample space for visitors. These pathways ensure easy maneuverability for individuals using wheelchairs, facilitating enjoyable beach experiences.
To enhance comfort and convenience, resorts in Cancun offer private beach access. This allows guests to unwind and soak up the sun without the crowds. For those who wish to spend the day on the sandy shores, umbrellas can be rented for a small fee, providing shade and protecting against sunburn. Opting to stay at a resort offers the added benefit of exclusive access to a less crowded beach, ensuring a tranquil and relaxing environment.
Recognizing the importance of inclusivity, many resorts in Cancun provide beach wheelchairs to accommodate individuals with mobility needs. Some establishments even offer the option to reserve these wheelchairs in advance, allowing guests to plan their beach activities with peace of mind. Companies like Cancun Accessible, facilitate these reservations. Ensuring a seamless experience for those requiring specialized equipment, such as beach wheelchairs, that make it a breeze to enjoy the ocean.
Planning a trip to sunny Cancun? Check out hotels here!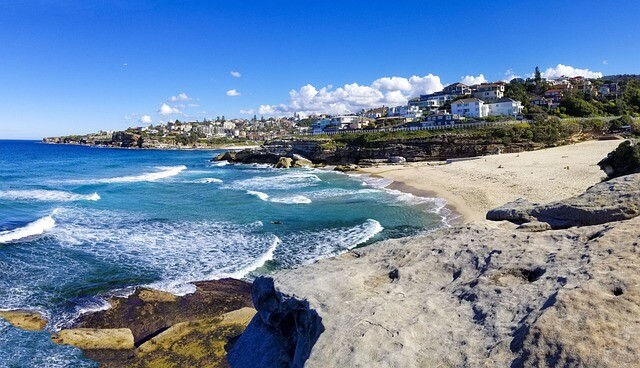 Bondi Beach is probably the most famous beach in Australia, and is an absolute must-visit destination.
Visitors to Bondi Beach can enjoy the convenience of beach access mats. These are in use on Thursdays and Saturdays from 8.30am to 2pm, subject to surf and weather conditions. These mats, located near Wally Weekes pool at the northern end ramp, provide improved accessibility for beachgoers. Additionally, a wide ramp at North Bondi ensures easy access to the beach, making it more inclusive for all.
It's important to note that the beach mats do not extend to the ocean's edge. However, beach wheelchairs are available for hire, enabling individuals to access the water safely and comfortably. The Sandcruiser is designed for adults, while the Sandpiper caters to children, providing options suitable for different age groups.
Convenience and Green Areas
In terms of amenities, Bondi Beach offers convenient parking options for individuals with accessibility needs. Two accessible parking spots are located near the ramp down to the beach at North Bondi, ensuring easy access. Open-air car parks behind the beach also provide ample accessible parking spaces.
For added convenience, accessible bathrooms and showers are available near the beach wheelchair lockers, situated just off the promenade. These facilities cater to the specific needs of individuals seeking accessible amenities while enjoying their time at Bondi Beach.
Beyond its stunning beachfront, Bondi Beach is surrounded by beautiful parklands. It offers an impressive array of shops, restaurants, and take-away places to explore. Whether you're looking to soak up the sun, experience the vibrant beach culture, or indulge in local cuisine, Bondi Beach provides a memorable experience for all visitors.
With its commitment to accessibility, Bondi Beach ensures that everyone can enjoy its natural beauty and vibrant atmosphere. From accessible ramps and beach mats to beach wheelchairs and parking facilities, Bondi Beach caters to the diverse needs of its visitors, fostering an inclusive and enjoyable beach experience.
Check out hotels in Sydney here!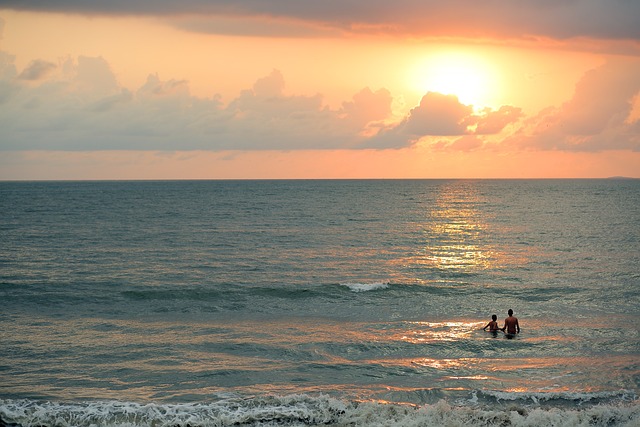 Nova Icària Beach is undoubtedly one of the best wheelchair accessible beaches in all of Spain. The beach offers multiple access points designed with accessibility in mind. At each access point, ramps seamlessly connect the city sidewalk with the beach boardwalk, facilitating easy movement through the sand. Some paths even feature wooden ramps that extend all the way to the water. This allows visitors to effortlessly enjoy the breathtaking view, the water, and the sandy shores. Looking for a hotel? Check out hotels in Barcelona here.
Assistance and Comfort
Renowned for its accessibility, Nova Icaria Beach goes above and beyond to cater to individuals with mobility needs. In addition to providing beach wheelchairs specially designed for water use, the beach offers a range of accessible amenities. Accessible bathrooms, changing rooms, and a hoist for transfers from regular wheelchairs to amphibious beach wheelchairs are available, ensuring a comfortable and convenient beach experience.
Moreover, Nova Icaria Beach goes the extra mile by providing personalized assisted bathing services. These services include volunteer assistance. Such as a hoist for transfers from a regular wheelchair to a beach wheelchair, and additional equipment such as floating wheelchairs and water crutches. This comprehensive approach ensures that individuals with varying levels of mobility can fully enjoy the beach and the refreshing waters.
If you're spending a weekend in Barcelona, check out our 3-day itinerary here!
Vari Beach, Syros, Greece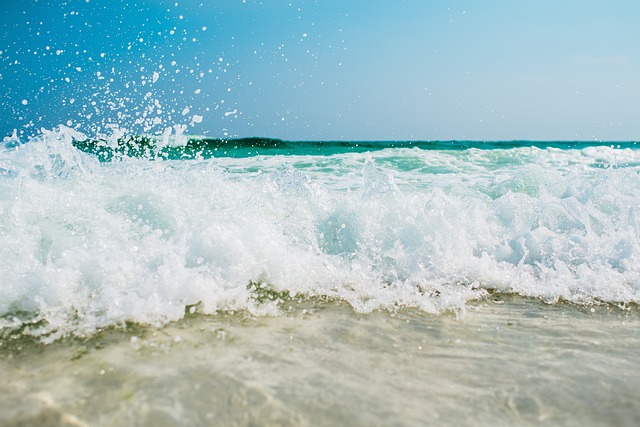 Vari Beach is located on the wonderful island of Syros in the Aegean Sea in Greece.
It is situated in the charming settlement of the same name on the island of Syros. Vari beach is a beautiful beach destination renowned for its popularity. Nestled within a tranquil, windless cove, this beach captivates with its fine, yellow sand and inviting blue-green waters. It has a gentle depth perfect for children to play in safely. While basking in the sun on the coast, you can also indulge in a delightful lunch at one of the charming beach-side tavernas.
Vari Beach is a fully accessible beach, equipped with Greece's new Seatrac system. The Seatrac system is a free-to-use remote-controlled sea ramp that allows people with mobility issues to get into the water independently and safely. Even as a visitor to Greece, you can have your own remote sent to your hotel free of charge, ensuring a hassle-free trip.
In addition to its natural beauty, Vari Beach goes the extra mile to ensure accessibility and convenience for all visitors. The beach provides accessible showers and changing rooms, allowing individuals with mobility needs to comfortably refresh themselves. Moreover, several strategically placed umbrellas offer protection from the sun's rays, ensuring a safe and enjoyable beach experience.
In addition, Vari Beach offers wheelchair accessible parking, making it convenient for wheelchair users or individuals with limited mobility to access the beach effortlessly.
To satisfy your appetite, Vari Beach boasts beachside tavernas where you can indulge in delicious meals without straying far from the beach.
Greece's Accessibility Commitments
In the past years, Greece has many made strides towards beach accessibility in a bid to make Greece more accessible for everyone in general.
Greece has plans to greatly expand beach accessibility in the whole country with the Seatrac system. The goal is to transform 287 beaches across the country to be fully accessible for people with mobility issues. All of this is to be done with the necessary facilities, such as accessible parking, bathrooms, changing rooms, and ramps to tavernas, bars, and sun loungers. A total of 147 beaches all across the country have already completed the transformation to make them more accessible, giving everyone a chance to enjoy all the natural beauty that Greece has to offer.
In love with Greece? Check out our Greece travel guide here!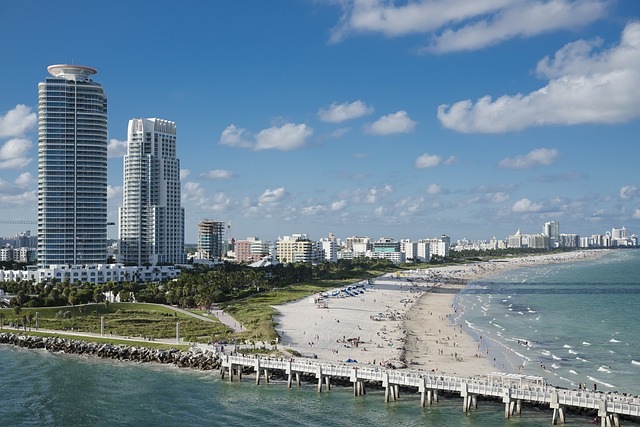 Connected by bridges to the lively mainland Miami, the island city of Miami boasts one huge beach as far as the eye can see. Miami Beach is renowned for its vibrant atmosphere, pristine white sand, and mesmerizing crystal-clear waters. Beyond its beauty, Miami Beach is committed to providing full accessibility for people with disabilities, ensuring that everyone can enjoy the fun.
Accessible walkways are in place, in the form of beach mats, allowing easy passage for wheelchair users or individuals with mobility impairments. These pathways facilitate seamless exploration of the beach. Additionally, wheelchair accessible restrooms are available, offering convenience and comfort to all visitors.
Manual or Motor Beach Wheelchairs
To further enhance accessibility, Miami Beach offers free use of both manual beach wheelchairs and motorized beach wheelchairs. These free beach wheelchairs enable individuals with mobility challenges to traverse the sandy shores and fully immerse themselves in the coastal experience. With the manual beach wheelchairs you can go into shallow waters, while the motorized beach wheelchairs need to stay on land. Whether you desire a leisurely stroll or a tranquil spot to soak up the sun, the beach wheelchairs provide the freedom to explore and enjoy the beach to the fullest.
Safety is a top priority at Miami Beach, with lifeguards stationed along its entire length. Their presence ensures the well-being of all visitors, giving you peace of mind as you bask in the sun and dip into the rejuvenating waters.
Miami Beach exemplifies a harmonious blend of natural beauty and inclusivity, where the white sands, pristine waters, and lively ambiance all go together to create an accessible beach for all.
Going to Miami? Check out hotels here!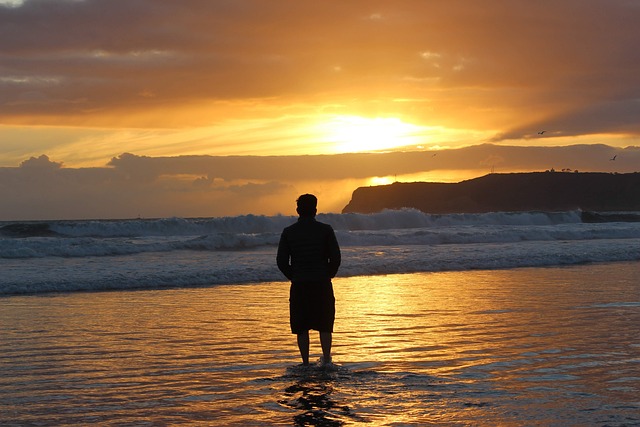 Located at the heart of San Diego, Mission Beach is a popular beach that makes for a captivating coastal experience.
Mission Beach has a paved boardwalk that runs along its shoreline. This provides a wonderful opportunity for wheelchair users to relish beach views without the need to transfer to a beach wheelchair. The accessible boardwalk ensures a smooth and enjoyable journey for all.
For those who prefer to transfer to a beach chair, fear not! Both manual and motorized beach wheelchairs are available free of charge for one-hour intervals. You can conveniently obtain your beach chair from the lifeguard tower located by Ventura Street.
In the summer season, the beach is outfitted with beach mats in front of the main lifeguard tower, providing a true sandy beach experience for everyone.
To facilitate accessibility, accessible parking spaces are provided at several locations. However, due to the beach's popularity, it is advisable to arrive early, as parking spaces tend to fill up quickly.
Additionally, an accessible restroom is conveniently situated by the lifeguard station on Ventura Street. This ensures that essential facilities are within reach for visitors with diverse needs.
Whether you prefer strolling along the accessible boardwalk or utilizing the provided beach wheelchairs, Mission Beach caters to diverse accessibility needs, inviting all to savor its beauty and enjoy a memorable beach experience.
Inspired? Check out hotels in San Diego here!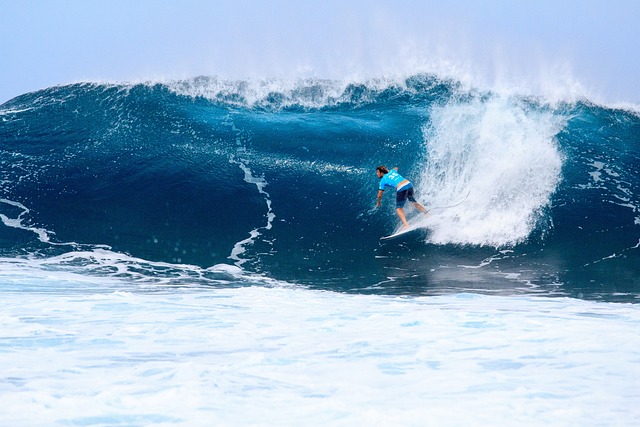 Just a short ferry ride away from Sydney lies Manly Beach. This beach is a destination that combines stunning coastal beauty with ease of accessibility.
Embarking on the coastal walk from Manly Beach to Shelly Beach, you'll find a path free of stairs, allowing for a seamless and enjoyable journey. Along this scenic route, wheelchair accessible bathrooms are available, ensuring convenience for all visitors. Furthermore, water-bottle refill stations are placed along the way, allowing you to stay hydrated under the sun's warmth.
When it comes to accessing the sandy shores of Manly Beach, a ramp is provided, albeit slightly steep. To further enhance accessibility, Manly Surf Pavilion offers free beach wheelchairs that you can borrow. This ensures that everyone can immerse themselves in the beach experience. Additionally, accessible bathrooms can be found right on Manly Beach.
Family Fun for All
Weekends at Manly offer a range of delightful activities to explore. You can stroll through the lively market stalls, sate you hunger at step-free restaurants, and embrace the vibrant atmosphere of this charming town.
For those seeking family-friendly attractions, Manly town has North Steyne Major, an inclusive playground featuring a variety of engaging elements. From a pod swing and carousel to sensory play boards and an accessible Butterfly see-saw, this playground provides entertainment for children of all abilities.
Whether you're taking in the coastal walk, borrowing a beach wheelchair, exploring the bustling market stalls, or enjoying family time at the inclusive playground, Manly ensures that every visitor can create cherished memories at this beach destination.
Want to visit? Check out hotels in Sydney here!
Thank you for reading!
In conclusion, while there is still progress to be made, beach accessibility for wheelchair users is steadily improving. But, with the emergence of more and more accessible travel destinations and facilities, an increasing number of people with disabilities can now experience the joys of travel. These nine accessible beaches spread across the world offer an inclusive environment for everyone. Providing ease of access, convenience, and support to visitors. So, pack your bags and head to any of these top accessible beaches for a memorable beach experience.