This is a list of our favorite winery hotels around the globe. If you're looking for a wine country getaway that will let you indulge in all your vino-related fantasies, then look no further! We've rounded up some of our favorite winery hotels around the globe – and they're all eco-certified, to boot. From Portuguese estates to lush Swedish urban wineries, these wine country retreats are sure to please. So pour yourself a glass of your favorite vintage and relax – we'll take care of the rest!
Morphosis Boutique Home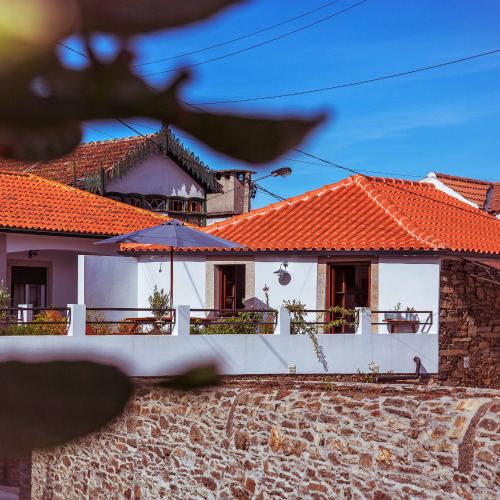 Portugal is well-known for its wine production and is an obvious place to visit a winery. Nestles in Portugal's stunning Douro Valley, Morphosis Boutique Home is more than just a beautiful hotel – it's also a winery. The winery hotel began in 2013, when the owner, Patricia, set out to create a unique and high-quality winery. However, she did not own any vineyards. With the generous help of Mr. Rui and Mr. Manuel, the first white cine was produced. In 2017, the brand was able to acquire two small parcels of vineyards. These belonged to the family of a dedicated viticulturist, Mr. Alfredo. These 50-year-old vines allowed for the creation of the first Morphosis red wine.
Fast forwards to 2021, and Morphosis has achieved certification by Biosphere for its commitment to sustainable practices. From its origins as a small winery without its own vineyards, Morphosis has become a leader in sustainability in the wine industry. And, with its excellent wild-fermented wines made from old vine grapes, they are also producing some truly exceptional bottles.
Moreover, as Patricia has become more connected with the land and the idea of developing a sustainable business, she added a new element. She now owns a typical country house in the local Douro style in the village of Celeirós do Douro. With its rustic character subtly enhanced with noble and typical materials, Morphosis Boutique Home aims to offer a unique and comfortable stay with an authentic, informal, and welcoming atmosphere.
And while staying at Morehosis you must explore one of the different experiences the winery hotel offers. First, you could exclusively taste Morphosis' two wines with the producer. Second, you could visit the vineyard and enjoy a wine tasting of Morphosis' two wines. Third, a picnic in the vineyard where you can taste regional and seasonal products while enjoying the amazing landscape. Lastly, you can also combine winetasting and picnicking and get the most amazing experience.
Torre De Palma Wine Hotel – Design Hotels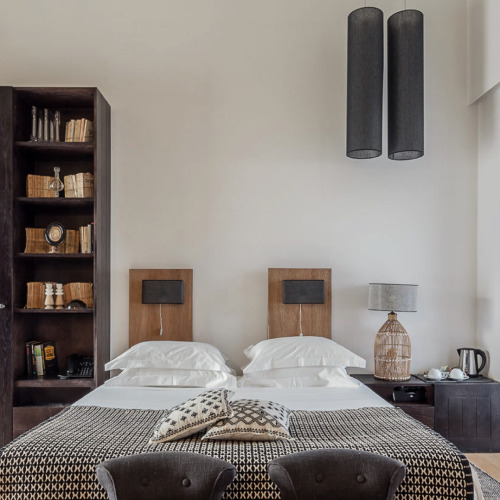 Located in the Alentejo Region of Portugal, Torre De Palma Wine Hotel offers more than just traditional accommodation. As a winery hotel, guests have the unique opportunity to fully immerse themselves in the wine-making process, from grape picking to sampling finished products.
The hotel in itself features Alentejo architecture with white-washed walls and comfortable rooms that blend contemporary design with tradition. There are 19 rooms and suites at this hotel. Each room boasting elegant interiors that combine modern-day designs with traditional pieces. Guests can enjoy indoor and outdoor swimming pools, a spa, a restaurant, and a bar while they relax at the hotel's screening room, chapel, horse riding arena, and organic vegetable garden orchard. The hotel also offers vineyard tours, an olive grove orchard, and a small forest area for guests to explore.
Moreover, the hotel is one of the first hotels in Portugal to have received a Biosphere certification. This is a testament to the hotel's commitment to sustainability. From using solar panels to supplying guests with amenities made from recycled materials, Torre De Palma commits to preserving and protecting the environment. So not only can guests enjoy world-class wine at this exceptional hotel, but they can also feel good about their choice of accommodation. With its dedication to both hospitality and sustainability, Torre De Palma Wine Hotel is a true gem in Portugal's stunning landscape.
Vesuvius Inn Bed & Wine Experience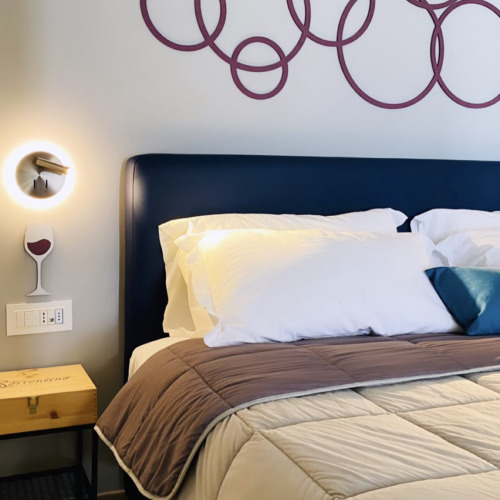 Next on the list of our favorite winery hotels around the globe is located in Naples, Italy. For the ultimate Italian winery experience, consider staying at Vesuvius Inn Bed & Wine Experience in Naples, Italy. This is the perfect place to unwind with all the comforts of home while also enjoying one of the most beautiful landscapes in Europe—a picturesque landscape between ancient olive groves and vineyards, in the middle of Vesuvius National Park. The newly built farmhouse is located in the Sorrentino estate. Here you can not only relax with all the comforts but also visit their wine cellar and taste their delicious varieties of wine.
Vesuvio Inn Bed & Wine Experience is a simple rural house set in Torre del Greco. Clients can enjoy a peaceful and calm stay at Vesuvio Inn Bed & Wine Experience with a total of 15 guest rooms. This accommodation takes pride in offering a choice of dining facilities that serve delicious culinary specialties to enjoy with the hotel's wine.
The hotel has also been certified with an ISO 50001 certification. This goes to that the winery hotel goes above and beyond standards set for energy efficiency.
The Winery Hotel, BW Premier Collection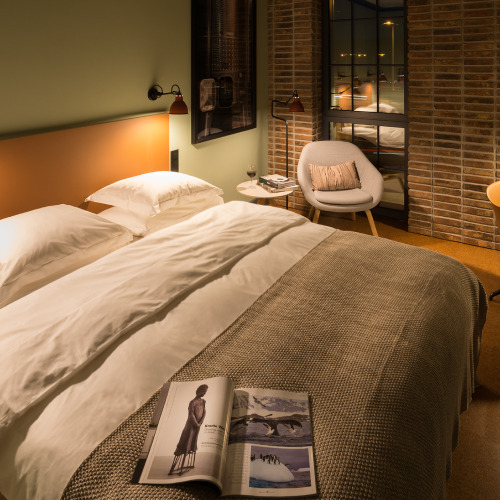 Next on the list of our favorite winery hotels around the globe is The Winery Hotel in Stockholm. Sweden may be better known for its picturesque landscapes and Nordic cuisine. However, at The Winery Hotel in Stockholm, you are able to get a taste of the wine produced from Tuscany grapes. The grapes are harvested in September and are transported to Stockholm in a refrigerated truck right after harvest. Then, they are cared for by the staff at The Winery Hotel. This Swedish combined urban winery and boutique hotel offers guests the opportunity to follow the journey from barrel to bottle. Guests can participate in the sorting of the grapes, and even try out making the traditional wine-making method, grape-stomping. The hotel produces no less than 10.000 bottles of wine per year. Currently, the winery produces two wines – Winery Red and Black Bottle Rosé. At Winery Hotel, guests are also offered guided tours in the winery several times a week.
The hotel's in-house restaurant focuses on natural, locally sourced ingredients and innovative thinking—as well as on enhancing your wine experience. The menu is adapted to both the seasons and the wines it's made for. Experienced sommeliers help guests discover harmonious and sometimes unexpected combinations of wine and food.
As if that wasn't enough, this unique hotel has also earned Green Key certification. This allows guests to feel good about supporting a hotel that prioritizes sustainability and environmentally friendly practices. From low water consumption to eco-friendly cleaning products, this winery hotel puts focuses on minimizing its impact on the planet while providing a unique and unforgettable experience. Whether you're a seasoned wine connoisseur or just looking for a new way to experience Sweden, the Winery Hotel is sure to impress with its one-of-a-kind stay.
Hampton INN & Suites Windsor Sonoma Wine Country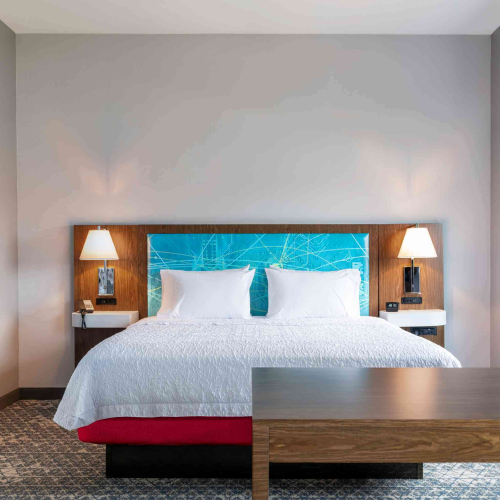 Located in California's stunning Sonoma Wine Country, this hotel offers the perfect home base for a wine-filled getaway. While it may not be a winery hotel, there are dozens of excellent local wineries just minutes away from its convenient location along Redwood Highway. And if you're looking for a glass closer to home, the on-site bar offers a wide selection of California wines.
But it's not all about wine at this hotel – the Charles M. Schulz Museum is just two miles from the hotel and only 30 minutes from Armstrong Redwoods State Natural Preserve. And, as an added bonus, the hotel has achieved both ISO 50001 and ISO 14001 certifications. Meaning they prioritize energy efficiency and environmental sustainability in everything they do. Stay at this hotel on your next California vacation and enjoy all that Sonoma Wine Country has to offer!
Make sure to check out more of our blog posts here!
It can be hard to decide where to go, but with a little research, you're sure to find the perfect spot for your next getaway. And if nothing else, we hope this blog post about winery hotels around the globe has helped you. So now, it's time to start planning your trip and enjoy all that winery hotels have to offer. Book a stay at a winery hotel and let us know how it goes! We can't wait to hear about your experience!