Are you thinking of taking a golf vacation, but don't know where to start? Relax! This guide will walk you through everything you need to consider when choosing the perfect resort for your needs. So whether you're looking for a challenging course or luxurious accommodations, we've got you covered. Read on to find out more!
Choosing the right golf resort for your need
With so many golf resorts to choose from, it can be difficult to know where to begin. If you're looking for a luxurious experience, you'll want to find a resort that offers all the bells and whistles, including an on-site spa and gourmet dining options. If you're traveling with young children, on the other hand, you'll need to find a resort that offers family-friendly amenities like babysitting services and kid-friendly menus. And if you're on a budget, you may need to sacrifice some of the extras in order to find a resort that fits your price range. No matter what your criteria are, there's sure to be a golf resort out there that's perfect for you.
What to look for in a golf resort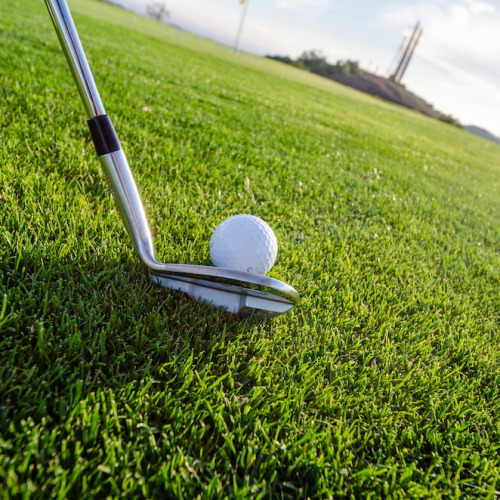 When planning a golf getaway, there are many factors to consider. But with so many resorts to choose from, it can be difficult to know where to start. Here we offer three factors to keep in mind when choosing a golf resort:
First and foremost, you'll want to make sure the resort has a good course. After all, that's why you're there! But don't just take the resort's word for it – do some research and read reviews from other golfers. The last thing you want is to be stuck playing a boring, frustrating course. Also, consider your skill level and your needs for a golf course. Some resorts are more geared towards beginners or casual players, while others offer world-class courses that be quite expensive. So make sure to factor in how much experience you have and how much money you want to spend.
Secondly, you'll want to consider the amenities the resort offers. Does it have a spa for post-round relaxation? A good restaurant for dinner? A well-stocked pro shop in case you need new gear? These things can make or break a golf getaway, so be sure to do your research before booking.
Finally, you'll want to think about location. Some golfers prefer to stay close to home, while others enjoy traveling to new and exotic locations. There's no right or wrong answer here – it all comes down to personal preference. But whatever you choose, be sure to pick a place that you'll enjoy spending time in both on and off the course.
With these things in mind, it will make it easier to search for the perfect golf resort for your next getaway.
The different types of golf resorts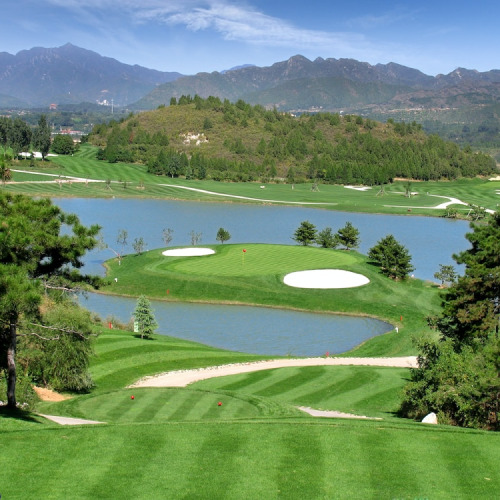 It is no surprise that there is no one-size-fits-all when it comes to golf resorts. Just as every golfer has their own unique playing style, so too do golf resorts come in a variety of shapes and sizes. For those who love golf, there is no better vacation than a golf resort. There are a variety of different types of golf resorts, each offering its own unique amenities and experiences. For instance, some golf resorts are located in remote, picturesque locations, providing a secluded getaway for those looking to escape the hustle and bustle of everyday life. Others are located in more urban areas, making them convenient for those who want to be able to enjoy the nightlife and other attractions that cities have to offer. However, eco-certified golf resorts are quickly becoming a popular choice for those looking to enjoy a green vacation.
These resorts have been certified by an independent organization as meeting strict standards for sustainability, including reducing energy consumption, promoting water conservation, and using eco-friendly building materials. Some resorts are designed to minimize their impact on the natural environment. For example, they may avoid cutting down trees or disturbing wildlife habitats. As more and more people become concerned about the environmental impact of their vacation, eco-certified resorts are an increasingly appealing option.
No matter what type of golf resort you are looking for, there is sure to be one that meets your needs.
Golf resorts around the world
Now, that you know some of the things you should consider before booking your golf resort, you should check out some of our favorite golf resorts.
Dreams Karibana Cartagena Beach & Golf Resort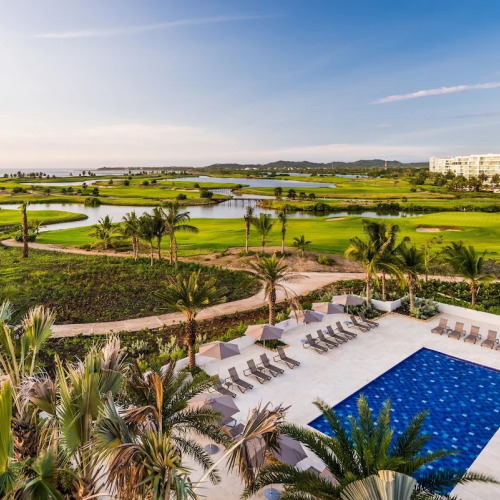 Dreams Karibana Cartagena Beach & Golf Resort in Colombia is located near the vibrant, historic city of Cartagena, offering mesmerizing ocean views, welcoming service, and year-round warmth. You'll find 268 luxurious rooms all provided with a private terrace, balcony, or pool. And for the eco-conscious golf traveler, we have some good news: this hotel uses an environmental management system that follows the ISO 14001 Standard!
Golf enthusiasts will also enjoy the Karibana Club with an 18-hole course overlooking the Caribbean Sea. Golfers will face 6 artificial lakes surrounded by natural forests on the first 9 holes. The remaining 9 holes located in front of the sea demand a higher level of difficulty.
Jaz Little Venice Golf Resort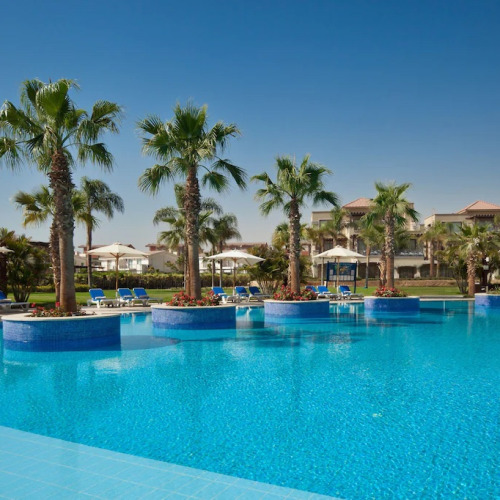 Jaz Little Venice Golf Resort in Egypt is situated on the shores of the Red Sea. The resort also boasts private beach access, three swimming pools, and exquisite cuisine.
This world-class golf resort features a 27-hole – par 72 course, which makes it the largest golf course in the area! This course also offers a variety of challenges, including waterbodies and sand traps strategically placed around the ground. The blissful location will only add to your game. And if that wasn't enough, the resort is certified by Green Star Hotel, a program encouraging Egyptian hotels and resorts to move towards more sustainability. This means that guests can enjoy peace of mind knowing that their accommodation is eco-friendly.
Mercure Bunbury Sanctuary Golf Resort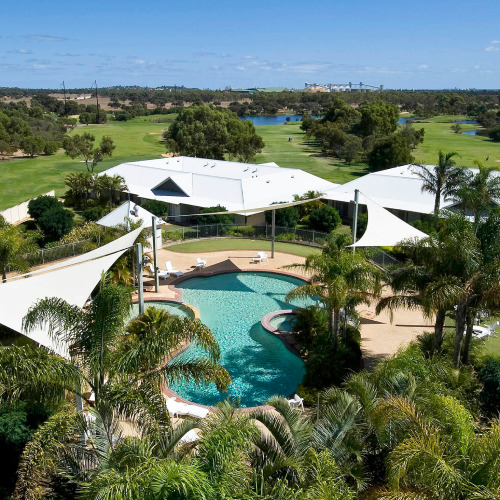 Mercure Bunbury Sanctuary Golf Resort in Western Australia offers easy access to the beautiful city of Bunbury, and a short drive away from globally recognized wine and food regions. This Planet 21-certified hotel features 38 semi-self-contained apartments surrounding a freeform resort pool, and a heated spa overlooking the golf course or garden.
The 18-hole golf course has been rated as one of the best in Australia. The golf course is suitable for all – whether you're a beginner looking for lessons or a professional looking to improve, this golf resort offers a range of options to suit your needs. Here, you can also find a fully stocked Golf Shop for all your equipment needs!
Ancient Sands Golf Resort & Residences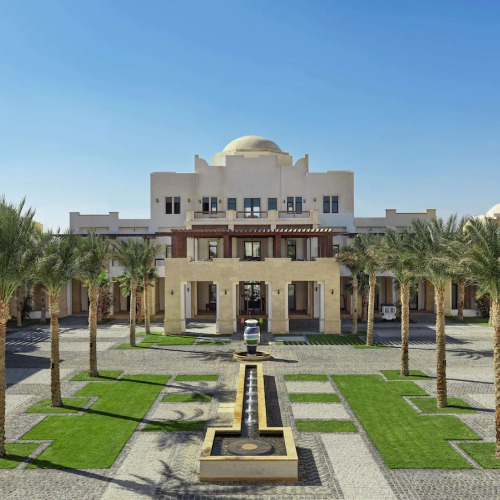 Ancient Sands Golf Resort & Residences in El Gouna, Egypt overlooks the shimmering lagoons with the azure waters of the Red Sea. The resort features a range of restaurants and bars. At Dune restaurant you'll be served an electric breakfast, Pizza Restaurant offers mouthwatering Middle Eastern flavors, and if you are in need of a light snack then you must check out Crumbs Café and Bakery. And we can't forget MINT Bar and Lounge. Here guests come in for the delicious beverages. Ancient Sands truly ensures that guests can experience exotic tastes from around the world all in one place.
This Green Star Hotel-certified resort also boasts spectacular views and cozy residences, as well as access to a championship golf course, relaxing pools, and Marina Beach—all within close distance of El Gouna's popular attractions, such as the Abu Tig Marina and the downtown area.
The resort's 9-hole championship golf course, soon to be 18 holes, has its own office and shop on-site. It provides all the necessary equipment and transportation, hosts introductory courses for beginners three times a week, and offers free access to hotel guests. The course combines desert terrain with lush landscapes to offer a truly enjoyable experience for golfers of all skill levels.
So, what are you waiting for? Start planning your golf getaway today. With a little research, you can find the perfect resort for your needs and have an incredible trip. When looking for the right resort, keep in mind the type of golfer you are, the kind of atmosphere you're hoping to create, and your budget. And don't forget to check out some of the amazing resorts around the world- there's sure to be one that meets all of your needs!