If you're anything like me, then you love road trips. There's just something about hitting the open road and exploring new places that are so exciting! But if you've never gone on a road trip before, planning one can seem a little daunting. How much money should you save? What route should you take? What should you pack? Don't worry – we've got you covered! In this blog post, we will share our tips and tricks for planning the perfect road trip – without breaking the bank or damaging the environment. So grab your keys, and let's get started!
Why is a road trip better than flying?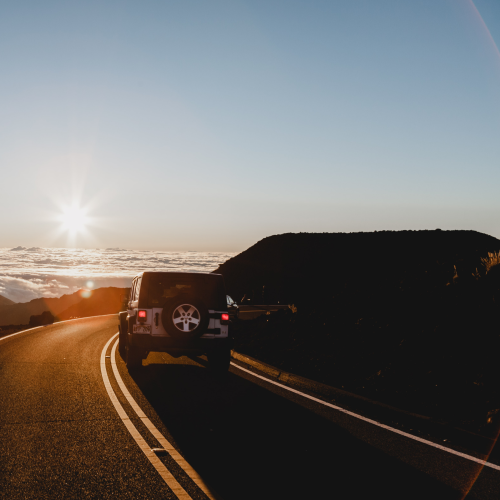 When you opt for a road trip, you are in control! You get to decide where and when you want to go somewhere. You can take a break if you need to. Also, it is less expensive than flying. Even though you can find plane tickets that may look cheap, there are often hidden expenses, such as checked bags (not to mention that you can bring so much more on a road trip), check-ins, in-flight food and entertainment, and so on.
#1 Decide on a destination!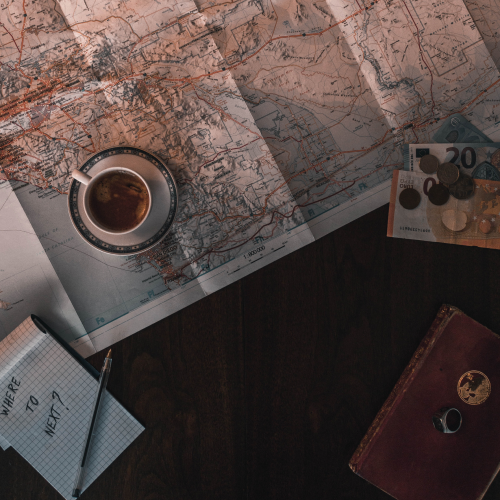 First things first, you have to decide on a destination! What is your final destination? Are you going for a set end destination, or is the trip itself your main goal for a great road trip? Those are some questions you have to ask yourself before you go on the actual road trip. Make sure also to ask the people you might be driving with so you are on the same page and can have an epic road trip!
#2 Create a budget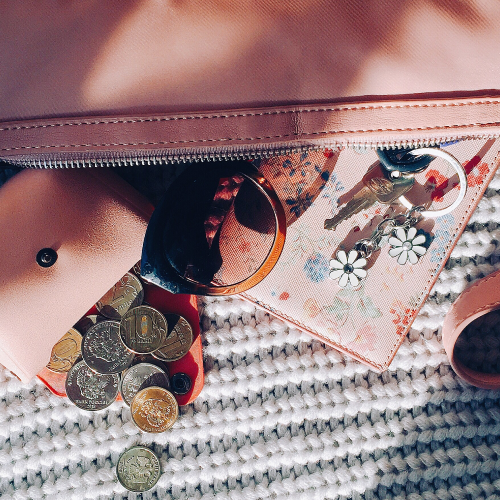 The next step is to have a set road trip budget. How much money are you willing to spend? Do you have a strict budget, or do you have more wiggle room?
There are many different types of road trips. It depends on the length of the trip, how many stops you want to take, and what you want to do at each stop.
3# Decide the length of your road trip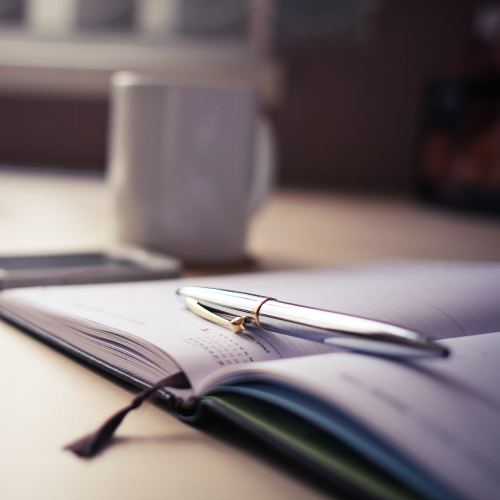 After you have a set budget for the trip, you can decide the length of the road trip. At this step, you determine if you want a longer road trip, with more stops along the way, or if you're going to focus on your end destination, which is the central part of your trip. Our tip is to type your end destination into google maps and calculate driving time. Then, on google maps, you can add stops and see what you will drive by during the trip. Do you see a fun road stop or a stunning view on the route? Put it on your itinerary!
#4 Choose a route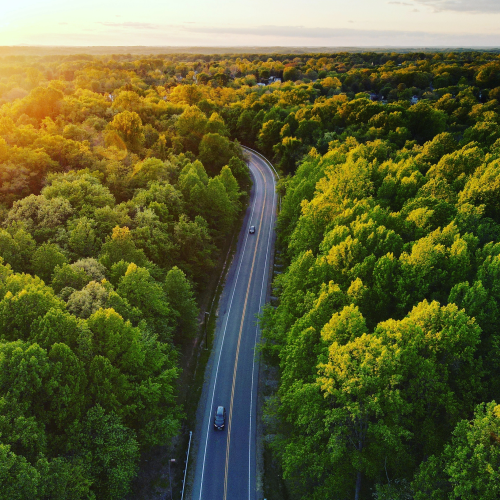 Now, you have to choose a route!
When you go on a road trip, you have to stay flexible. No road trip plan remains as it is. Maybe you will drive by a cool place, and you might want to stop to see it. Or you need a break from driving and need to stop to get some food or maybe just some air.
Put your stops into your route on google maps, and save it to your phone.
#5 Before you leave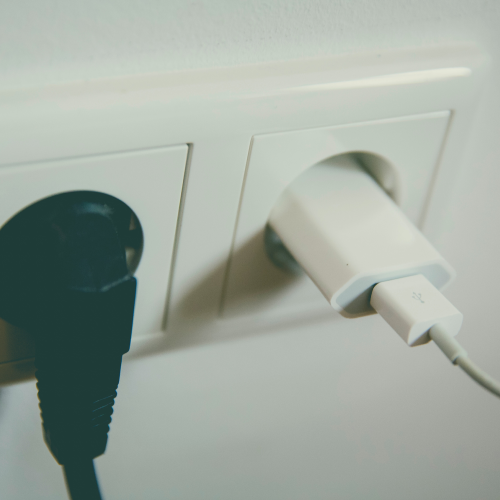 One tip that people might not be aware of is to unplug appliances before you leave! Appliances still use electricity while there are not turned on – so unplug everything and save money and energy.
Moreover, you might have to spend more time than you think on road trip planning. Research restaurants, rest stops, and hotels on the way, and make the necessary reservations before you start your trip. By doing that, you ensure that they have space for you when you arrive. By booking hotels before you leave, you won't have to worry about driving around and looking for a place to stay.
#6 Accommodations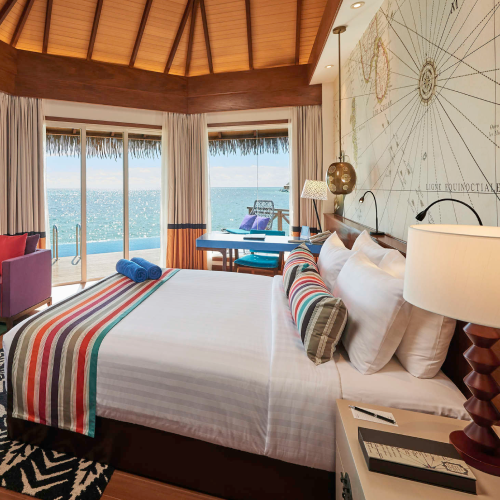 How are you going to be sleeping?
Are you going on a camping trip? Tent camping is a lot of fun, and it is a great way to be in nature while saving money. But it takes a lot of work, and it can be cold, depending on when and where you go.
Are you in an RV? No problem then! But you still need to research your route to see where you can park your RV and sleep for the night.
Are you staying at a hotel? This might be an excellent option as it is nice to have a fresh and comfortable bed to sleep in after a day of driving. It might also be nice to have a shower.
Ask the hotel if they have a car charger attached to the property if you have an electric car!
By booking hotels before you leave, you won't have to worry about driving around endlessly, looking for a place to stay for the night.
Visit EcoHotels.com to find sustainable hotels worldwide.
#7 What vehicle are you taking?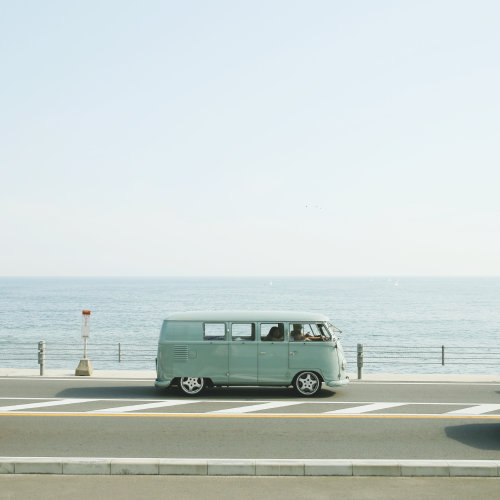 Are you taking your own car? Are you borrowing a family car? Or are you renting? If you have more options, make sure to check your priorities. Ask or research how much gas the car uses, and make sure that it has great gas mileage. Does it use gas, or is it electrical? Ensure that there is enough gas or that it is fully charged before you head off on your road trip. Ensure that you don't start the trip out with a dead battery. You should also make sure that there are enough gas stations for gas or a car charger for the car.
Are you in a Campervan or an RV? Clean it out and make sure that everything is clean and ready to be used!
#8 Check your vehicle!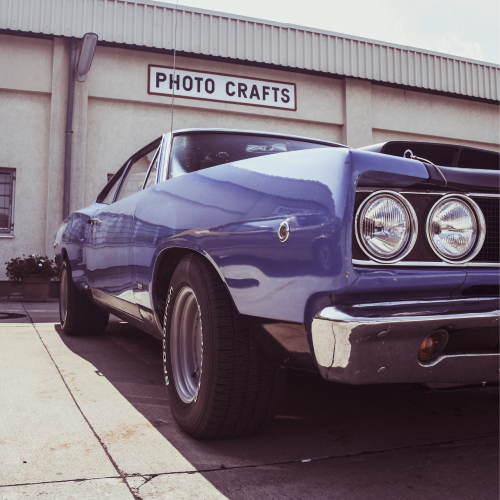 One of the biggest road trip mistakes is not checking your car!
Get your car serviced. Keep your tires properly inflated. It can boost a vehicle's fuel efficiency anywhere between 0,6% to 3%.
Make sure you bring a spare tire to prepare for everything.
It is also a good idea to check up on your car insurance.
#9 Clean your car!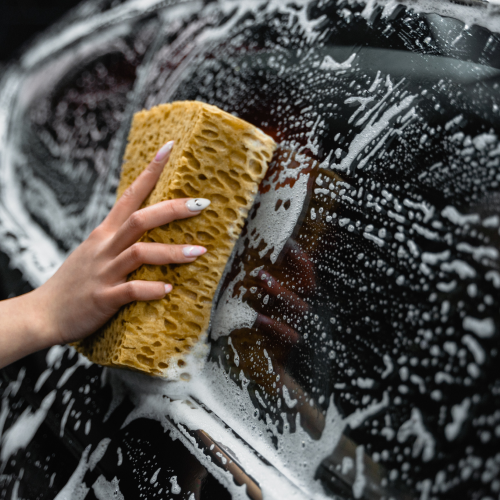 Spend a day thoroughly cleaning your car. Throw out garbage, strip the car of everything that is not necessary. Vacuum the car, and use a disinfectant wipe on the car's interior. There will be more room to stock the car for things you will need for the road trip by cleaning out the car.
Roll down the windows to cool off. This optimizes fuel efficiency, taking care of the planet. using the A/C can increase your Co2 output from 1% to 10%, depending on speed and ambient temperatures.
#10 Bring emergency items!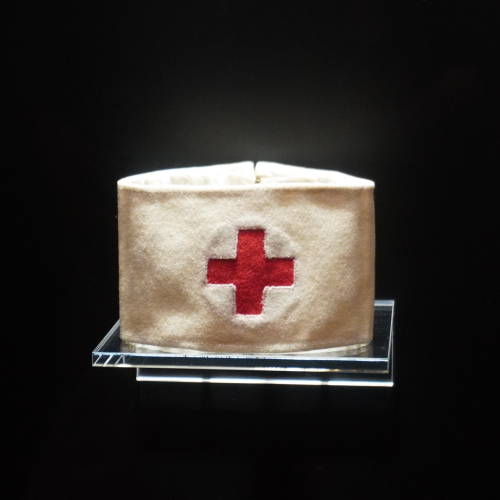 A big perk of going on a road trip is that you can pack more stuff!
We would make sure to bring a first aid kit, Jumper cables, a gallon of gas, hand wipes, tissues, and extra wiper fluid.
#11 Plan for stops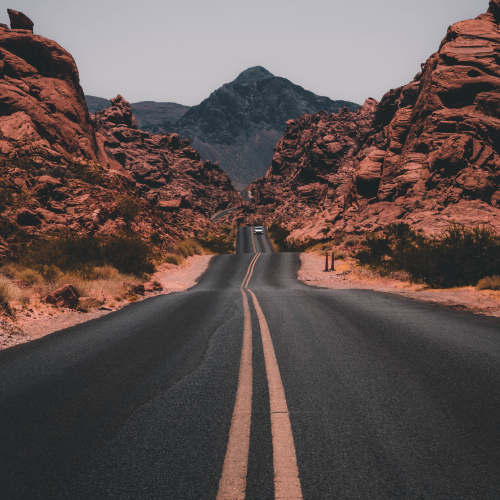 Make sure to plan for stops! You should make time to stop whenever you want, without it completely disrupting your road trip itinerary. For example, if you drive by a breathtaking view, a farmers market, or a cute little diner, you should give yourself time to stop. Also, remember a reusable grocery bag for food shopping.
Don't idle! Stop the car, get out, and enjoy the view. Remember to take care of the planet. Don't leave the car running if you stop. It doesn't matter if you stop for 5 minutes or 5 hours.
#12 Bring snacks and water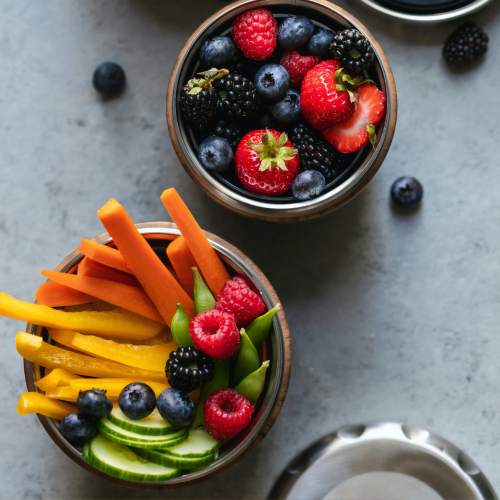 As always, you should take care of yourself and the people around you when traveling. You should pack snacks and water when you leave for a road trip! You can quickly go for several hours without food and water when you are on the road. Although junk food might be tempting, remember to bring healthy snacks too! Bring protein bars, fruits, and veggies. All of these should, of course, be in reusable containers. Don't forget to bring reusable utensils for the road as well!
Water is just as important as snacks. We all know the dreadful feeling of being thirsty but being nowhere near water. Please bring a reusable water bottle, and fill it up at every stop where possible! If you are a coffee drinker, bring a reusable coffee mug.
#13 Recycle and dispose of your garbage
Leave no trace! Remember that you should do what you can for the planet at all times. This means taking care of your garbage as best as you possibly can. Have a bag in the car for waste, and if you have room for it, recycle your trash!
Suppose you stop at a place for a break or a day trip. Pick up after yourself and others by throwing out any garbage you find.
#14 Bring entertainment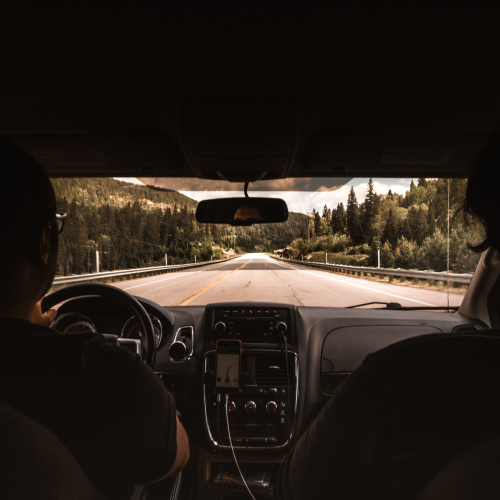 We all know that you have to bring some entertainment to make any trip fun!
Our biggest must-haves are music playlists! Take time to make playlists on the platform that you listen to music, so you have hours of entertainment on a long road trip.
Sometimes, you may drive by long stretches of road where there isn't any cell service. Download games on your cell phones that don't require any cell service.
Think of fun things to do while you are road tripping. That could be bringing crosswords, preparing a little quiz, or doing other things you can have fun with on your upcoming trip.
#15 Pack Smart – Pack Light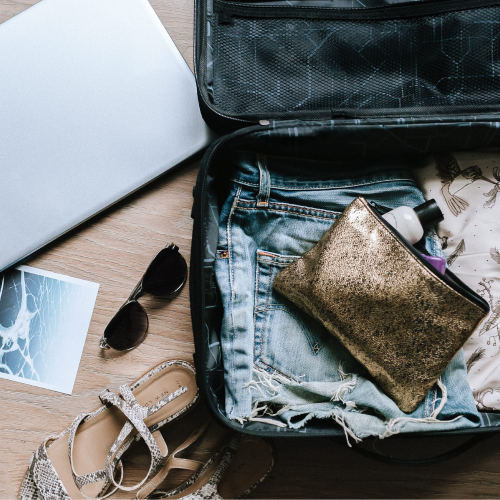 Start early! Don't wait until the last minute to pack your things. If you are going in your own vehicle, you should prepare your road trip packing list in good time before you head for the road. Planning a road trip also includes planning the clothes and shoes you should bring. Pack light, and wash your clothes as you go.
#16 Eat local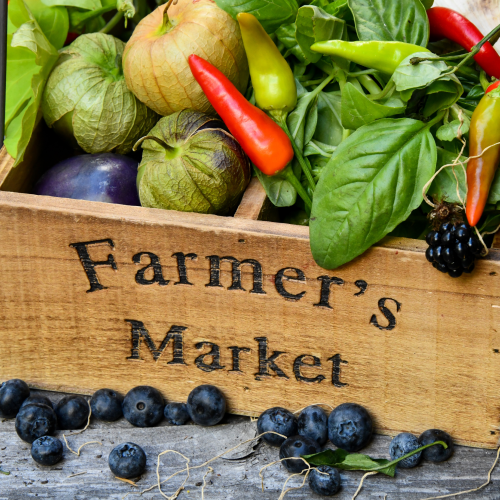 One of our ultimate travel tips is always to eat local. Support local. In that way, you support the local community, and you get to try something new!
It is much more giving to eat something local and immerse myself into the culture of wherever I am. But, of course, that means eating the local food too. If you, like me, are vegan, it can be challenging to find vegan options. That is why you should always bring snacks with you when you travel. You can also buy fruits and vegetables at a farmer's market or grocery store.
Let's get packing!
We hope this guide on how to plan the perfect road trip has given you everything you need to plan your next road trip.
So what are you waiting for? Get started planning your perfect road trip today. And don't forget to book your hotels now – you don't want to be left stranded on the side of the road! With a little bit of preparation and forethought, you can hit the open road and see all that America, Europe (or wherever else you choose to travel) has to offer. What are some of your favorite memories from past road trips? Let us know in the comments!