Looking for a great place to do some second-hand shopping? Copenhagen, Denmark, is home to some of the best second-hand shops in the world! Whether you are looking for vintage clothing, furniture, or anything else, you can find it at one of these amazing shops. This blog post will list our favorite second-hand shops in Copenhagen so that you can start shopping today!
Edison & Co.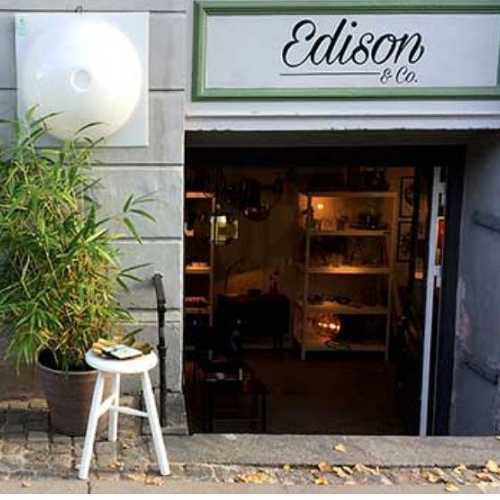 Henrik Stahlhut established Edison & Co, and you can find his stores on Islands Brygge and Vesterbro. Henrik has had a passion for interior design and creative arts throughout his career. Some would say it was only natural to open up his vintage furniture store in Copenhagen's Island Brygge area before eventually opening up a store in Vesterbro.
The name says it all: the primary theme is lamps and illumination, both old and new. He creates more sustainable designs, frequently utilizing repurposed materials, and he also restores vintage items. This store has many hidden treasures and quality items.
Check out their Instagram here
Veras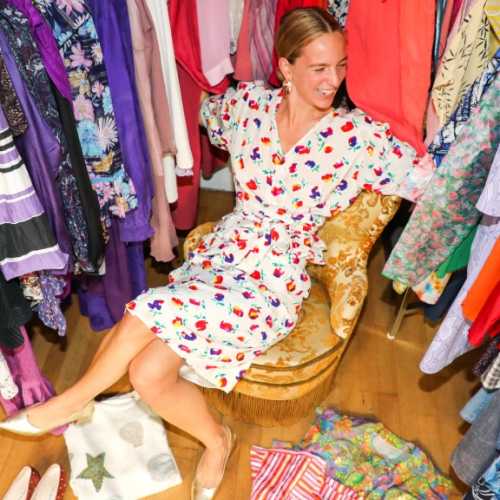 At Studiestræde 27, you will discover a genuine vintage and recycled gem that is well worth a trip for everyone who appreciates recycled apparel. Vera provides value for all of your items, whether or not they are sold, at Veras.
It is revolutionizing Danish clothing consumption through a circular economy, which you may easily buy for a long-lasting wardrobe while reducing clothes waste.
At Veras, you can also elect to simply buy the clothes that have been exchanged from other users. This store has a range of options, vintage finds, high-street bargains, and branded luxury goods which reflect Vera's Clothing Exchange concept and its many Copenhagen women customers.
Check out their Instagram here
Reseller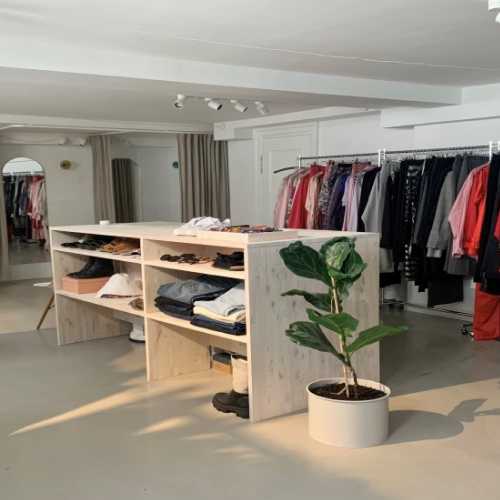 Thea Ringby Smed opened Reseller in October 2019 while still studying design, tech, and sustainability. The store's concept is straightforward: if you have an item to sell and it meets our requirements, then we will agree on a price together. Your item stays in the store for 6-8 weeks as consignment before we split any profits 50/50. You can find anything from jeans, hats, dresses, shoes, and much more!
If you want to do some shopping, just go to @resellercph on Instagram and look at the daily postings. If there is something you like, shoot them a DM, pay for the item, and two working days, later it will be shipped to your doorsteps. Or if you're feeling old-fashioned or live close by, feel free to drop by the physical store located at Pilestræde 46. Easy peasy fashion void of any fuss!
Check out their Instagram here
Magnolia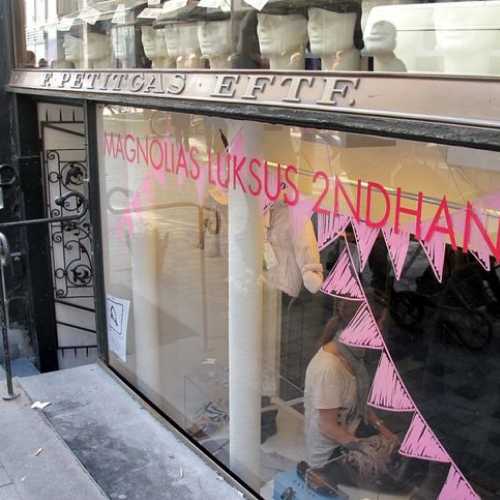 This second-hand store is a true gem! They have many high-end fashion brands, and you will also be able to find items from designers' new collections. You can find the store on Købermagergade 5, Copenhagen. They have a great selection, and the service is great. This is a great shop to sell your clothes if you have any items of value. The store has many visitors all year long since it is on a very popular street in Copenhagen.
If you are visiting Copenhagen and looking for a great thrift store, this is worth a visit. Maybe you will find your next pre-loved items while shopping at Magnolia!
Check out their Instagram here
Storrs Antikvariat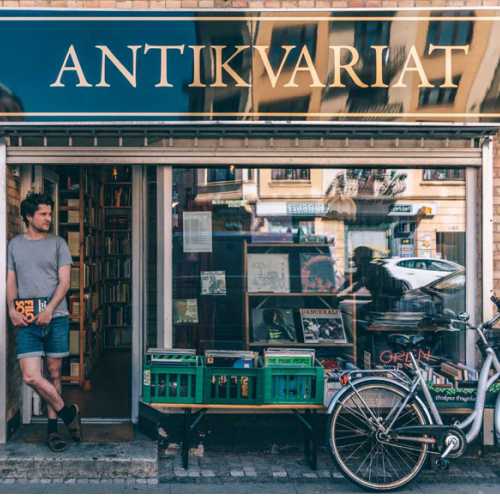 At this charming little time warp of a bookstore in Copenhagen, you'll find a small but interesting selection of English titles among the 5,000 books on the shelves. A visit here is fun no matter which language you speak or read.
Storrs Antikvariat, which since 2017 has been a haven for bookworms, second-hand fiction, and human science in the Nordvest area of Copenhagen's main street, is not only a bookstore but also a home for its owner.
This beautiful store, which is a testament to the fact that some things defy time and fashion, belongs to Benjamin Storr, who is thrilled about its existence. And while there's still a place for excellent literature and individual advice on selecting your favorites, it's good to know.
Check out their Instagram here
Carmen Copenhagen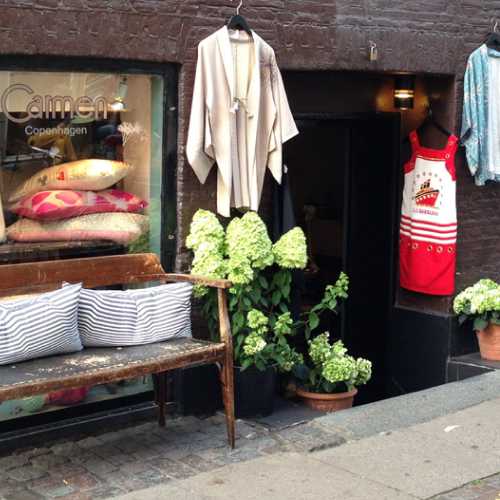 Carmen Copenhagen is one of the best vintage shops in Larsbjørnssstræde, which is full of stylish stores, young people, and a high concentration of vintage shops. The shop is also one of the oldest second-hand shops in Copenhagen.
The clothing at Carmen Copenhagen is fashionable, with an emphasis on the 1970s and 1980s. Find leather jackets, pumps, shirts, dresses, handbags, hats, boots, scarves, raincoats, and jewelry for men and women. The prices in this area can be a bit high, but getting some really cool bargains is still possible.
Check out their Instagram here
Rosy Vintage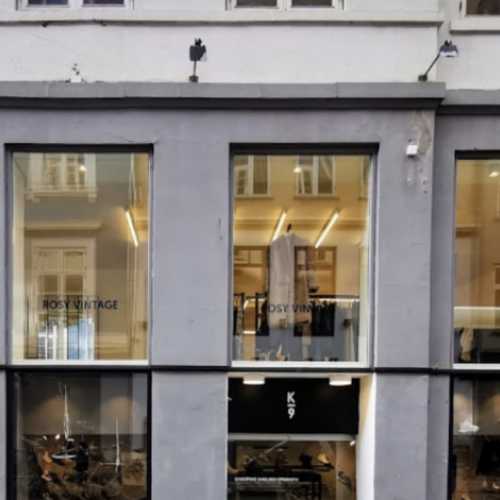 If you want to visit a vintage store in Copenhagen with more than just Chanel blouses, we recommend Rosy Vintage. You can truly find some inspirational items.
This store has a wide range of beautiful, one-of-a-kind vintage goods that are not expensive. You might think you have entered the wrong business when you walk through the doors because the clothes are placed in such an organized fashion that it looks like they must be considerably more expensive than they actually are.
Check out their Instagram here
Prag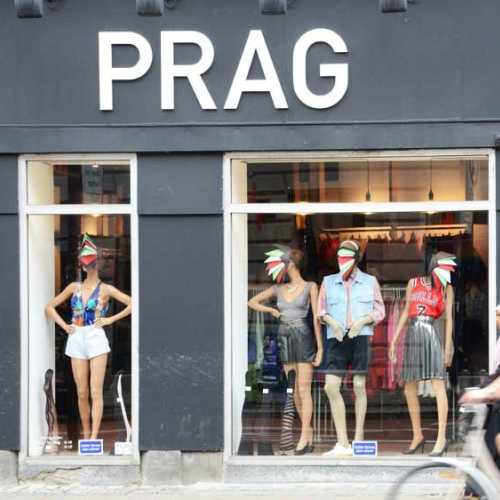 If you're a "let's get crazy about it!" type of person who adores unique things, Prag is the store for you. If you don't mind the brand name on the item's tag but appreciate how unique and strange an item can be, Prag is one of the greatest vintage stores in Copenhagen.
The shop, which is located in the city's first shopping gallery and was established in 1837, sells clothes for both women and men. The concept is taken from historic metropoles such as Berlin and New York. Vintage attire includes petticoats, bows, jeans, dresses, colorful tops, hats, bags, and so on. The variety of items available is quite broad.
Check out their Instagram here
Audrey Vintage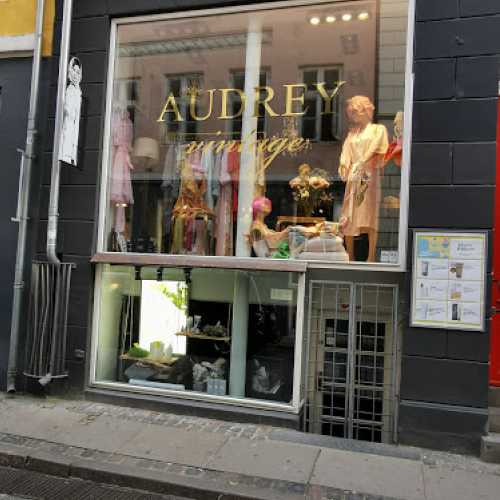 Do you want to visit Paris without having to take the train? Then make a stop by Audry Vintage. If your style is inspired by breakfast at tiffany's, French elegance, and pearls, then you've come to the right vintage store.
Audry Vintage is a store you will absolutely adore if you love vintage fashion. As the name suggests, the shop takes its style cues from iconic actress Audrey Hepburn. You will find carefully curated items sourced from Paris throughout the store, ranging from beautiful coats and blazers to delicate silk shirts and plenty of pearls. It's like stepping into a time machine when you enter Audry Vintage, making it one of Copenhagen's best vintage stores. This is the perfect place to do some vintage shopping. The shop also offers beautiful vintage accessories.
Check out their Instagram here
Keiko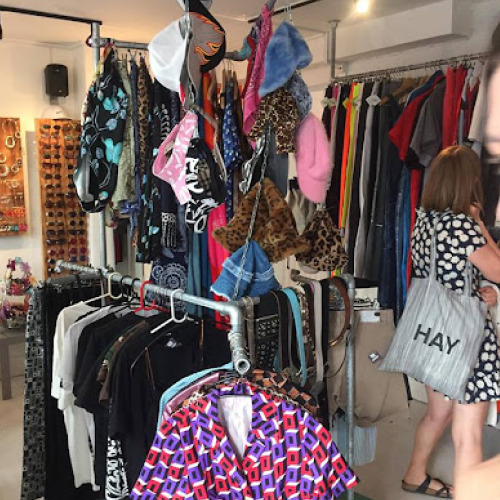 Even though the store is rather small, you will get lost in time gazing at their selection of one-of-a-kind handpicked pieces and accessories from all over the world. Keiko is the place for you if you are obsessed with '90s street style or just looking for something new.
This shop is crammed with funky vintage clothes and has a cozy atmosphere, making it feel like a tribute to the Berlin vintage scene. The staff is incredibly friendly and helpful, making visiting even more enjoyable. If you're looking for unique Vintage clothing in Copenhagen, this is definitely one of the best places to go.
Check out their Instagram here
We hope this has inspired you for your next second-hand shopping in Copenhagen. You can find so many beautiful vintage shops and thrift stores. Thrift shops are a fun and affordable way to add some new pieces to your wardrobe. They are also great for finding unique treasures that you won't find at your average department store. If you are ever in Copenhagen, be sure to check out some of the city's best thrift stores – you may just find something special! Have you ever been to a thrift shop? What was your favorite find? Let us know in the comments below.