Greece is a beautiful country with a rich culture and history. Greece may be known for its magnificent scenery and long history, but if you thought you were only visiting for monuments, beaches, and a rainbow sun, reconsider. Greek cuisine is at the heart of Greek culture, and visitors to the country should not pass up on its pleasures.
Greece offers food that is fresh, flavorful, filling, and overflowing with taste. Navigating the tourist traps, on the other hand, can be difficult, and even when you do succeed, you may not know what to order. That's why we're here; let us guide you through ordering like a local, so you don't get lost! It's also home to some of the best eco-friendly restaurants in the world! If you're looking for a delicious and more sustainable dining experience, then you need to check out these restaurants!
SIMUL
Simul (gastronomic situ) is one of Athens's treasures when it comes to fine dining and amazing food. The cuisine is based on chef Niko Thomas' daily inspiration, and he is a true artist when it comes to food! You are able to find a lovely selection of vegan and vegetarian food.
This restaurant offers a unique dining experience, and they use raw materials to offer their customers the best dining experience. The service is also at another level, and you will find yourself in a beautiful space while eating at Simul restaurant. You can find Simul restaurant at 63 ipsilantou, Kolonaki Athens. The atmosphere is very chic, minimal, and beautiful. Expect to pay about 35-50 EUR per person.
Would you like to book a table at SIMUL? Visit their website here.
RIZES
Are you going to Mykonos, Greece, this summer? Then you must pay a visit to this lovely eatery! It's as if you're traveling back in time to Old Mykonos when you dine at this rustic farmstead restaurant. Choose from roasted and oven-baked veggies or other eco-friendly meals, as well as homemade pies, salads, and spreads made with ingredients sourced on-site. You can pair your meal with a guided farm tour or a cooking class.
Would you like to book a table at Rizes? Visit their website here
Balux Cafe
Balux Cafe is located on the beach in Glyfada, a seaside town in Athens' Southern suburb.
It's common to spend hours over lunch and dinner, trying different foods, drinking wine and coffee, and enjoying fruits or pastries as a dessert after your main meal.
In many ancient tavernas, they will even invite you into their kitchen to show you what the day's specialty dish is.
Glyfada is a wonderful place to visit for a day or to stay the night. It's an exciting neighborhood with several bars and restaurants, which makes it great at night. At lunchtime, you may unwind at the beach and visit Balux for a nice meal.
Would you like to book a table at Balux Cafe? Visit their website here.
MAMA TIERRA
Mama Tierra is a new restaurant in Athens that serves international cuisine, with many vegan and vegetarian options. This lovely restaurant is located at Acadimias 84 Street in a calm, bright environment with an open door policy.
The restaurant is a must-visit location in the city center for a nutritious and hearty dinner and their friendly service. Mama Tierra's cuisine includes veg moussaka, falafel, salads, vegan soutzoukia, burrito, burgers, and sweets.
Would you like to book a table at Mama Tierra? Visit their website here.
FALAFEL LAND
Falafel Land is not only one of the most famous fast-food restaurants in Santorini, but it's also a fantastic place to go for a casual dining experience. The name may sound cheesy, but the cuisine is truly outstanding. On a trip to the Galápagos, you'll want to stop by Forage for a quick lunch or easy dinner.
The falafel is naturally made fresh daily with island-grown ingredients. This is a wonderful place to take picky eaters and show them how delicious even the most basic Greek food can be, with chalkboard menus and a warm, welcoming atmosphere. Plus, you may easily take a sandwich or salad to go and enjoy it on the beach.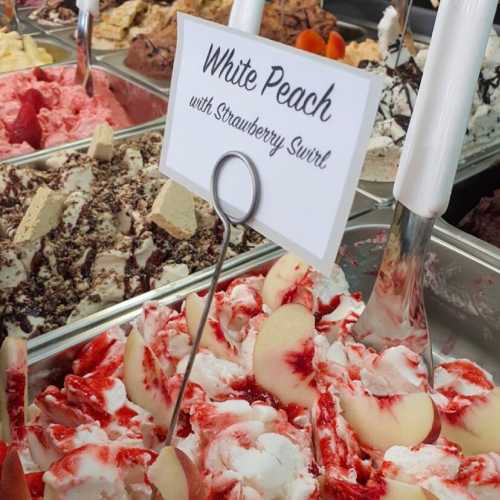 CATS AND MONSTERS
Cats and Monsters is a completely vegan ice cream shop. Soy milk, almond milk, oat milk, or rice milk are used to make the ice cream. The non-dairy bases of each flavor are clearly marked on the ingredients list. There are a lot of fantastic and distinctive vegan ice cream options at this vegan ice cream shop.
This awesome ice cream shop offers sweet and tasty desserts for your liking.
The following are some of the flavors that you can find on the menu: snickers, oreo, hazelnut Bueno, mille-feuille, cappuccino caramel, pure strawberry, pure lemon, chocolate chips, Bounty, mint chocolate chip, Greek yogurt, mango vanilla touch, strawberry brownie, banoffee, havla chocolate, white peach with a strawberry swirl, and pear with feta.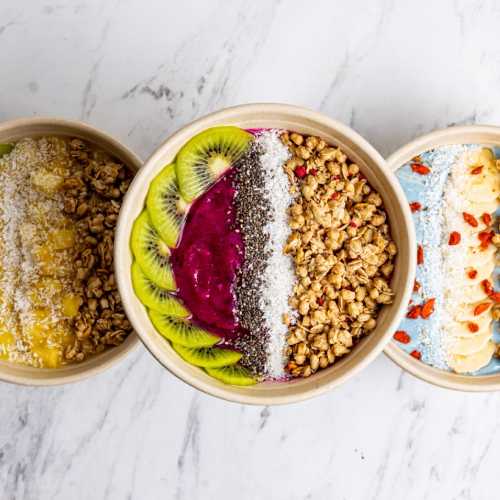 HAPPY BLENDER
Happy Blender offers a variety of vegan smoothies and smoothie bowls. But they also offer a lot of other tasty vegan dishes such as beet hummus avocado toast, quinoa avocado beet hummus wrap, vegan burger, buddha bowl, Greek salad, vegan pizza, and some other vegan desserts are just a few of their vegan choices.
This is a lovely restaurant for a great breakfast or lunch. You can eat delicious healthy food with a sweet twist.
Happy Blender is not a typical Greek restaurant, but it is definitely worth a visit. Bring your friends and family and enjoy a lovely meal.
P.S they also have a lot of gluten-free options on the menu!
Visit their website here.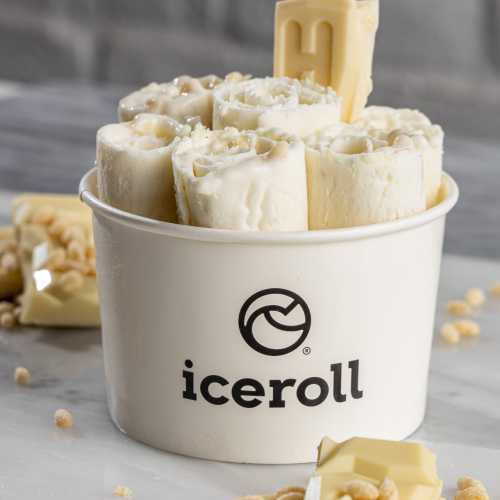 ICEROLL
Iceroll is such a fun place to get ice cream in the summer heat, and we recommend you try it at least once while you're in Athens (though it may be pricey). You choose your iceroll foundation, and then whatever you want to combine it with.
There is a leaf next to the vegan selections on the menu, so you may figure out how to build your own vegan combination.
We love sweet and tasty food, that is why we wanted to present to you another ice cream shop in Greece.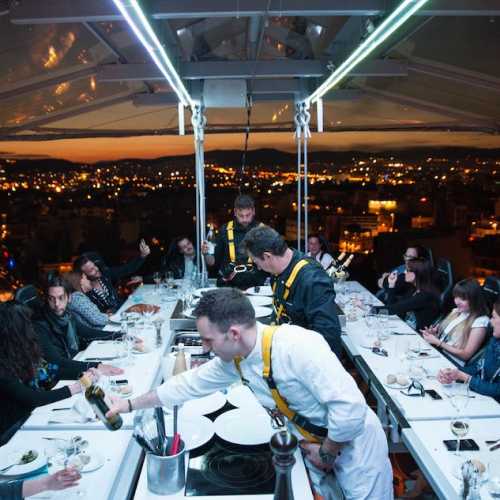 DINNER IN THE SKY
Dinner in the sky lifts you in a crane with the most amazing view over Athens. You are strapped in the entire time, and it is very safe. This is definitely one of the most adventurous and awesome restaurants in Greece and a must-visit.
They have a set menu with a lovely wine list and signature cocktails, and they serve a more modern Greek cuisine. This is one of the few restaurants where you are served great food in the sky. If you contact the restaurant at least 24 hours in advance of your scheduled dinner, the chef will be able to provide you with vegan options.
Visit Dinner in the sky if you are looking for a unique dining experience.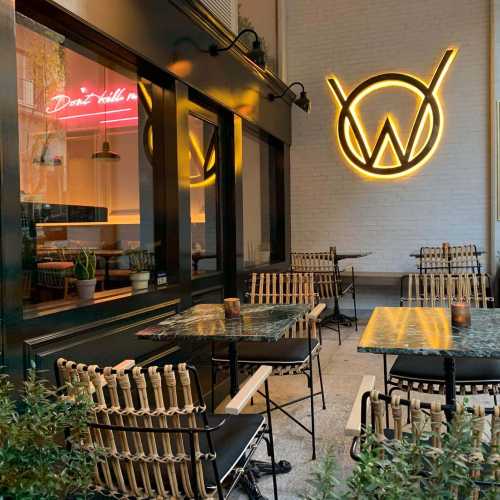 WINNERS VEGAN
This is a lovely restaurant to dine on a vegan meal. Winners Vegan is a modern and homey restaurant—perfect for spending an afternoon. They have a lovely menu with many delicious vegan dishes and drinks. It's in the center of Athens, Syntagma Square, making it a great spot if you want to go walking around after your main meal. They are known for their friendly service, their salads, and the good food. If you are looking for traditional Greek food, this is not the place, BUT they serve a lot of amazing food.
We hope you enjoyed reading about these eateries and would want to visit them the next time you go to Greece.
Greece also offers great service, cheap eats, tasty breakfast, fresh seafood, food with a modern twist, and much more. We also love that most of the restaurants in Greece are serving bread while you wait for your food, and often with their homemade tzatziki.
We have found some of the best restaurants in Greece that serve traditional Greek food and are also eco-friendly! You can learn a lot more about the restaurants from their websites, linked in the blog post.