Amusement parks are a great way to spend a day with your family. They offer fun rides, games, and attractions for people of all ages. If you're looking for the best amusement parks in the world, look no further! We have compiled a list of the top amusement parks based on customer reviews and personal experiences. Whether you're looking for a theme park with thrilling roller coasters or one with kid-friendly activities, we have you covered. So what are you waiting for? Start planning your next vacation today!
Disneyland Park California – United States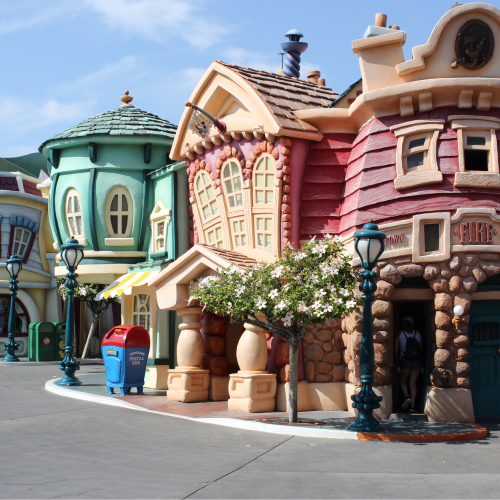 Disneyland is a theme park and Disney resort located in Anaheim, California. The theme park is one of the world's most famous places and has been open since July 17, 1955. It is one of the world's most visited theme parks.
Walt Disney and his brother Roy created the park. The idea was designed to have a theme park that did not have the chaos that would often follow traveling carnivals.
Disney studios were already well known, and people wanted to visit the studio and see their favorite characters, so Walt Disney also opened the park up for this purpose.
Universal Studios Hollywood – United States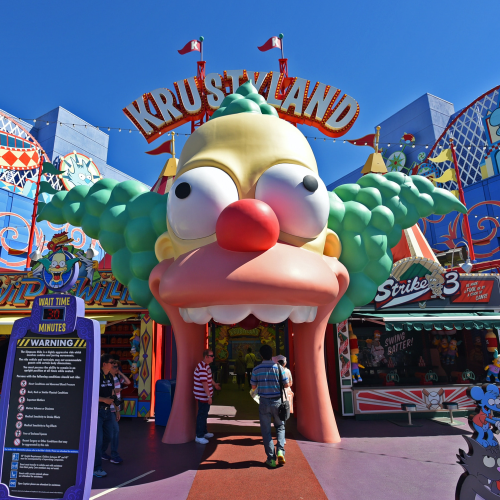 Universal Studios Hollywood is a film studio and theme park in the San Fernando area of Los Angeles County, California. It is one of the oldest and most famous Hollywood film studios. It was initially created to offer tours of movie sets. The park is now a theme and amusement park and features famous rides and experiences with themes from famous movies, such as The Simpsons, Jurassic Park, Harry Potter, and more.
Tivoli Gardens Copenhagen – Denmark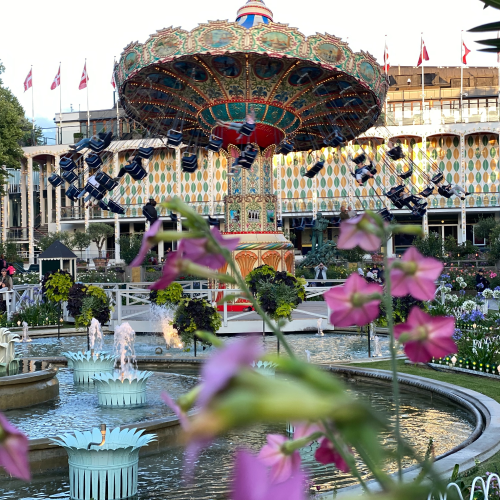 The Tivoli Gardens in Copenhagen was founded in 1843 and is the third-oldest operating amusement park in the world. (The world's oldest amusement park, Bakken, is also in Denmark!). It is located next to the Copenhagen Central Station, which lies in the middle of the city.
Tivoli is the most visited amusement park in Scandinavia, and has inspired Hans Christian Andersen, and was even part of the inspiration behind Walt Disney's Disneyland park!
The charming park features romantic gardens, many different roller coasters, restaurants, and even wild peacocks roaming around freely! The park has also become a music establishment, with everything from local singers to big names performing at the theme park.
Six Flags Magic Mountain – United States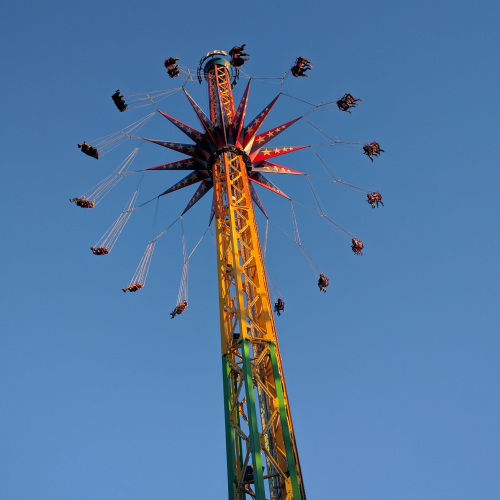 Six Flags Magic Mountain is an amusement park located in Valencia, California. The park is part of the Six Flags Entertainment Corporation, an American amusement park corporation.
Magic Mountain features 19 roller coasters and holds the world record for most roller coasters in an amusement park! Six Flags Magic Mountain is also known as "The thrill capital of the World," It lives up to its name with some of the most extreme rides in the world. The West Coast Racers is a one-of-a-kind racing coaster that features two side-by-side tracks with four individual high-speed launches. The ride covers two complete laps, multiple airtime hills, extreme high-banked turns, and exhilarating over/under near misses. Not for the faint-hearted!
Efteling – Netherlands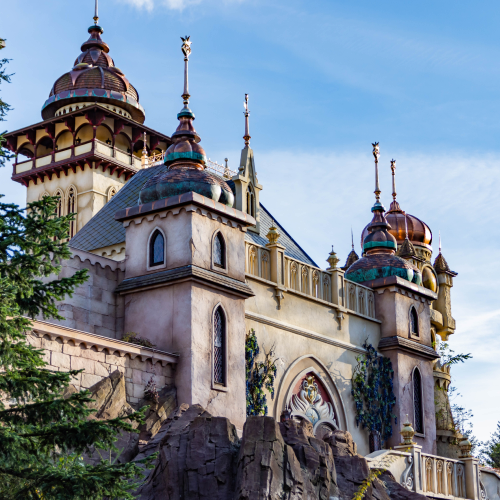 Efteling is the largest theme park in The Netherlands. It celebrates its 70th anniversary in 2022. Located in Kaatsheuvel, the park's attractions all reflect elements from ancient myths and legends, fairy tales, fables, and folklore. It is twice as large as the original Disneyland Park in California, so it is a huge park. In 2020, it was the most visited theme park in Europe. So there are many things to enjoy for the entire family!
Europa-Park – Germany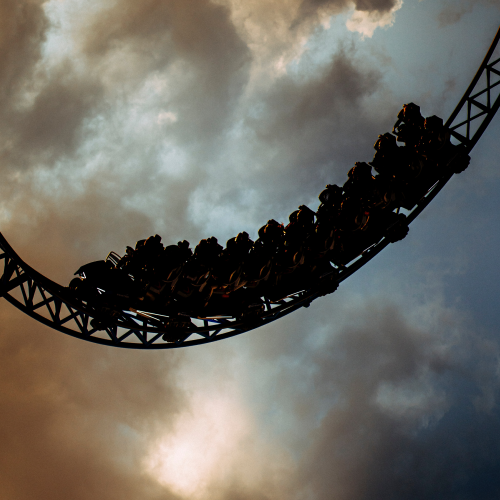 Europa-Park is the largest theme park in Germany. Located in Rust, Germany, the park is home to 13 different roller coasters. It also hosts many festivals, such as the Euro Dance Festival. You can enjoy the park for itself, but you can also stay at the resort's six hotels or camp in the Europa-Park camping area. The park is split into different themed zones inspired by foreign countries. Moreover, you can also visit "Rulantica" if you are looking for a water park.
Universal Studios Japan – Japan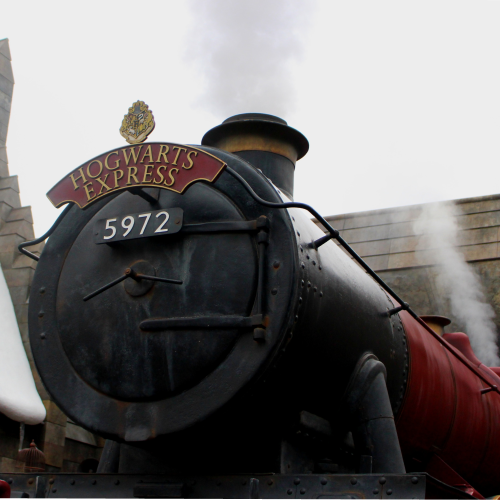 It is located in Osaka, Japan. It is one of six Universal Studios theme parks. The park has attractions, such as the wizarding world of Harry Potter, copied from Universal Orlando Resort and Universal Studios Hollywood. The park has been open since 2001 and is one of three Universal Studio theme parks in Asia, with the other two being Universal Studios Singapore and Universal Studios Beijing. Unique to Universal Studios Japan is that there are attractions, such as Pokémon and Sailor moon, franchises created in Japan.
Asterix park – France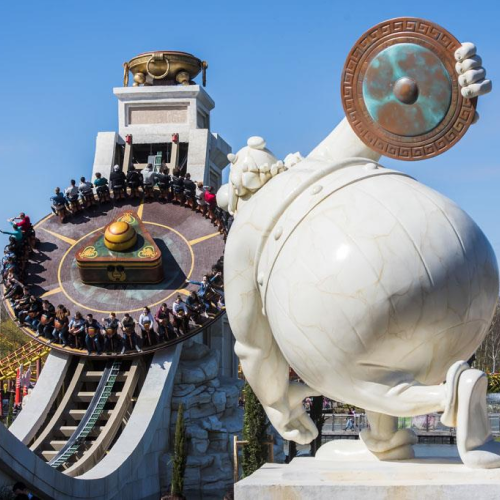 If you want to visit an amusement park close to Paris but want to avoid the hassle and massive cues in the famous Disneyland Paris, this is what you have been looking for!
This popular theme park is dedicated to the French cartoon character Asterix and the magical world that he lives in. Located 35 km north of Paris, the theme park is divided into sections inspired by Ancient Greece, Rome, and Egypt. With seven roller coaster rides and seven water rides, the park offers everything for the thrill-seeker as well as the guests who like to indulge themselves in the magic of this European adventure.
Walt Disney World Resort – United States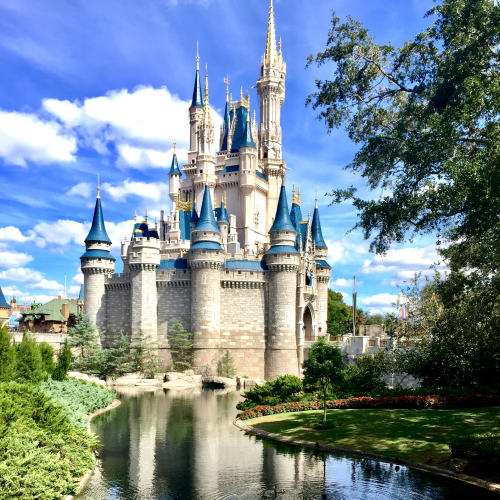 Walt Disney World Resort, also known as Walt Disney World, or Disney world, is located in Bay Lake and Lake Buena Vista in Florida, United States. It is one of the most famous theme parks in the world. The park is divided into four theme parks: Magic Kingdom Park, Epcot Park, Disney's Hollywood Studios, and Disney's Animal Kingdom. The park also has two water parks. Walt Disney World Resort is a historical resort, as it was founded by Walt Disney himself and features tons of iconic rides and activities. A must-visit if you are into theme parks.
PortAventura – Spain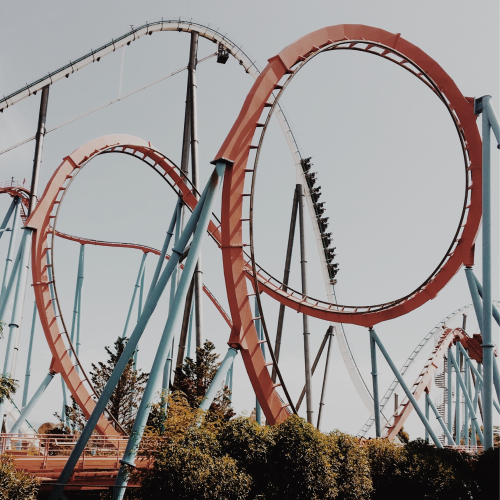 PortAventura World is a theme park and resort in Catalonia, Spain. Its exhilarating rides attract around 3.5 million visitors annually, making it the most visited theme park in Spain and the sixth most visited theme park in Europe. Also, as a resort, you can stay at one of the five hotels and visit the Ferrari Land theme park or their water park, Caribe Aquatic Park. Lots of things to see, from adrenaline-pumping rides to delicious treats. The park is divided into six themed areas: the Mediterranean, Polynesia, China, Mexico, the Far West, and Sesamo Aventura. All of that with more than forty entertainments every day, so there is plenty to do!
Everland Theme park – South Korea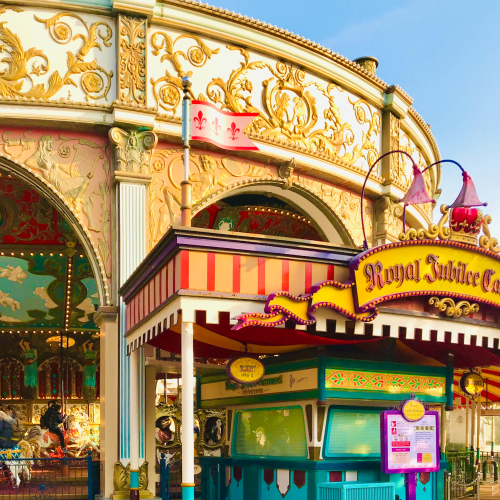 Everland Theme park is the largest theme park in South Korea. Located in Yongin, the park welcomes 5.85 million visitors annually. Along with being an amusement park, Everland is also a resort. In addition to the main attractions, Everland includes a zoo and a water park. The theme park is divided into five areas: Global fair, Zootopia, European Adventure, Magic Land, and American Adventure. One of their most famous roller coasters is the "T Express" roller coaster. The wooden roller coaster is the highest, fastest, longest, and steepest roller coaster you can find in South Korea, making it perfect for thrill-seekers worldwide.
Alton Towers Resort – England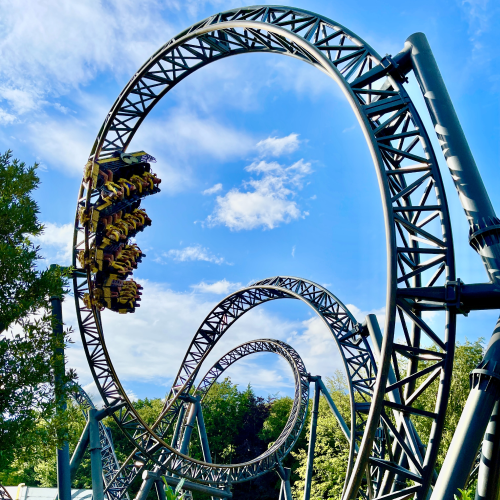 The Alton Towers Resort is an amusement park in Staffordshire, England. The resort includes a theme park, water park, spa, mini-golf, and a hotel complex. Besides the regular roller coaster rides and theme park, Alton Towers is also known for the Alton Towers Scarefest, Oktoberfest, and the Mardi Gras events held yearly by the park. The theme park has seven different roller coasters, with even more attractions and world-class entertainment all year round!
Shanghai Disneyland – China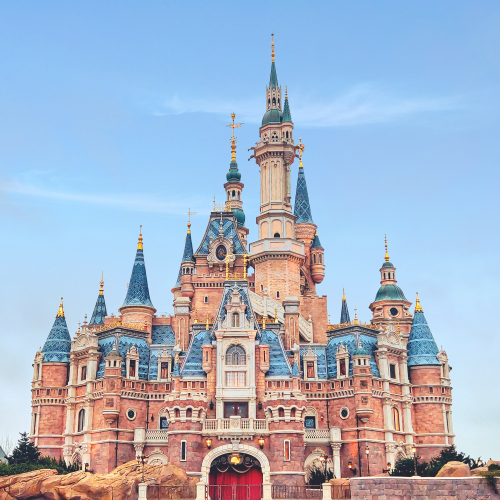 A newer amusement park, this is one of the newer parks in the world. It has only been open since 2016. Shanghai Disneyland Resort is number 2 of the biggest amusement parks in the world. The park is divided into seven themed areas: Mickey Avenue, Gardens of Imagination, Fantasyland, Treasure Cove, Adventure Isle, Tomorrowland, and Toy Story Land. As you know from the other Disney parks, the resort is filled with magical Disney characters, such as Mickey Mouse, Winnie the Pooh, Captain Jack Sparrow, and more! So if you want to visit the largest Disney Resort in Asia, you will not regret going to Shanghai Disney Resort!
We would love to hear about your favorite amusement park experiences! Comment below.
So, what are you waiting for? Get out there and explore the world! We've given you a few ideas of some of the best amusement parks in the world – now it's up to you to check them out. And who knows, maybe we'll see you at one of these fantastic places soon.