Portugal is a small country on the Iberian Peninsula, bordered by Spain and the Atlantic Ocean. The captivating country effortlessly combines old-world charm with stunning natural landscapes. From its vibrant cities to its picturesque coastal towns and lush countryside, Portugal offers a diverse range of experiences for travelers. This ultimate Portugal travel guide will take you on a virtual tour of Portugal's most iconic destinations, from the enchanting capital of city of Lisbon to the breathtaking landscapes of the Douro Valley and the pristine shores of the Algarve. Throughout this journey, we'll introduce you to the delicious Portuguese cuisine and wine.
So, grab your map and pack your curiosity, and join us on this incredible adventure through Portugal. Visit Portugal and let this guide to Portugal be your trusted tour companion, providing you with all the best Portugal travel tips.
Portugal's Majestic Cities
Portugal is home to many beautiful cities, each with its own unique culture and atmosphere. Dive into this Portugal travel guide as we explore the captivating cities that make this country truly special.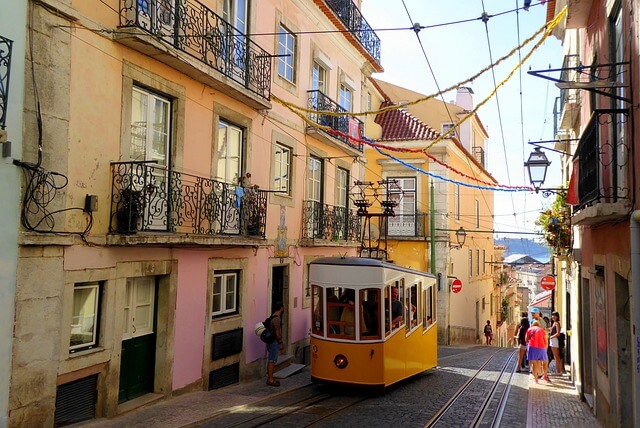 In central Portugal, you'll find Lisbon, the vibrant capital city that combines stunning architecture, charming neighborhoods, and lively atmosphere.
Start your exploration in the historic district of Alfama, with its narrow winding streets, colorful houses, and panoramic views São Jorge Castle. Lose yourself in the labyrinthine alleys, where you'll stumble upon quaint cafes, Fado music venues, and hidden viewpoints offering breathtaking vistas of the city.
Head to Belém, a picturesque riverside neighborhood known for its iconic landmarks. Moreover, marvel at the grandeur of Belém Tower, a 16th-century fortress that once quarded the city's harbor. Also, don't miss the stunning Jerónimos Monastery, an impressive UNESCO World Heritage site that showcases intricate Manueline architecture.
Take a ride on one of Lisbon's iconic yellow trams, such as Tram 28, which traverses the city's charming streets, offering a unique perspective and a nostalgic journey through the heart of Lisbon.
If you still crave adventure, make a trip to the lively neighborhood of Bairro Alto. This bohemian quarter comes alive at night with its buzzing bars, cosy taverns, and live music venues. Join the locals for a night and experience the energetic nightlife taht Lisbon is known for.
Indulge in the local gastronomy
When hunger strikes, indulge in the local gastronomy by sampling traditional portuguese dishes. From the must-try Pastéis de Nata (custard tarts) to hearty seafood stews and grilled sardines. If you're a true foodie, visit the vibrant food markets, such as Mercado da Ribeira, and savor the flavors of Portugal's gastronomic heritage.
Want to explore Lisbon environmentally friendly? Check out our blog post on sustainable tours in Lisbon for a green travel experience here.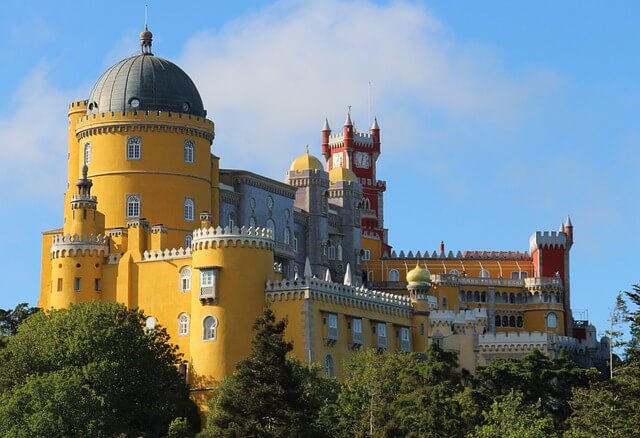 Just a short distance from Lisbon, Sintra is an ideal day trip or a destination to spend a few magical days. Sintra is a small town renowned for being one of the UNESCO World Heritage sites. With its enchanting palaces, rich history, and breathtaking landscapes, Sintra offers a truly magical escape from the hustle and bustle of everyday life.
The crown jewel of Sintra is the magnificent Pena Palace. Its vibrant colors, whimsical architecture, and panoramic views make it a must-visit attraction. Explore the palace's opulent interiors and wander through its extensive gardens, where hidden pathways and romantic corners await.
Another highlight of Sintra is the Moorish Castle, a medieval fortress perched atop a hill. With its ancient walls and sweeping vistas, it transports visitors back in time and offers a glimpse into the town's storied past.
Discover the Enchanting Delights of Sintra: History, Gastronomy, and Natural Beauty
As you wander through Sintra's historic center, you'll be captivated by its charming streets, lined with traditional Portuguese houses and quaint shops. Indulge in local pastries, such as queijadas and travesseiros, and immerse yourself in the town's delightful gastronomy.
Quinta da Regaleira, an enchanting estate, is a place of intrigue and mystery. Explore its underground tunnels, discover hidden grottoes, and descend into the mystical Initiation Well. The estate's gardens, adorned with statues and secret passages, create an otherworldly experience
Sintra's natural beauty is equally captivating. From the lush forests of the Sintra-Cascais Natural Park to the nearby golden beaches of the Cascais-Estoril coastline, outdoor enthusiasts will find plenty to explore and enjoy.
Immerse yourself in Sintra's rich history by visiting the National Palace, where you can admire its royal rooms and learn about the town's regal past.
Whether you're drawn to its fairytale palaces, its historical landmarks, or its idyllic surroundings, Sintra promises an unforgettable experience that will transport you to a world of enchantment.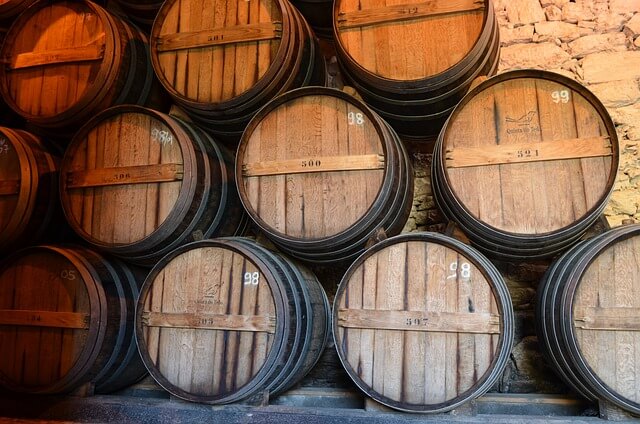 Another gem featured in our Portugal travel guide is Porto. Nestled in the captivating Douro Valley, this city is celebrated for its rich history and renowned production of port wine. Are you prepared to be enchanted by Porto's distinct fusion of old-world charm and contemporary vibrancy?
Start your journey in the historic Ribeira district, a UNESCO World Heritage site situated along the Douro River in the heart of the Douro Valley. Fall in love with the colorful houses, narrow streets, and charming waterfront promenade. Don't forget to cross the Dom Luís I Bridge to Vila Nova de Gaia, where the famous port wine cellars await.
Wine enthusiasts can embark on a guided tour through the fascinated process of port wine production. Knowledgeable guides explain history, tradition, and techniques involved in making this unique wine. You'll learn about the different grape varieties, the harvest process, grape stomping, fermentation, and the aging process.
A highlight of the wine cellar tours is the opportunity to indulge in wine tastings. Visitors can sample various types of port wine, including Ruby, Tawny, Late Bottled Vintage (LBV), and Vintage Ports. And several wine cellars offer rooftop terraces or viewing platforms. So while your sipping on a glass of port wine, you can enjoy the wonderful views of Porto's historic center and the Douro River.
From vibrant cities to breathingtaking coastline and golden beaches, this Portugal travel guide will now take you to the south of Portugal – Algarve.
The Algarve, located in the southernmost region of Portugal, is a captivating destination. The region offers a perfect blend of natural beauty, rich history, and vibrant culture. So whether you're looking to unwind on sun-kissed beaches, explore historic tresures, or immerse yourself in nature's wonders, the Algarve is the ideal destination to fulfill your wishes.
Psst! If you want the inside scoop on the absolute best beaches in Portugal – Check out our blog post on the best beaches in Portugal to connect with nature.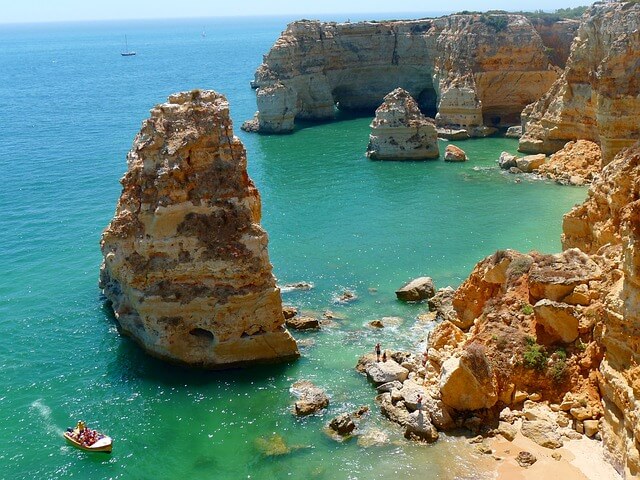 Next on our Portugal travel guide is Faro. This city invites visitors to immerse themselves in its rich history, vibrant culture and beautiful landscapes. Nestled on the edge of the Ria Formosa Natural Park, Faro seamlessly blends its historic past with a modern and cosmopolitan ambiance.
Indulge in the enchanting atmosphere of Faro's historic old town as you wander along its picturesque narrow cobblestone streets, where you'll be greeted by charming whitewashed houses embellished with vibrant traditional tiles. While strolling through the city, visit the historic Faro Cathedral. The Cathedral is a magnificent structure dating back to the 13th century and stands as a testament to the city's architectural heritage. Climb its bell tower for panoramic views of the city and the surrounding natural beauty.
If you have a deep appreciation for history, It is worth visiting Faro's archaeological museum. The museum is housed in the Convento de Nossa Senhora da Assunção and showcases artifacts from different periods, shedding light on the region's ancient civilizations.
Beyond its historical treasures, Faro offers a vibrant city atmosphere that comes to life in the lively strees where local markets showcase fresh produce, artisan crafts, and traditional delicacies.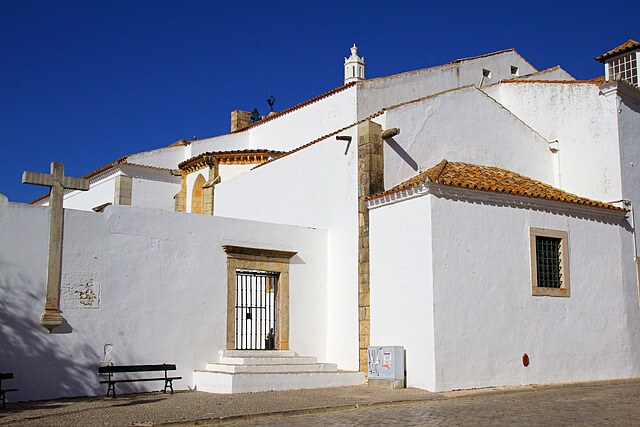 Portuguese specialties
When it comes to cuisine, Faro offers a delightful culinary scene with a focus on fresh seafood, traditional Algarvean specielties, and Mediterranean-influnces dishes. You can savor grilled fish, seafood cataplana, regional specialities like Xarém, and classic Portuguese dishes like Bacalhau. Don't forget to pair your meal with wines from the Algarve region for a complete dining experience.
Faro also serves as a gateway to the enchanting islands of the Ria Formosa, including Ilha Deserta, Ilha da Culatra, and Ilha do Farol. These idyllic island retreats boast unspoiled beaches, crystal-clear waters, and a laid-back atmosphere that offers a welcome escape from the bustling city.
Whether you're captivated by history, intrigued by cultural treasures, or drawn to natural beauty, Faro promises a memorable experience that combines the best of the Algarve region. With its unique blend of old-world charm and modern delights, Faro invites travelers to explore, discover, and create lasting memories in this charming Portuguese city.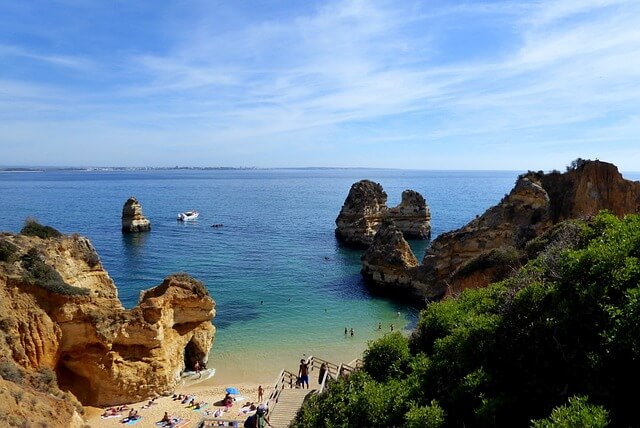 Lagos, a picturesque coastal town in the Algarve, worth putting on your Portugal-trip-list. With its stunning cliffs, pristine beaches, and charming old town, Lagos offers a delightful blend of coastal paradise and cultural exploration.
Begin your adventure in Lagos by wandering through its charming historic center. Stroll along the cobblestone streets, admire the colorful buildings, and soak in the vibrant atmosphere. Don't miss the ancient city walls and the entrance through the Porta de São Gonçalo.
To delve deeper into historical exploration, proceed to the Lagos Fort. The Fort, also known as Fortaleza da Ponta da Bandeira, stands proudly at the entrance of Lagos Harbor and offers a captivating glimpse into the town's maritime history. This 17th-century fortress is a fascinating attraction that showcases the strategic significance of Lagos as a seafaring stronghold.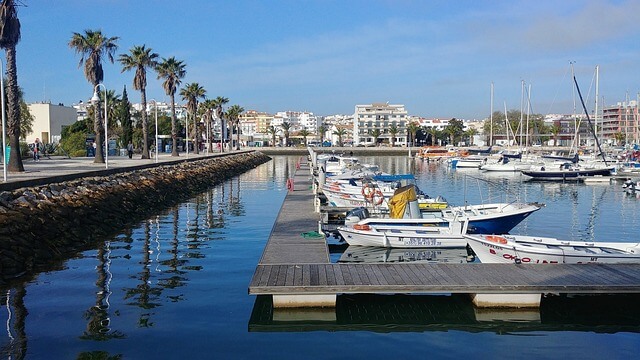 The Slave Market Museum is also worth a visit. This museum offers a thought-provoking experience that sheds light on an important chapter of history.
Beyond the charming streets and historical attractions, Faro also serves as a haven for water sports enthusiasts and adventure seekers. So if you're craving a city break, head to the water and try your hand at surfing, paddeboarding, kayaking, or even take a boat trip along the coast to explore hidden beaches and sea caves.
Lagos offers a variety of dining options where you can sample delicious Algarvian cuisine. Fresh seafood, such as grilled sardines and cataplana, are must-try dishes. And always remember to pair your meal with a glass of local Algarvian wine.
Whether you're seeking sun-soaked relaxation, cultural immersion, or outdoor adventures, Lagos offers a perfect blend of natural beauty and historical charm, ensuring a memorable stay on Portugal's breathtaking Algarve coast.
Practical Travel Tips
Lastly, you can expect this Portugal travel guide to equip you with practical travel tips to make your journey even smoother:
Currency: The official currency of Portugal is the Euro (EUR). Ensure you have som cash with you for small purchases, as not all places may accept credit cards, especially in smaller towns.
Language: The official language is Portuguese. While English is commonly spoken in tourist areas, it's useful to learn a few basic Portuguese phrases.
Transportation: Portugal has an extensive transportation network, including trains, buses, and domestic flights. The train system is efficient and connects major cities, while buses are ideal for reaching smaller towns and villages.
Tipping: Tipping is customary in Portugal but not obligatory. In restaurants, a 5-10% tip is appreciated if the service was satisfactory. Tipping taxi drivers and hotel staff is also common practice.
Emergency numbers: In case of any emergencies, the general emergency number in Portugal is 112.
Remeber to check the latest travel advisories and guidelines before your trip to ensure a smooth and enjoyable experience in Portugal.
Book your Portugal accommodation at EcoHotels.com
Looking to plan your next getaway? Your search ends at EcoHotels.com. The website provides a diverse selection of environmentally-conscious accommodations tailored for conscious travelers like yourself. Whether you prefer luxurious resorts or cozy boutique hotels, EcoHotels.com has you covered. Head over to EcoHotels.com today and book your eco-friendly escape. Your choice will be appreciated by the planet we call home.