If you're looking for a city break in Europe, Amsterdam is a great choice! There are plenty of places to stay in the city, from budget hotels to luxury apartments. In this blog post, we will recommend some of the best hotels in Amsterdam. Whether you're looking for a centrally located hotel or one that's close to the airport, we have something for everyone!
Amsterdam is one of Europe's biggest tourist attractions and many people from across the continent visit it annually. For walkers the town is very easy to move around in. You will never find yourself walking for more than 2-3 kilometres before breaking for a drink.
There are plenty of things to do and see while there. You could spend a day shopping on the main shopping streets called Kalverstraat and Leidsestraat. In the city center, you can also find the museum quarter, which is the home to three major museums including the Van Gogh Museum. And we cannot forget the canal ring or the famous red light district which most first-time visitors are curious about.
Now the question remain: where to stay in Amsterdam? Here are some of the best hotels in Amsterdam's city center:
Conscious Hotel The Tire Station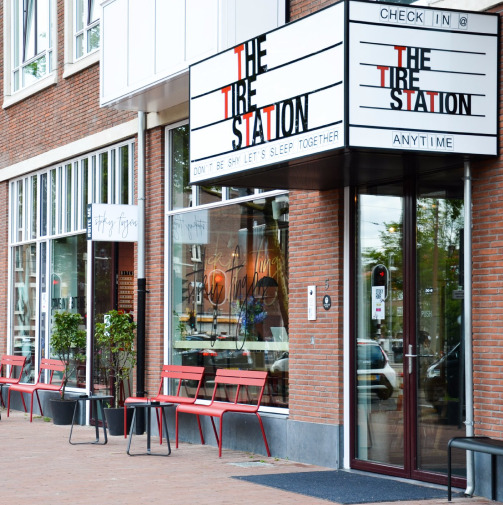 The Tire Station is a 112-bedroom stylish hip eco-hotel with a central location. It is just a short walk to Amsterdam's most famous park, the Vondelpark. The hotel also provides free wifi, a hotel bar, and an on site restaurant. While it may not include a breakfast buffet you can enjoy the restaurant's delicious organic food, treats, and drinks.
And good news for all coffee addicts: there is no need to leave the hotel to go find coffee shops. The hotel has an on-site coffee house! If you do decide to leave the hotel for coffee, we recommend checking out Coffee & Juices. It is one of the closest coffee shops near the Hotel and within walking distance.
The Tire Station is perfect for anyone looking for affordable accommodation for their visit to the Dutch capital. And while saving money on accommodation, you can consider spending your money on bike rental to get around the city. We recommend visiting the major attractions in the city such as one of Amsterdam's oldest church and historic building De Oude Kirk, the Dam Square to people watch, or the Anne Frank House. When visiting the Anne Frank House, you should consider checking out the Amsterdam Tulip Museum which is located on the other side of the canal.
If you plan to stay in Amsterdam for more than a weekend, you should consider exploring the cities outside of Amsterdam. You easily travel to cities outside of the capital from Amsterdam Central Station. Here you can explore lesser-known art galleries, or simply find cheaper modern Dutch cuisine.
Book a stay at this hotel here.
Conscious Hotel Museum Square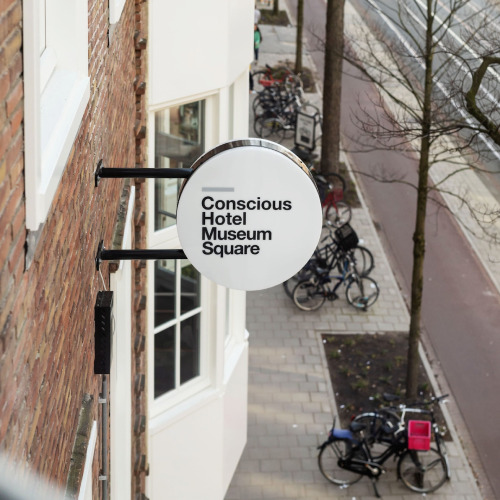 For any first time visitors who wishes to soak up the Dutch culture, we always recommend to try to stay in hotel with a central location in the city. That way you can easily explore the main attractions when you visit Amsterdam.
The Museum Square hotel was recently renewed (early 2019). It is conveniently located right next to the museum quarter. This means that the famous Van Gogh Museum, Rijksmuseum, and Stedelijk Museum is within walking distance. If you're lucky you will be able to see the Museum Square from your window. And of course, you can share the view on social media with the hotel's free wifi.
This modern hotel also offer bike rental, which we recommend so you easily explore Amsterdam and its other major attractions. One must-see attraction is the Anne Frank House, which is only a 15 minutes bicycle ride.
To truly immense yourself in Dutch culture, you must check out the Dutch National Opera. On their website, you can find their opera and ballet program.
Book a stay at this hotel here.
Sir Adam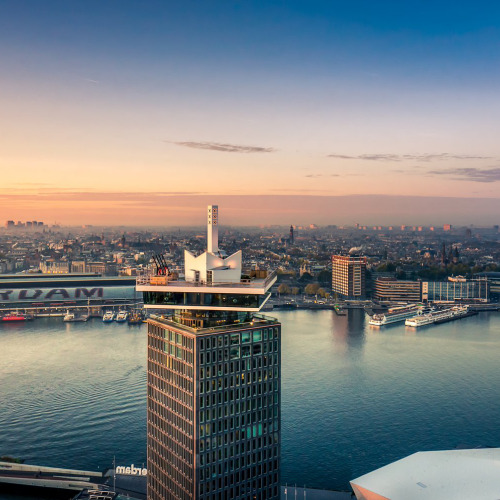 With its bold presence in Amsterdam's A'DAM Tower, Sir Adam resonates with the vibrant energy of the building's present occupants, including Sony, Semifest and MassiveMusic. The hotel is located in Amsterdam Noord, which is one of the popular destinations in Amsterdam.
With it's great location, just behind Amsterdam Central Station, you can easily visit the main attractions in the city. Luckily, most of the attractions are within walking distance of each other.
Sir Adam is one of the best hotels to stay at if want to miss the tourist crowds in the evening, which is usually found in the Dutch capital.
All rooms come with a private bathroom, free wifi, and are fitted with flat screen TVs. This means that you can relax with Netflix after a long day of sightseeing. And if you are on the look out for fitness centre to work out, then look no further. The hotel offers its own gym with cardio machines, weights, and guided classes. Don't forget to check out the rooftop for 360-degree views of the city.
Pro tip: Don't forget to check out the Old Jewish Quarter across the river of the hotel. For centures before WWII, Amsterdam was home to a thriving Jewish community. Now the area is home to four historical elements; the Jewish Museum and Jewish Museum junior, the Portuguese Synagogue, Hollandsche Schouwburg and National Holocaust Museum. These four locations tell the story of Jewish history in Amsterdam.
Book a stay at this hotel here.
Conscious Hotel Westerpark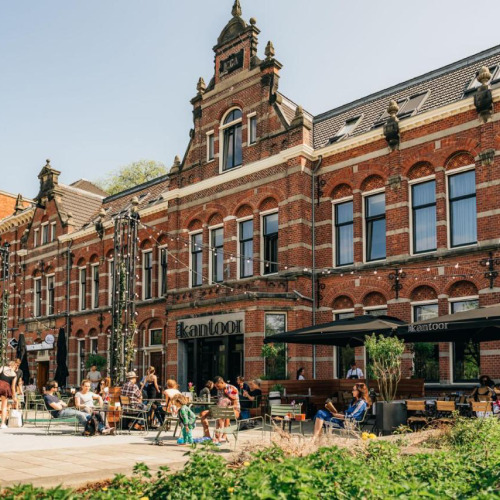 Conscious Hotel Westerpark has a great location if you wish to escape some of the tourist crowds. It is close enough to the city center to make exploring a breeze.Yyet just far enough away to offer a more chilled-out stay.
The original, monumental building was once the office of the Westergasfabriek. It is now a beautiful eco-hotel with 89 rooms, right in the middle of the green Westerpark. One side of the Westerpart hotel overlooks the cultural area of the Westergas – a hotspot for cultural events, fun markets, and festivals. On the other side is a quiet green park – ideal for morning walks.
The quaint hotel has light bright rooms that come with airconditioning, free wifi, and a private bathroom. In the communal areas, you will find the onsite restaurant called Bar Kantoor which offers 100% organic food and drinks.
Nearby sights include the Canal Ring, which is the rings of canals that surround the old center of Amsterdam. The whole district surrounding the Old Centre of Amsterdam has been designated as a UNESCO World Heritage Site. It is popular among tourists because of its unique historical and cultural value. Another popular attraction is the museum quarter which is the pinnacle of three major museums in Amsterdam. Here you will find the Van Gogh Museum.
Book a stay at this hotel here.
Corendon Urban Amsterdam Schipol Airport Hotel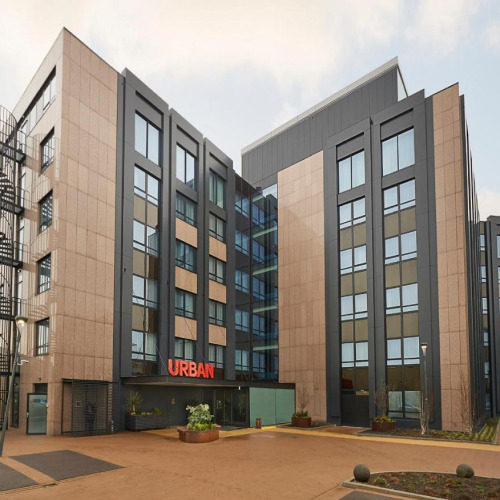 If your traveling to Amsterdam and looking for a hotel that's close to Schipol Airport, you're in luck! The Coredon Urban Amsterdam Schipol Airport Hotel is the perfect match. The airport can be reached within 10 minutes by car or the hotel's shuttle service. That way you don't have to worry about missing your flight.
This unique Amsterdam accommodation is a smoke-free hotel that features two restaurants, an indoor swimming pool, and 2 bars. The hotel also offer a fitness centre, sauna, and an amazing rooftop terrace.
All rooms are soundproofed and offer free wifi and free local calls. For entertainment, you can enjoy the flat screen TVs that come with digital channels.
The hotel offers city shuttle service at set times throughout the day to Amsterdam's museum quarter. Thus, ensuring you'll be able to enjoy everything Amsterdam has to offer without worrying about transportation. There are a lot of activities to experience. However, one we cannot forget to mention is the Red Light District.
The tiny alleys of the Red Light District – Trompettersteeg, Dolle Begijnensteeg, Sint Annedwarsstraat, Bethlemesteeg, and Goldbergsteet – are particularly narrow. At some point they are only one meter wide, making it one of the most narrow streets in Amsterdam. And if you find the Red Light District off-putting, you can always head off on foot to one of the shopping streets for some shopping.
Book a stay at this hotel here.
Park Centraal Amsterdam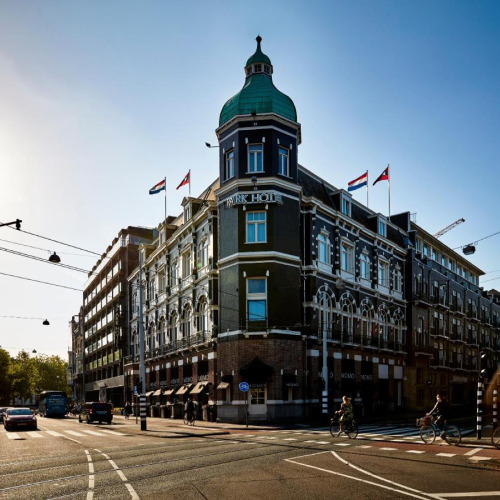 Park Centraal Amsterdam is the perfect place to stay if you want to explore the city and get in touch with nature at the same time.
The hotel is set in a historic building with a view of Vondelpark. It is located within 500 m of the Van Gogh Museum and lively Leidse Square. It features rooms with high-tech essentials, free wifi, and air conditioning. At the hotel, you can also find a gym, parking facilities, and boutiques.
With the hotels central location, there are several activities you can do nearby. We recommend checking out ARTIS Royal Zoo, Amsterdam Museum and some of the art galleries. You must also check out the indoor food market called De Foodhallen where you can choose from many different treats.
Pro-tip: one of the services the hotels offers is that you can buy tickets to attractions or shows. This may make it easier for you to plan your stay.
Book a stay at this hotel here.
We hope this blog post gave you an idea of the many activities you can do while staying in Amsterdam. And inspired you to find the right hotel.
Please check out EcoHotels.com for more hotels in Amsterdam.